David Pepose writes,
His partner's imaginary…but the escalation is all real.
Two years ago, I teamed up with artist Jorge Santiago, Jr. to ask the riskiest question of my life: "What if Calvin and Hobbes grew up in Sin City?"
Readers learned our answer in SPENCER & LOCKE, which follows hard-boiled Detective Locke as he solves a brutal murder with the help of a most unlikely partner: his seven-foot-tall imaginary panther named Spencer.
Exploring the intersection between childhood trauma, mental illness, and the lengths the mind will go to protect itself from harm, SPENCER & LOCKE turns sacred cow into A-grade gourmet hamburger, mashing together Bill Watterson's classic iconography with Frank Miller's uncompromising vision to create something altogether different, strange, and unforgettable.
But two years later, how do you follow up this Evel Knievel stunt jump of a debut? Where do you go when you've slammed together two of comics' most beloved visionaries and come out miraculously unscathed? Do you just thank your lucky stars and stop pushing your luck?
Hell, no — you throw a whole new universe into the mix.
That's what Jorge and I are doing in SPENCER & LOCKE 2, the long-awaited follow-up to our series that hits Previews this week from publisher Action Lab: Danger Zone. If you thought our last series' high concept — "What if Calvin and Hobbes grew up in Sin City?" — was audacious, wait till we bring our hard-boiled heroes head-to-head with the rest of the funny pages, full Fables-style.
Marmaduke as a vicious attack dog? Check. A Hagar the Horrible-themed biker gang? Double-check. Hi and Lois reimagined as the city's political power couple? You know it. Brenda Starr remixed as Locke's risky new love interest? Oh, yeah — that's just the tip of the iceberg.
And before you even ask — yeah, Sluggo is lit. Sluggo is totally freakin' lit.
But that's nothing compared to the main event — if Spencer and Locke show the power of imagination filtered through the scar tissue of trauma, they're about to meet their match in Roach Riley, our tough-as-nails, Heath Ledger's Joker-by-way-of-The Deer Hunter analog of Mort Walker's classic comic strip Beetle Bailey.
How did a loveable Army slacker become a heavily armed killer dead-set on a mission of terror and violence? What happened to Roach during that fateful mission in the desert? What's brought him home to spread his twisted gospel of pain? You'll have to read to find out — but rest assured, if you thought Locke's childhood was harrowing, wait till you see Roach accumulate all these scars on a much more accelerated track.
Two years ago, I asked you, why do this? Because my team is not just good at what they do — they're incredible at it. From Jorge's hyperkinetic linework to Jasen Smith's electrifying colors to Colin Bell's nimble letters — not to mention Maan House and Joe Mulvey's insane variant covers — SPENCER & LOCKE 2 takes the Ringo-nominated foundation of the first series and ups the ante to dizzying heights.
It didn't hurt that we had unfinished business with our boys, either — if the first SPENCER & LOCKE delved into the psychological fallout of Locke's traumatic childhood, SPENCER & LOCKE 2 explores how these survivors can hope to survive a world that shuns their violent brand of crime-fighting. Locke's so far gone, he had to imagine his own best friend, Spencer — but what happens when he's faced down his tormentors and remains as broken as he ever was? How does he survive as a cop? As a partner? As a father?
But we're also doing this sequel with something to prove. Nostalgia is often seen as a bad word in critical discourse, as lazy comfort food to be sneered at, as a warm, smothering blanket across the face of popular culture. But we believe that with the original SPENCER & LOCKE, we weaponized readers' expectations, flipping the script on a childhood classic to explore territory that's darker, rawer, but ultimately rooted in redemption, inspiration, and hope.
With SPENCER & LOCKE 2, we see nostalgia not as an impediment to progress, nor as a stunt to troll purists, but as just the combustible material required to cast something once intimately familiar into a wholly different light. By themselves, these characters have finite limits — but when you slam them together in just the right way, they create something new.
The questions of SPENCER & LOCKE remain the same, but with our sequel, we get to take deeper dives and bigger swings. We get to explore the depths of unresolved pain and the highs of overcoming one's scars. We get to bend time and space, from brutal crime scenes to epic battlefields that only exist in the imagination, from past to present and back again. And I don't think I'm overselling it when I say we've blown the original out of the water. Because we've watched and learned since Volume 1, and we're coming back swinging harder than ever. This is our Dark Knight. This is our Godfather: Part II. This is our Empire Strikes Back. And when the dust settles, none of our characters are going to be the same again.
His partner's imaginary, but the madness is all real. But with terror in the air and chaos in the streets, there's nobody you'd want with you in a dark back alley more than SPENCER & LOCKE.
SPENCER & LOCKE 2, by Ringo-nominated writer David Pepose and Ringo-nominated artist Jorge Santiago, Jr., is available for preorder now in the February Previews catalog and will be available in comic shops and digital devices April 2019 from Action Lab Entertainment's Danger Zone imprint.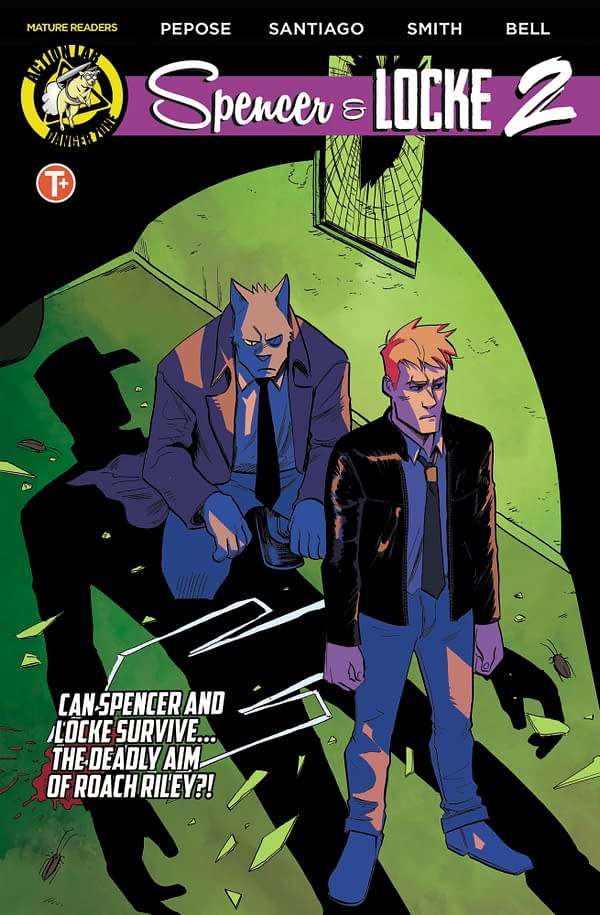 Enjoyed this article? Share it!