Space, the final frontier. These are the voyages of the Avengers, who have been called out to aid an assault on an intergalactic prison which, itself, is an intergalactic entity, far bigger on the inside than the outside and able to contain an entire galaxy of bad guys in its own internal galaxy. Did someone just watch Doctor Who: Doomsday with the Dalek prison built with Time Lord science again? Anyway, it's another sci-fi show being referenced here, as Captain America narrates what's been going on.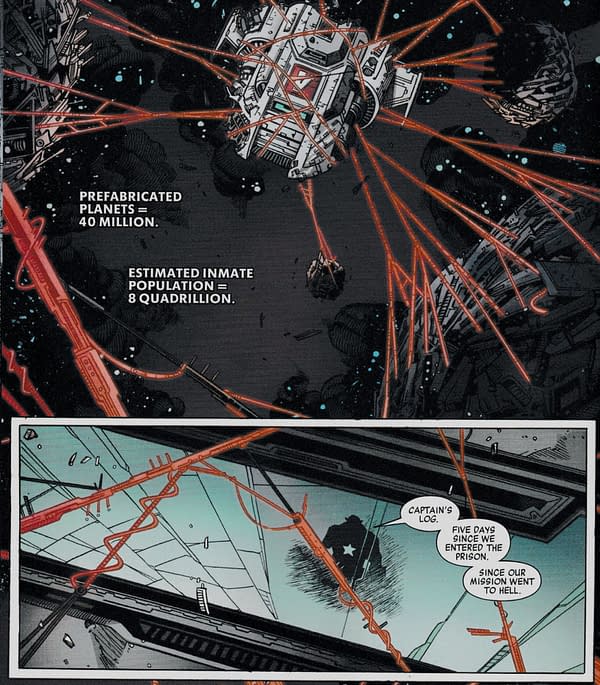 Captain's Log. They are laying it on a bit thick, aren't they? And as all the Avengers Assemble in space, we recall a scene from Free Comic Book Day's Avengers issue, that we have now just about caught up with.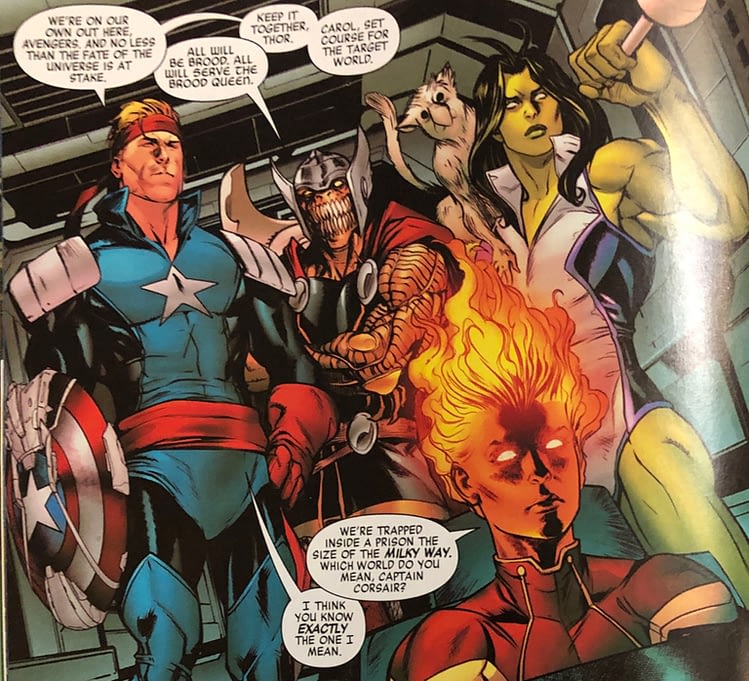 At the time, there were many comparisons made to Marvel Comics' cosmic team the Starjammers. And this issue underlines them as a Binary-flamed Carol Danvers arrives with, okay not so much the Cavalry, but at least the Cavalry's horse.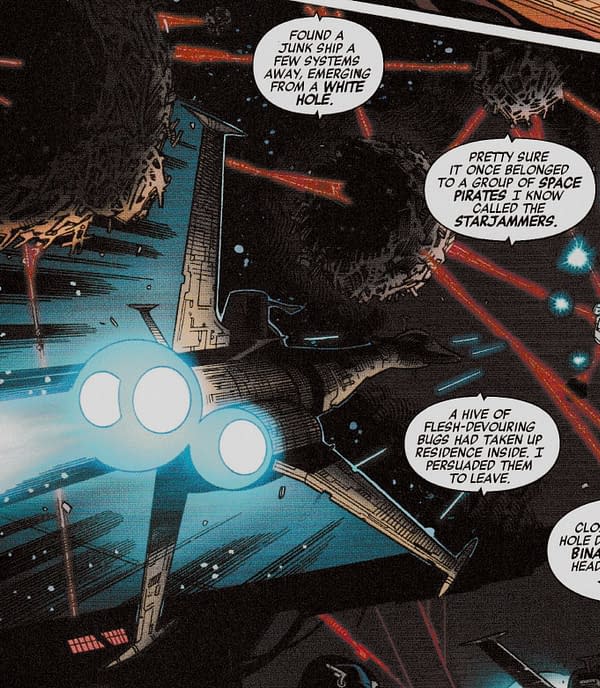 Which only makes me wonder what happened to the actual Starjammers, as today's New Mutants comic says goodbye to them… for now.

Connective tissue, remember – what happened in the interim? And as for the Free Comic Book Day look of the Avengers, okay, Carol is Binaried but Captain America is still rocking the helmet rather than the bandana. And as for Thor?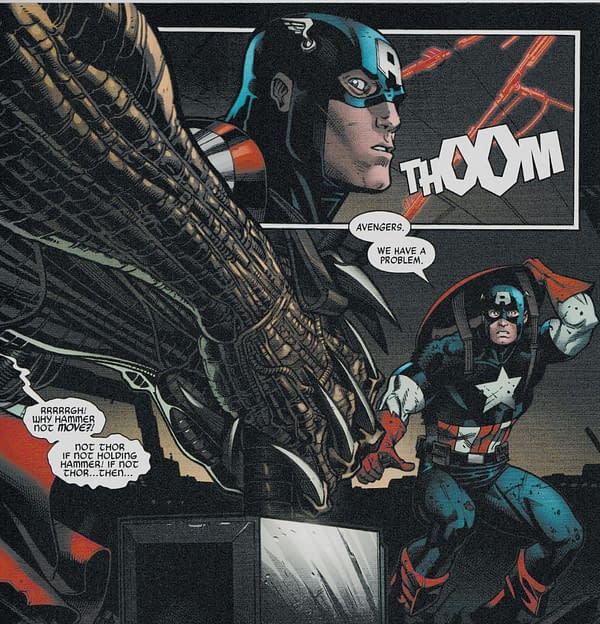 Okay, so it's not looking good, And he wasn't holding his hammer in that Brood-looking preview…
Avengers #27 is published by Marvel Comics today in all good comic shops. I bought mine from Piranha Comics in Kingston-Upon-Thames. Piranha Comics is a small south London comic store chain with a small south-east store in Kingston-Upon Thames's market centre, which runs Magic The Gathering nights on Fridays, and a larger south-west store in Bromley, which also runs Magic nights and has an extensive back issue collection and online store. If you are in the neighbourhood, check them out.

AVENGERS #27
(W) Jason Aaron (A/CA) Ed McGuinness
STARBRAND REBORN Part One: RIOT IN THE SPACE PRISON!
Artist Ed McGuinness returns for an epic space adventure that takes the Avengers into an alien prison the size of a galaxy, where a mysterious new wielder of the all-powerful Starbrand has suddenly appeared, unleashing cosmic chaos. Good thing the Avengers brought along their newest member, the Black Widow. Rated T+In Shops: Nov 27, 2019 SRP: $3.99
Enjoyed this article? Share it!