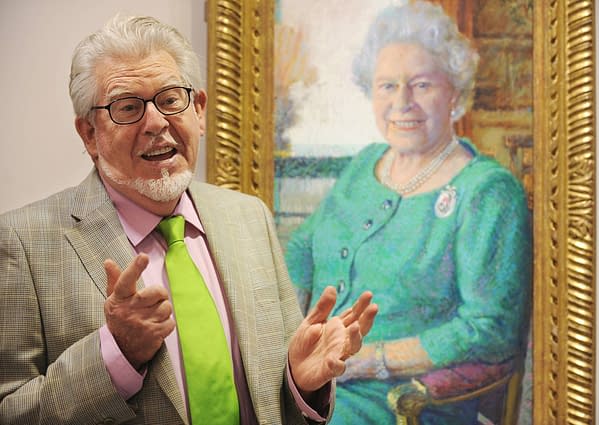 Australian cartoonist Rolf Harris is a national institution in Britain, on the back of his TV shows about art and cartooning over the last few decades and his musical career including the massive hits Two Little Boys and Tie Me Kangaroo Down Sport (which reached #3 in the US). He even painted a portrait of the Queen.
Today, it has been announced that Harris, aged 83, has been charged by British courts with six offences relating to an indecent assault of a girl aged 15-16 between 1980 and 1981 and three relating to an indecent assault to a girl aged 14 in 1986. He has also been charged with four offences relating to making indecent images of children last year,
The indecent images of children were alleged to have been made last year. His first appearance in court will be in a month's time.
Alison Saunders, chief crown prosecutor for CPS London, released the statement;
We have carefully considered the evidence gathered by the Metropolitan police service as part of Operation Yewtree in relation to Rolf Harris, who was initially arrested on 29 November 2012 over allegations of sexual offences. A file of evidence was passed to the CPS on 12 August 2013.

Having completed our review, we have concluded that there is sufficient evidence and it is in the public interest for Mr Harris to be charged with nine counts of indecent assault and four of making indecent images of a child. The alleged indecent assaults date from 1980 to 1986 and relate to two complainants aged 14 and 15 at the time of the alleged offending.

The decision to prosecute has been taken in accordance with the code for crown prosecutors and the DPP's interim guidelines on prosecuting cases of child sexual abuse. We have determined that there is sufficient evidence for a realistic prospect of conviction and that a prosecution is in the public interest.
Operation Yewtree was set up in response to the allegations against the late TV presenter and DJ Jimmy Saville, and other TV and radio presenters have been charged with similar offences.
However none of them have been held in the country's affection as much as Rolf Harris.
In Britain, he was awarded the MBE, OBE and CBE honouraries, and in Australia was awarded the Officer of the Order of Australia in the Queen's birthday list.
Bleeding Cool was the subject of legal challenges by Harris' lawyers Harbottle & Lewis, over reporting the original story that Harris been arrested earlier in the year.
Enjoyed this article? Share it!