Catching Up With Top Shelf's Eric Orchard At New York Comic Con, Including A Lesson On Kangaroo Rats
By June Vigants
The NYCC weekend was quite hectic but I had a great moment at the Top Shelf Comics booth when I got to sit down with Eric Orchard, an author and artist based in Toronto who came down for his debut American signing of his critically-acclaimed all-ages novel, Maddie Kettle: The Adventure of the Thimblewitch.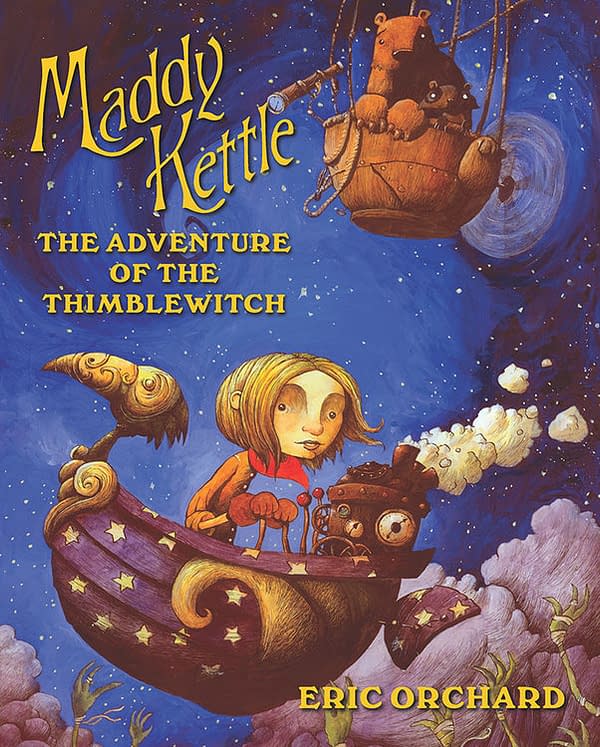 June Vigants: So can you tell us a bit about your book?
Eric Orchard: It's an all-ages fantasy-adventure about a girl who lives in the desert and her parents are stolen away from her, and she uses a flying boat to find them. There's a lot more to it than that but that's the very basic premise.
JV: I was flipping through it and I noticed that there are rats in the story (I love rats).
EO: Yes. Those are kangaroo rats. It takes place in Arizona and Kangaroo rats are common in Arizona and they're these rats with the big back feet. Her parents get turned into Kangaroo Rats.
JV: Can you tell us how that happens or is that a secret for the book?
EO: It's complicated – I don't actually tell how it happens until the end of the book. But her parents are rats and goblins steal them so she's searching for them with this ship.
JV: What inspired you to create this story?
EO: I'd had the main character, Maddie, for years. I started doing mini comics with her in it about ten years ago and I sent off the pieces to Top Shelf and they wanted to publish it. It comes from my love of children's stories and a bunch of other things and it's all combined into this ongoing story.
JV: And this is one book in a series?
EO: Yes, and I've already started to make the second one.
JV: What were some of your favorite stories as a kid?
EO: Wizard of Oz, Alice in Wonderland, The Hobbit, Watership Down, gosh- too many to name. But those are in the top ten for sure.
To follow up with Eric on his artistic endeavors and future projects, as well as what he has in store for Maddie and her parents, follow his twitter @Inkybat and checkout the Top Shelf website for Maddie Kettle: the Adventures of the Thimblewitch and other great titles!