Catwoman, Birds of Prey and The Boys Top Bleeding Cool Bestseller List
This is the Top Ten Bleeding Cool Bestseller List, as compiled by a number of comic stores from their sales on Tuesdays, Wednesday and Thursday. That's what we used to say, but we are including Tuesdays now. It measures what are known as the "Wednesday Warriors" or the "Tuesday Titans", those who can't wait till the weekend to get this week's comics. This week, with Marvel on a break week, Catwoman took the top spot, while the launch issue of a new The Boys series by Garth Ennis saw Dynamite make a rare appearance in the top ten, and beating out Batman and Superman comics too.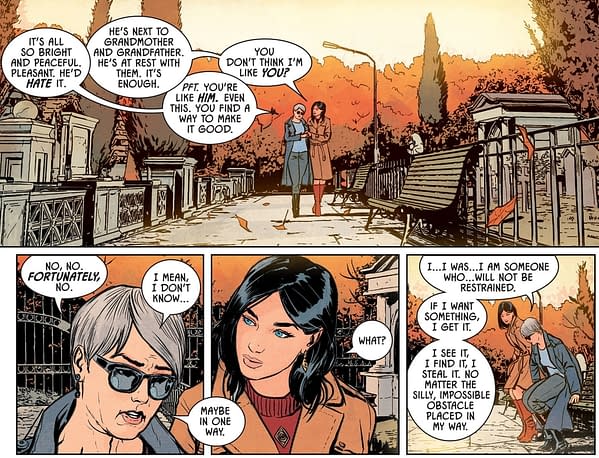 Top ten bestselling comics of the week
Marvel has the top five titles, with Venom way ahead. Strong positions for Mercy and the launch of Dead Day as well.
Catwoman 80th Anniversary Special #1
Birds of Prey #1
The Boys Dear Becky #1
Detective Comics #1,022
Action Comics #1,022
Batman Superman #9
Far Sector #6
DCeased Unkillables #3
Venom #25
Wonder Woman #755
Thanks to the following retailers:
We welcome back some old friends – and some new faces. If you would like to contribute to the retailer charts, let me know at richjohnston@bleedingcool.com.
And this is what some of them had to say.
Brave New World Comics, California The CATWOMAN covers were great, unfortunately DC's decisions as a publisher since the COVID out break have not been. THE BOYS: DEAR BECKY sold at pretty much a perfect sell through rate to THE BOYS readers and watchers of the show. SABRINA drew many all-ages and casual customer looks.
Famous Faces And Funnies, Florida. For being closed to the public for three months and only having new comics for three weeks, our Weekly Top Ten list at FFF is a little skewed. DCeased, Venom and the Catwoman special (with ten or so covers) took the top three spots as could be expected on a normal week, but at much reduced numbers. That's not to say we're not selling comics, thanks to our twice weekly comic auctions on Facebook we've been selling a whole lot of overstock. New releases though are going to be playing second fiddle to older stock until the industry as a whole gets back into the swing of things. Until then, books like Spider-Man, Batman/Detective Comics and anything written by Donny Cates are going to dominate our Top Ten lists. Jimmy Olsen actually cracked our Top Ten this last week (which includes titles from the past three weeks) and sold more copies than Amazing Spider-Man. Buffy's main title sold better than the $8 one shot (no surprise there) and Plunge managed to sneak into the #10 spot. All of the Hill House books have been great reads and favorites of the customers who have been picking them up.
Brandon's Comics, Arizona Nothing big happened this week.
Notable sales:
Sandman #1 9.8 $150 – Sold a raw Sandman #1 that we and the customer agreed has a real shot at a 9.8.