A few changes between solicitation and publication from Marvel Comics ahead of the FOC cutoff…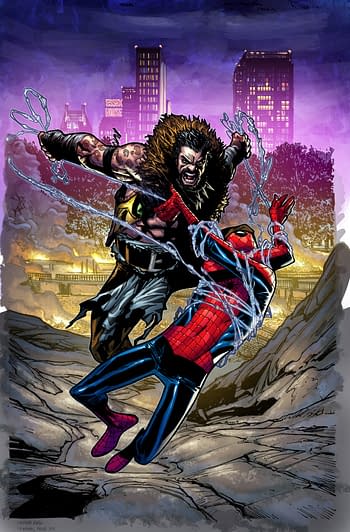 Amazing Spider-Man #22 is listed as being drawn by Ryan Ottley
AMAZING SPIDER-MAN #22
(W) Nick Spencer (A/CA) Ryan Ottley
HUNTED AFTERMATH!
• The fallout from "HUNTED" continues to loom, and much of Peter's life is called into question.
• What is left of Spider-Man after living through the harrowing hunt?!
Rated TIn Shops: May 29, 2019
Final Orders Due: May 06, 2019
SRP: $3.99
See? But it's not. Instead it's being drawn by the great Humberto Ramos instead.
Ryan Ottley is still solicited to draw #23 and #24 though.
Humberto was solicited to draw #21 and Gerardo Sandoval stepped in. The same thing happened on #19.
Looks like it's just a little schedule rearranging courtesy of the demands of the Hunted crossover.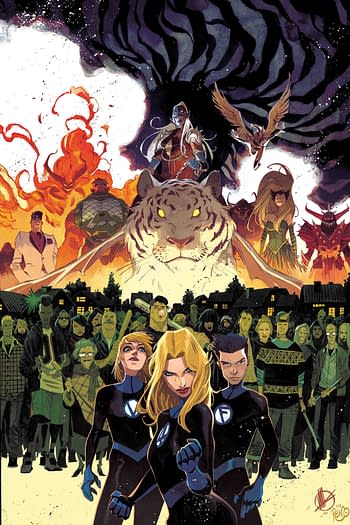 While this is the solicitation to Fantastic Four #10
FANTASTIC FOUR #10 WR
(W) Dan Slott (A) Stefano Caselli (CA) Matteo Scalera
WAR OF THE REALMS TIE-IN!
Don't bring your war to Yancy Street…
Rated TIn Shops: May 29, 2019
Final Orders Due: May 06, 2019
SRP: $3.99
Which will actually have art by Paco Medina instead of the solicited Stefano Caselli.
Paco is also solicited to draw #11.
Fantastic Four #9 also had Stefano Caselli and Paco Medina added to the solicited Aaron Kuder, so there has been some jiggery-pokery there too
While War Of The Realms: War Scrolls #2 has added Paul Davidson to the solicited artists – previously 'Andrea Sorrentino and more' it is 'Andrea Sorrentino, Paul Davidson, and more.' So still more to be announced…
WAR OF REALMS WAR SCROLLS #2 (OF 3) WR
(W) Jason Aaron, Devin Grayson, More (A) Andrea Sorrentino, More (CA) Alan Davis, Mark Farmer, Matt Hollingsworth
THE MUST-READ COMPANION TO THE WAR OF THE REALMS!
From the Asgardian Bifrost, Daredevil watches Malekith and his forces lay waste to realms. Jason Aaron and Andrea Sorrentino take Daredevil – the God Without Fear – to places he never believed he would see! Then, Devin Grayson spins a tale of magic and its consequences as Doctor Strange casts a spell that will cost him dearly – and devastate the Asgardian pantheon! All this and more straight from the battlefield of WAR OF THE REALMS!
Rated T+In Shops: May 29, 2019
Final Orders Due: May 06, 2019
SRP: $4.99
Enjoyed this article? Share it!