Behold, the Brooklyn Gladiator from creators Dan Fogler and Tom Hodges. It takes place in post-apocalyptic 2033 New York, where the titular Brooklyn Gladiator tries to make the wrong things right again as a "Rock & roll kung-fu Robin Hood." Plus, the continued origin of Captain Canuck will be released, and Freelance and Fantomah continues their runs, all from Chapterhouse Comics this April.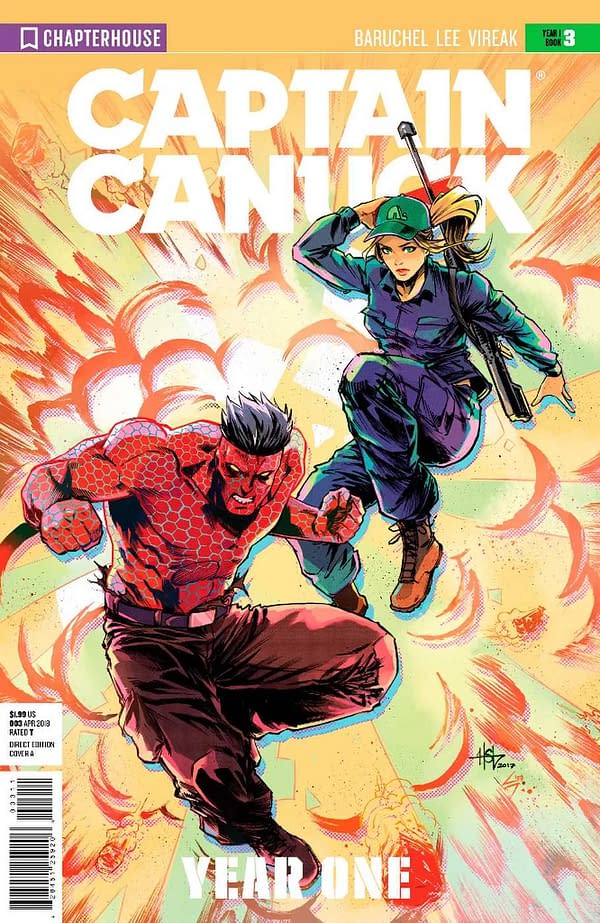 CAPTAIN CANUCK
YEAR ONE: BOOK THREE
Story by Jay Baruchel
Art by Creees Hyunsung Lee
Cover by Creees Hyunsung Lee and Vaneda Vireak
Continuing the lost tale of how Tom Evans became the hero known as Captain Canuck! Assigned to support the notorious mercenary group Parsifal, Tom Evans has used his powers to covertly sabotage their nefarious efforts. Now exposed, Tom is all that stands in Parsifal's way, unless he can get a little help from everyone's favourite sniper, Kebec!
Written by Jay Baruchel (Undeclared, This is the End, Goon 2, How to Train Your Dragon)
$1.99 | 6.25/10.18 | Full Color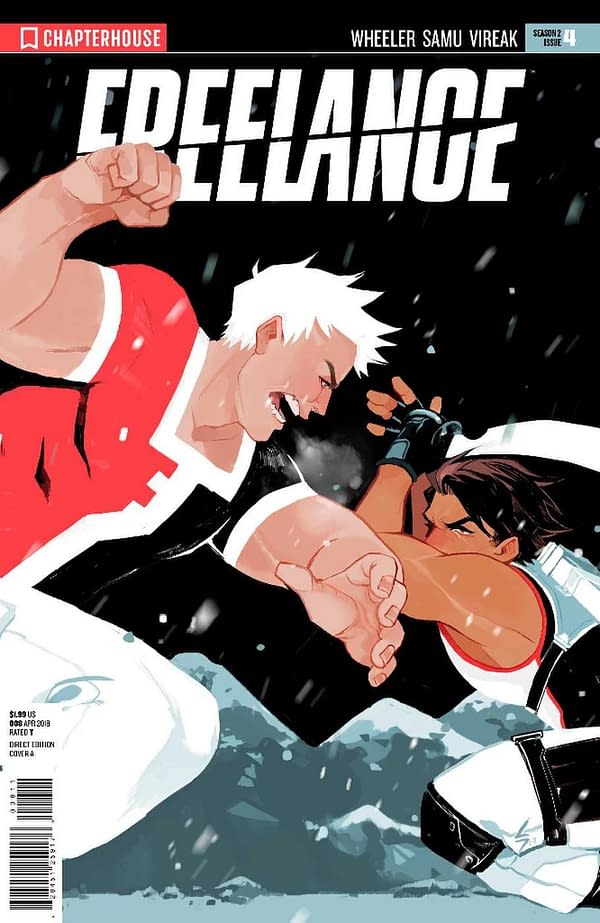 FREELANCE
SEASON 2 ISSUE 4
Story by Andrew Wheeler
Art by Juan Samu
Cover by Vaneda Vireak
THE CHAPTERVERSE CONTINUES AT A NEW PRICE POINT OF $1.99!
The adventures of one of Canada's original heroes continue in a new era!
While Tasha and Sidika plummet towards certain doom, the assassin Sabre has infiltrated a secret community of superpowered scientists with murder on his mind. Only Lance Valiant is strong enough to stop him, but as the secrets of their own shared past begin to unravel, can he do what needs to be done to stop his relentless opponent? Find out in this action-packed final issue!
Pulse-pounding action, intrigue, and globe-trotting romance from writer Andrew Wheeler (Another Castle) and artist Juan Samu (M.A.S.K.)!
$1.99 | 6.25/10.18 | Full Color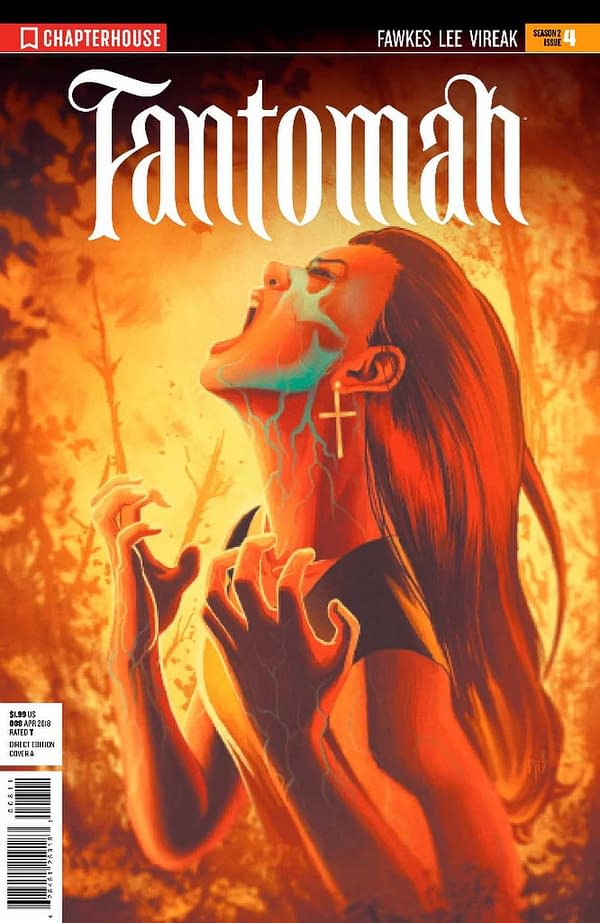 FANTOMAH
SEASON 2 ISSUE 4
Story by Ray Fawkes
Art by Soo Lee
Cover by Djibril Morisette
THE CHAPTERVERSE CONTINUES AT A NEW PRICE POINT OF $1.99!
On the run for fear of the harm she might bring to her loved ones, Paz Gallegos must aid or avenge the innocent wherever they are harmed, thanks to her terrifying alter ego, Fantomah. Paz's sinister compulsion has led her to a series of tragic forest fires with seemingly supernatural origins. Now she finds herself face-to-face with two agents of the wicked Mister Lord; the superhuman Chemical Man, and a monstrous new opponent.
Meanwhile, Dr. Destine and Rugged are on Fantomah's trail, but are they friends or foes? Find out in this spine-tingling final issue!
The fan-favourite team of Ray Fawkes (Batman Eternal) and Soo Lee (Fight Like a Girl) return for more all-new adventures with the most chilling hero in the Chapterverse!
$1.99 | 6.25/10.18 | Full Color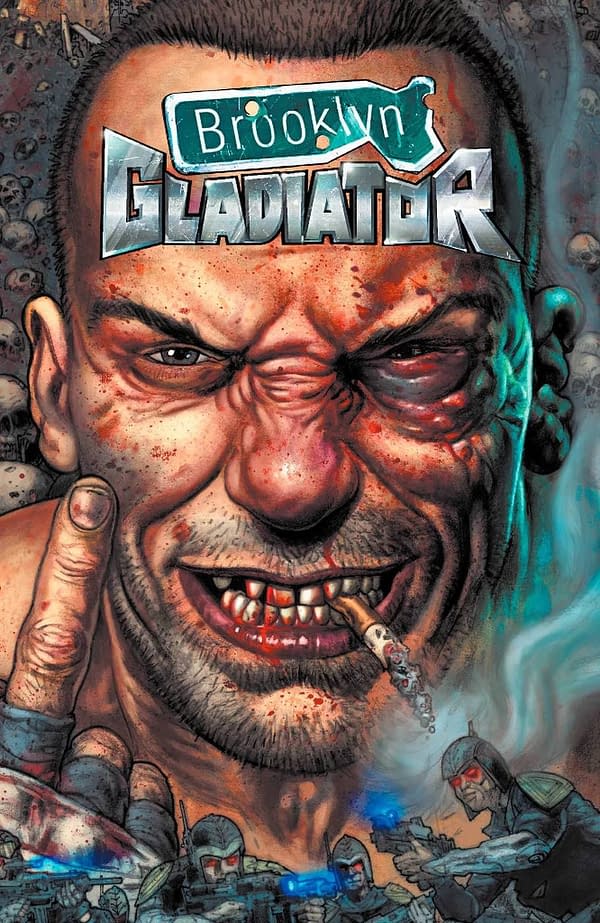 BROOKLYN GLADIATOR
VOLUME ZERO
Story by Dan Fogler
Art by Tom Hodges
Cover by Darick Robertson
Dan Fogler's newest series headlines Chapterhouse's 2018 'Original Series' offerings!
BROOKLYN GALDIATOR is set in the year 2033, in a despoiled America where New Yorkers survive on scraps. "This is a world of more crust than pizza," says Fogler. "More filter than cigarette, more commercials than television. More lies than truth."
John Miller is an action hero for the ages, a rough-and-ready bad-ass who could drink Han Solo, Jack Burton and John McClain under the table. "He's a rock & roll kung-fu Robin Hood!" Fogler says. "Dude does parkour and bloody underground MMA cage fighting versus nanite-enhanced maniacs. He's learning to hone his newfound psychic abilities. Turns out, he's the one man who can redeem humankind and bring balance back to the Earth."
BROOKLYN GLADIATOR is a tribute to the comics, films and experiences that have inspired author Dan Fogler. "Imagine if Tarantino directed Akira mixed with the world of Blade Runner," he says. "Basically, If you love The Matrix, multiple headbutts, 2 a.m. taco carts, Star Wars, sleazy tattoo parlours, weed, ancient aliens, environmentalism, anarchy, massive biceps and hope, then you need to read this!"
Written by Dan Fogler, (creator of MOON LAKE and star of BALLS OF FURY and FANTASTIC BEASTS) With artwork from Glenn Fabry (PREACHER), Tom Hodges (STAR WARS), and Darick Robertson (THE BOYS), this is a comic sure to leave mind-blown readers in its wake!
$9.99 | 6.25/10.18 Full Colour
Enjoyed this article? Share it!