Almost fifty years ago, the ten-year old Joel Lipton wrote to Peanuts creator Charles Schulz as part of a school project where kids were asked to write to people they admired to ask them "what makes a good citizen?"
He replied. But the letter was forgotten and/or lost until Lipton and his wife was clearing out their closet and boxes and came across it.
Naturally it's now been framed. Typed on his own official stationery, we get to read his advice anew, fifty years on. And posted on Facebook,
How relevant you find it now, well that's down to you.
I think it is more difficult these days to define what makes a good citizen then it has ever been before. Certainly all any of us can do is follow our own conscience and retain faith in our democracy. Sometimes it is the very people who cry out the loudest in favor of getting back to what they call 'American Virtues' who lack this faith in our country. I believe that our greatest strength lies always in the protection of our smallest minorities.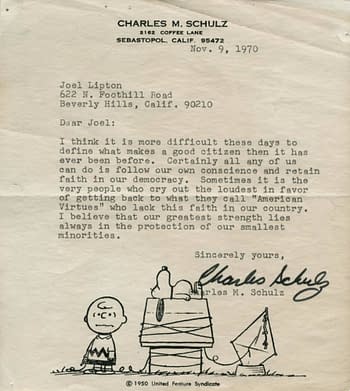 Enjoyed this article? Share it!