Coffin Bound Returns With #5, Shops Get Free Riso Prints If They Ask
Coffin Bound is the little Image Comics comic book that could. Until a certain global pandemic got in the way. But the series is returning to print on August 5th with a new story arc, by Dan Watters, Dani, Brad Simpson, Aditya Bidikar and Emma Price. And it comes with a little something for retailers to help things along.
Coffin Bound is a Mad Max-meets-Sandman that sees Izzy Tyburn chased across the hellish landscape by an unstoppable killer, Izzy Tyburn and she's burning the world around her to survive. The beginning of Dear God, the series' second story arc, sees Taqa find solace in God—a God who lives in a syringe. With the city about to ban the holy narcotic, she vows to prove the existence of the divine, setting her on a path straight to the murderous Eartheater's door.
To help launch that second arc, those behind Coffin Bound have created a limited run of 500 riso print posters. Drawn by series artist Dani, every poster will be hand-numbered, and the natural flaws that are part of the riso printing process means that each one will be unique.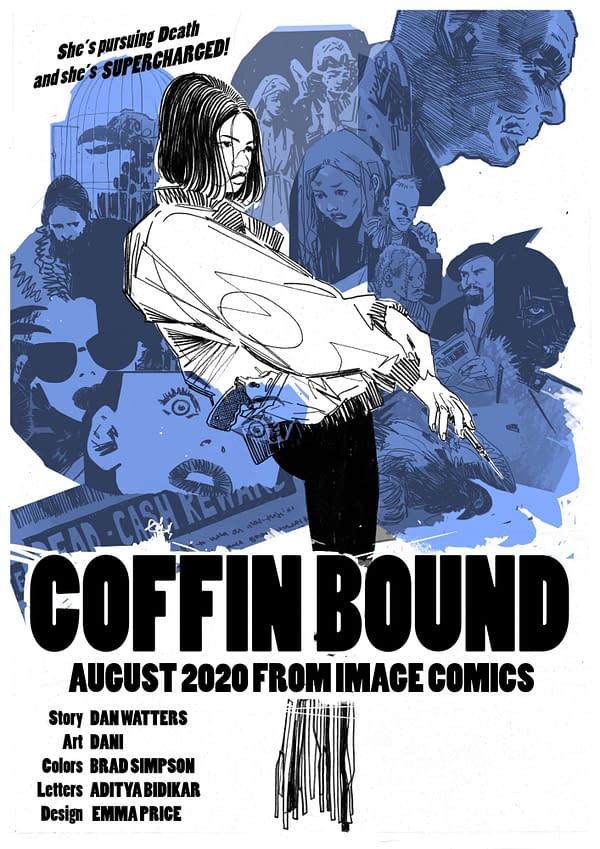 Riso prints are made by a stencil duplicator, a cross between screen printing and photocopying. One bright vibrant colour is printed at a time, on top of the other, with individual discrepancies.
They will be sending these out in packs of te, free to comic stores on a first-come-first-served basis. The riso ashcans and prints for Coffin Bound #1 went very quickly, so if you want to get your mitts on one, let your favorite retailer know to get in touch at coffinboundcomic@gmail.com – and that you want a copy of Coffin Bound #5 on August 5th.
COFFIN BOUND #5 (MR)
IMAGE COMICS
JUN200079
(W) Dan Watters (A/CA) Dani
DEADLY KILLERS! DIRT SANDWICHES! A NEW STORY ARC! TAQA found solace in God-and that God lives in a syringe. With the city about to ban the holy narcotic, she vows to prove the existence of the divine, setting her on a path straight to the murderous EARTHEATER's door. In Shops: Aug 05, 2020 SRP: $3.99