 Ask Me About Polyamory is the first print collection of the webcomic Kimchi Cuddles by polyactivist Tikva Wolf that got an Indiegogo boost last year and considerable Patreon support, currently at $1255 a month. Publishing from Thorntree Press in September, it has had a strong critical response, especially from the group it concerns itself with.
Gentlepeople, if you only buy one book about polyamory, I encourage you to buy this one. Skip the long wordy explanations writers like myself delight in. You don't need them. Proving that a picture is indeed worth a thousand words, Tikva has captured the essence of poly life in these delightful comics.- PolyamoryOnPurpose
Because it doesn't solely concern itself with a mainstream audience, it's much more nuanced and detailed about the concerns and tribulations of polyamorous relationships. Which means it ends up being far more informative.
Here are a couple of recent examples…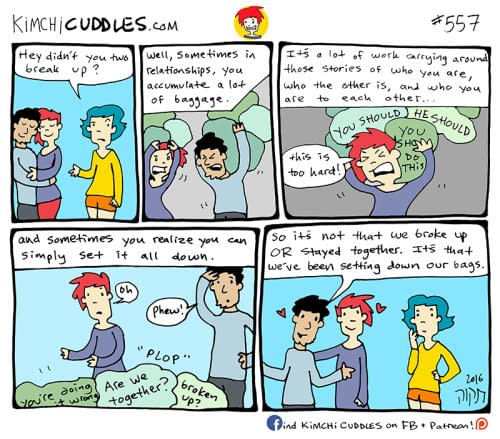 Enjoyed this article? Share it!