Rod Lamberti of Rodman Comics writes weekly for Bleeding Cool. Find previous columns here.
At times I need to get out of my own way.
Currently we have a great staff. I have people on hand that I do not worry about. Meaning I have faith in them that they will do their jobs. Sounds easy right? I wish. Over the years I wonder if the great employees we have had have been counter balanced by the not so great employees. People who steal are able to do a lot of damage to a business. People who do not want to work though want money do a lot of damage to business. I have spent a lot of time that has turned out to be wasted with people that do not want to learn. Which in turn is a waste of my time.
Employees of course are very important to a business.
To this day there are customers who still make fun of me for some of the past employees we have had. When a person has been a customer with us for years and has pull box, which we keep in alphabetical order, and then is suddenly told they don't have a pull box when they do, that is embarrassing.
When one has good staff on hand that means I can just step out of their way and give them some good directions and watch the magic.
Mistakes do happen, we are all human, it is when one doesn't care to learn or cares if they make a mistake then that becomes an issue.
I have been at the store more which has been a boost to sales and customer service (I hope at least). Some people do like to stop in and deal with the owner of a business.
I am also burning the candle at both ends and making mistakes. I recently learned something the hard way. I have been so busy I put off getting the quarterly sales tax taken care of. Usually I get everything done as soon as possible such as the monthly ordering for new upcoming comics. I filed the sales tax before going to bed while being tired and then noticed afterwards I had made a mistake on it. Never done that before. I read I could simply amend it and that would be that so I did. Or so I thought. Found out I managed to get both times I worked on it to count as two separate filings for the same quarter. Meaning I had sales tax withdrawn twice. That is thousands of dollars out of the store's account that should never had happened. I was surprised because I did it all online. After over eight years of filing sales taxes I did not have any clue that could happen. With it being done online I would have thought there would be a red flag of some sort saying I had already filed for that quarter. I thought I was doing an amendment. I called in to correct it and was on hold for over half an hour and after another half an hour hopefully fixing it. Found out that the money wouldn't be refunded into my account the same way it was taken out. That I would be sent a check or could use that money for the next sales tax quarter. That means thousands of dollars tied up until I deposit that check. In the mean time I get to wonder just when that will check show up. Great learning experience at least.
Worse time to tie up money needlessly? At the start of the month of course.  Rent is due and people want their payments.
Moved money around from various accounts and everything should be alright. One account was simply the store's online account.
Am I going to catch up on rest anytime soon? No. With Black Friday coming up we are getting ready to have Rod Deals that day. We used to be closed on Black Friday though in more recent years we have found out that there are a lot of sales to be made that day. Far more than on Small Business Saturday. People are looking for good holiday deals and we hope to deliver. We have people that think that they are getting such good deals from us on Rod Deals that we are losing money. That isn't the case. It is a good two way street. People leave feeling they got a good deal and the store makes money. Only thing I worried about is the weather. Bad weather such as a blizzard over the store will put a damper on the day.
I also need to work on more goals for the store next year. My current goal for myself is to take more time off and travel next year.
Balance is something I do need to work on. When I work in the store I know it is making money. Though by over doing it, by being tired that does not improve customer service. A small businesses advantage over big businesses is the personal touch. The fact that someone is on hand that does know the products in the store instead of say a big business such as Wal Mart where odds are a majority of the employees have no idea they even carry comic books.
Weird fact. I think I have sold a majority of the Swamp Thing 100 page Giants here in store that are exclusive to our local Wal Mart. I have customers that want them and do not want to stop in their store so I buy them and sell the comics to my customers. Unless the local Wal Mart restocked and had the exact same number of copies available as the week before I was there no one is buying them there the week after they came out. I understand more about why some comic retailers are not liking Wal Mart selling exclusive comics. My store I am betting easily could have sold more Swamp Thing issues by Greg Capullo than our local Wal Mart.
What are my current plans? I over ordered in October. This year I ordered up on DC's foil covers. Last October I over ordered on Marvel's lenticular covers. Maybe come October of 2019 I will remember the previous two years. Another self-inflicted wound. I got greedy. My orders for November and December are quite a bit lower. Because I over ordered for October along with what looks to me to be a lackluster November and December comic sales wise and the end of the year is coming up. Gearing up to try to tap into holiday sales as much as possible and to get ready for January, the typically slowest sales month of the year.  Maximize sales and lower inventory as much as possible before year's end. Businesses get taxed on unsold product after the end of the year.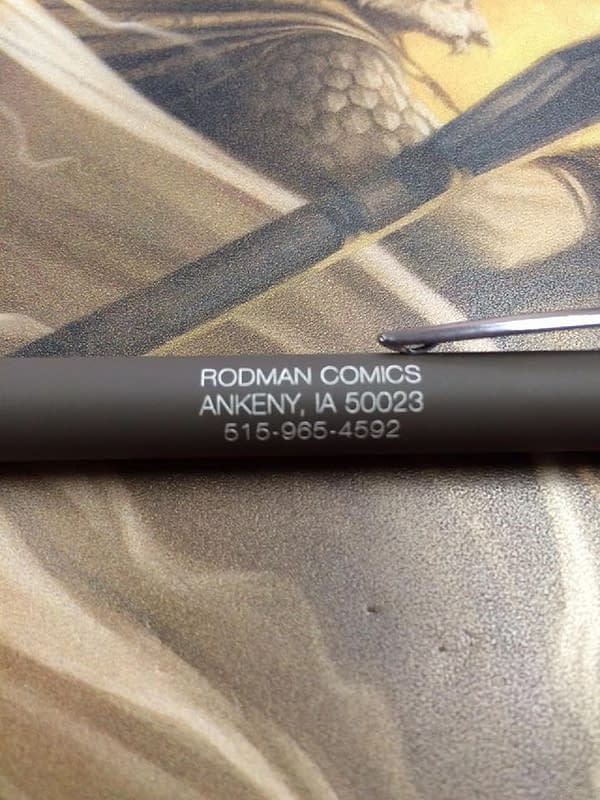 Enjoyed this article? Share it!