8 Comic Stores Hit By Looting Across the USA
Eight comic book stores have reported looting over the last few nights which ran alongside widespread protests against racist police actions and violence, across the USA. There may be more, these are ones which have taken their experiences public. But they also have different attitudes regarding what happened to each.
Golden Apple Comics of Los Angeles, California
Golden Apple Comics of Los Angeles were hit, and customers Ryan Storms and John Tracy have just launched a repair fund. They have written the following statement,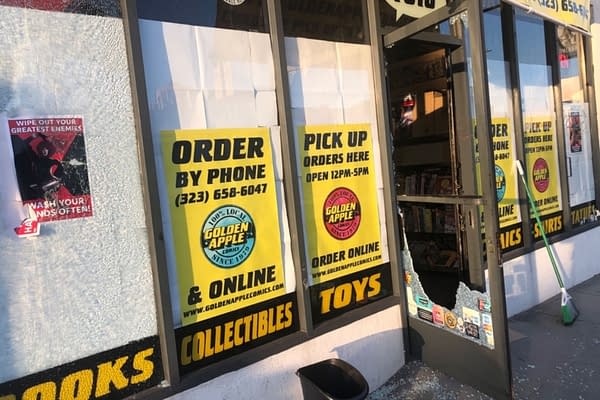 Last night, after some of the peaceful protests in LA, looting, fires and destruction began in the Fairfax District. Eventually, the angry mob moved onto the Melrose shopping district and ended up not only burning down the old shop location at 7711, but attempting to loot the current store at 7018 near La Brea. Thankfully, they weren't able to penetrate the inside security gates to get any product, but left a trail of damage at Golden Apple and neighboring shops.

This fund is to raise money for my favorite shop to fix the windows and install new security measures. The front door glass was smashed along with one of the front windows in an attempted looting. The money will help to properly board up the front of the shop for the next few days to deter any other destruction until new tempered glass can be cut and installed. In addition, they have to replace all the custom graphics to match the existing facade as well as other security measures.

This shop has been serving the Los Angeles community for over forty years and needs help with these expenses due to violence and destruction of their property. Any amount you can donate in assisting Golden Apple would be greatly appreciated. The shop was planning to reopen this Monday after being closed for the past two months due to COVID-19, now their plans and timeline have changed and need help to rebuild.
The GoFundMe appeal has raised over $6000, double their goal of $3,000.
Hi De Hi Comics of Los Angeles, California
Neighbouring LA store Hi De Ho Comics also reported looting, though the extent is yet to be measured.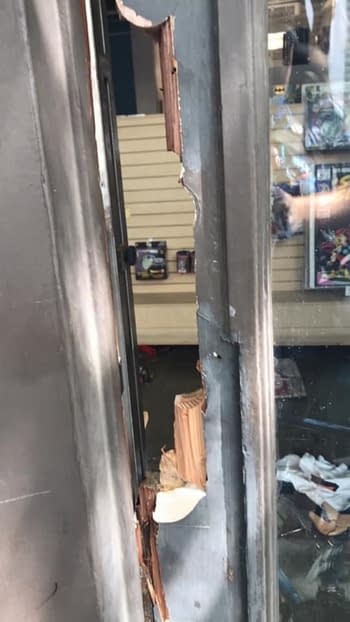 JapanLA of Los Angeles, California
While Los Angeles manga/anime store JapanLA was also hit, and posted,
I know a lot of you saw JapanLA getting looted on the news! They finally cleared them out and arrested some of the looters. We are all crushed and deeply saddened. Thank you for all the texts. We all left at 4:30pm and our staff is home safe. I'll send more updates soon!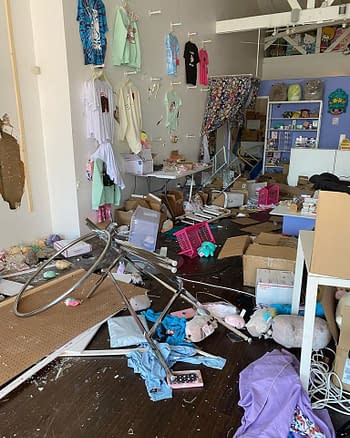 They did however follow this up with a different focus.
Thank you to everyone who has reached out with kind and supportive words for JapanLA. We apologize for not saying this sooner, but we absolutely stand by it: Black Lives Matter.

We see our friends, neighbors, and customers who are in pain and the many lives that have been taken. The Black Lives Movement has our sympathy and backing in their demands for justice. We, as a local small business, operated by Women of Color support the protestors and the justice they are seeking and empathize with their cause.
It was very difficult watching the damage done to our store last night. For us, this is like a 2nd home, so we have many personal feelings of attachment. It has always been our goal to create a safe space for people where they feel they can escape their troubles and indulge in cute things without judgement.

Thank you again for all the love and encouragement. Our staff got home safely before the break in occurred. We will regroup and we will be back soon. We already feel so much love from our kawaii community.

Please be compassionate and kind to each other in person and in your comments. We want JapanLA to stay a cute and safe place and will post more updates soon.
Graham Crackers, Chicago Loop, Illinois
But it's not just Los Angeles. The Chicago Loop iteration of the Graham Crackers comic shop chain, suffered similar.
Unfortunately our downtown Chicago LOOP location got broken into last night during the riots. At aprox. 12:21 am (Sunday) – 10 individuals smashed their way into the store and grabbed what they could. We spent this morning cleaning up the messes and getting the store boarded up to prevent further looting. We will NOT be open for SALES today as we deal with this problem. We are hoping to be open again tomorrow, provided the National Guard allows people back into the city. We GREATLY appreciate the NUMEROUS customers and neighbors that came by this morning and offered their help. There are a LOT of great people out there and it meant a lot to us that so many of you offered! Thanks again, and we will update here as we get more information!
Challengers Comics + Conversation of Chicago, Illinois
As did neighbouring store, Challengers Comics + Conversation of Chicago, looted as they were recording a podcast.
Top Cut Comics, Berwyn, Illinois
While Top Cut Comics of Brewyn, Illinois,posted,
Hello everyone, unfortunately today Top Cut Comics was vandalized and looted. As a result of this we will be closed for business until further notice. Updates will be provided as they become available. Please be safe and take care of yourselves!
Dream Haven Books and Comics of Minneapolis, Minnesota
Dream Haven Books and Comics of Minneapolis, Minnesota ran a series of messages.
I want to thank the neighbors that were looking out for DreamHaven last night. When I got up this morning there were messages to us saying that we had been broken into, and what could they do to help. Thank you. Thank you so much. I haven't been in contact with Greg yet this morning, I wouldn't be surprised if he was at the store now. But it helped me immensely to see a picture of poor old Batman guarding the door this morning.
Later adding
We have a crew at DreamHaven. They smashed the front door, came in and smashed a lot of other glass, tried to bash their way into an empty cash box, and tried to set the store on fire. They took a few things, but so much was tossed around that it will be a while before we can figure it out.

Lots of cleaning is happening, glass slivers are everywhere. If anybody nearby has an industrial vacuum cleaner, that might be good for glass slivers.

Right now, we're trying to get some cleaning done and not answering the phone, but feel free to swing by and chip in. Many thanks to everybody who already has. – Wendy

We're all boarded up and mostly cleaned up. There will be a lot of sorting and re-shelving. We need a lot of showcase glass but that shouldn't be hard to do.

I am so grateful to the dozens of people who came by to help out, doing all the real work while I "supervised", mostly feeling emotionally overwhelmed. We're joining in with neighborhood watch groups tonight to patrol the area. I hope this ends soon.
And concluding.
Thank you everyone who came by to help and wish us well. It was a mess, with most of the glass cabinets at least partially broken. There were a few merchandise casualties and they took/destroyed the electronics they found, but mostly they ignored the books. All except the one they tried to burn, which they left to smolder and which put itself out.

Teams of folks came by during the day (they appeared out of nowhere! It was *brilliant*!) and boarded up the store and painted "With great power comes great responsibility" on the boards. Also brilliant.

So for the moment, we're done. There are a lot of things that need to be put back into place, and it will be a little while before we can open again. But we're here and safe and once we get through this patch we will again be able to open for business.
Crazy Fred's Cards And Comics of La Mesa, California
While Crazy Fred's Cards And Comics of La Mesa also has customers raising money for the store, currently over $11,000 against a $5,000 goal. They told the local news, "Things were stolen. Not as much as we were afraid of, though," says Sara Adair, wife of Fred Adair, the shop's owner. That Crazy Fred and its staff had removed the most valuable cards and comics moments earlier.v"We had just been waiting for the call from our security company for the glass break," says Adair. "Once we saw that the rioting had hit the Vons we knew it was just a matter of time and we couldn't do anything. It was really hard." The cash register was also emptied before being destroyed. "There was just change, that's it," says Madison Parker, a store employee who was relieved to find some of the items connoisseurs covet still intact in the back room, like unopened boxes of Legends card decks. but that the fires that burned around the parking lot did not get to Crazy Fred's. "Between all the paper cards and the plastic there would have been no recovering. Even if some of the product burned that would have been the end of it," says Parker. Fred added "A comic book store runs on a pretty slim profit margin already. With this on top of COVID I don't know if we're coming back from it. Right now it seems impossible but we'll see."
If you have any to add, you can contact richjohnston@bleedingcool.com.