Conan the Barbarian is most well known for slaughtering his enemies with a sword, but as the following first look preview at February's Savage Sword of Conan #1, kicking off a five-part story by the Gerry Duggan of comics, Gerry Dugan, along with artist Ron Garney and colorist Richard Isanove. Presumably someone will letter it, but "@#$% letterers" is the message from Marvel, who never mentions them in solicits or press releases. But Robert E. Howard's hero isn't above resorting to fighting dirty if the need arises. So it should be no surprise that when left with no other options, Conan goes right for the family jewels…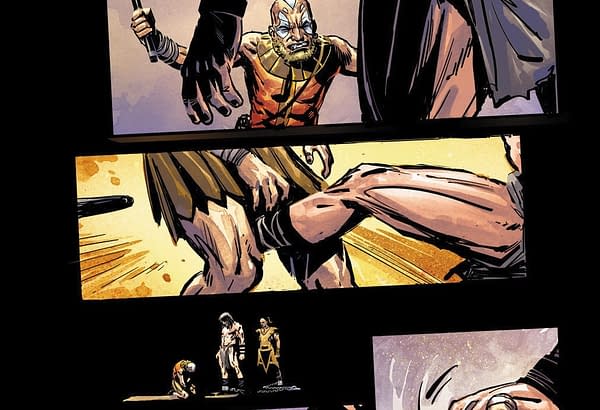 Editor Mark Basso explains the comic on Marvel.com:
A hallmark of the Conan stories, dating back to the original Robert E. Howard tales, is to catch up with the Barbarian in various times in his life—as a thief, as a pirate, as a pit fighter—and we're continuing that tradition with the new SAVAGE SWORD

onan finds himself in a tough spot as this five-part adventure opens, and it really only gets worse for him from there, as his excursion runs him afoul of the sorcerer Koga Thun. Thun is seeking a treasure of incredible value, and as the story unfolds you'll see how his mission, and the hunt Conan finds himself on end up raising the stakes for Conan and the city he'll need to save.

But Koga Thun doesn't work alone—he has a cult that follows him, and the rituals they perform will end up impacting Conan in a way you won't quite expect.
While Duggan just hopes the story is good.
My first job was in 7th grade, working part-time at a comics shop that needed help going through their inventory. I fell in love with the classic Conan material that year. To be able to play in this sandbox now is a dream come true. I hope it has all the hallmarks of a great Conan tale,. It starts on the high seas, there's treasure, there's fighting, there's a potential romance, there's a little bit of comedy, and there's Conan swinging all kinds of weapons at death cultist's heads.
And their @#$%s.
Final order cutoff is Monday, so get your pre-orders in quickly if you want more ball-kicking action in your pullbox.
Savage Sword of Conan #1
(W) Gerry Duggan (A) Ron Garney (CA) Alex Ross
THE ANCIENT CULT OF KOGA THUN. A MYSTICAL TREASURE.
AND THE ONLY MAN WHO CAN SAVE THE HYBORIAN AGE!
Adrift at sea. No food. No weapons. Death surely awaits him. But the lionhearted CONAN is not so easily subdued, by Crom! When Conan finds himself captured, he unleashes his might on an unsuspecting pirate crew…one whose dark secrets will plunge Conan on the trail of an ancient treasure that may prove to be his undoing!
An all-new age of SAVAGE SWORD OF CONAN begins with a five-part tale of swords and sorcery by Gerry Duggan (DEADPOOL, INFINITY WARS) and illustrated by legendary artist Ron Garney (DAREDEVIL, THOR: GOD OF THUNDER) with covers by the incomparable Alex Ross, and breathtaking variant covers by Garney, Rahzzah, comics legend George Perez, and Teenage Mutant Ninja Turtles co-creator Kevin Eastman!
Welcome to the deadly Hyborian Age-hope you survive the experience!
Parental Advisory
In Shops: Feb 13, 2019
Final Orders Due: Jan 21, 2019
SRP: $4.99
Enjoyed this article? Share it!