Savage Sword of Conan sees Conan the Barbarian facing the evil sorcerer Koga Thun, as basic a Conan premise as can be. But in this preview of Savage Sword of Conan #5, as Conan and Menes spelunk in a dark cave, things take an exciting and unexpected turn. No, we're not talking about the fact that Conan is living on borrowed time as Koga Thun's Venom races through his veins, soon to bring him under the sorcerer's control…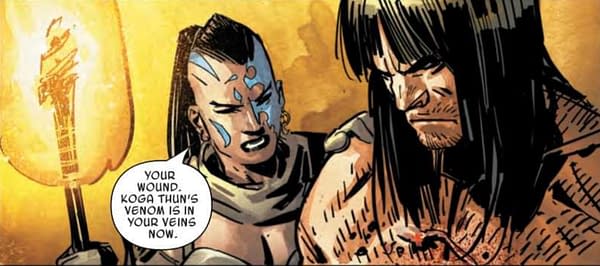 It's what Conan and Menes find at the end of their journey, as the scene of the ocean begins to fill the cave…

And they find….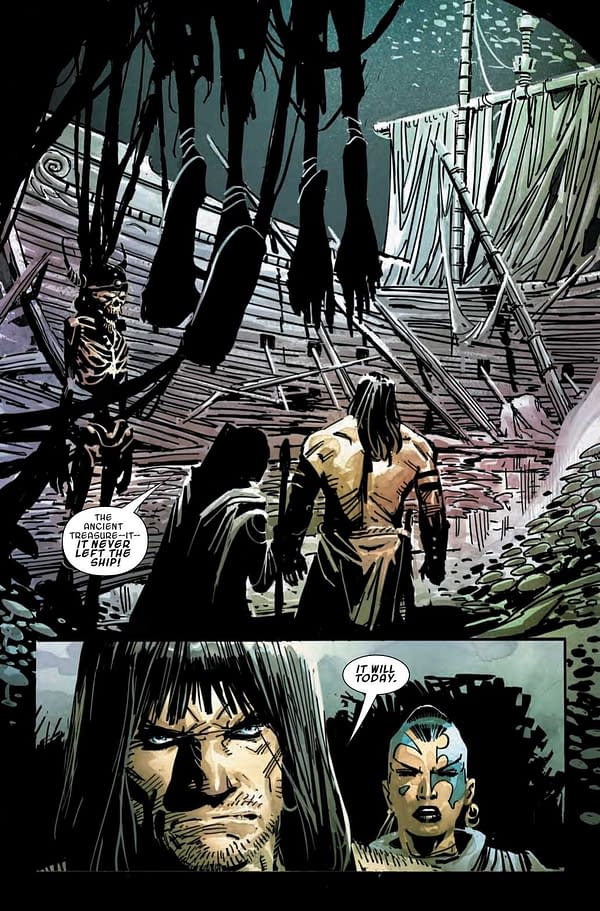 My god! It's One-Eyed Willie's treasure! Who could have seen this one coming? Certainly not us, that's for sure.
Savage Sword of Conan #5 hits stores on Wednesday.
Savage Sword of Conan #5
(W) Gerry Duggan (A) Ron Garney (CA) Alex Ross
• The mystery of the magical treasure finally revealed!
• It's now or never, and CONAN must make a choice that will determine the fate of Stygia!
• Either way, KOGA THUN will not let the Barbarian go without a fight!
• Plus: The next chapter in the all-new CONAN novella, "The Shadow of Vengeance"!
Parental Advisory
In Shops: May 08, 2019
SRP: $3.99
Enjoyed this article? Share it!