Countdown To The Eisners 2015 – Best Cover Artist For a few years, I covered (pun intended) my favorite comic book covers each week for Bleeding Cool. I enjoyed browsing the new release section at my local shop because it was a bombardment of different colors, shapes, and stylings to the eyes, making me "Ooooh!" and "Ahhhhh!" in delight. In the industry, sometimes the sale of an issue relies on whether or not a cover can grab the attention of an unsuspecting buyer in the store, and reel them in for the kill. Some artists illustrate exclusively covers, for they enjoy telling a story on a single page. While I wouldn't necessarily pay extra for a variant cover just for the cover alone, a lot of people do, hence why certain publishers have no problem selling 4-8 different variants for a single issue. The Best Cover Artist is always one of my favorite categories, even more so now that David Aja isn't a nominee again this year.
Keep in mind I cannot vote for who wins (nor can you, probably), as per the rules. Plus voting ended June 1st. However, that's not keeping me from being vocal regardless!
Who is eligible to vote?
Comic book/graphic novel/webcomic creators (writers, artists, cartoonists, pencillers, inkers, letterers, colorists
All nominees in any category
Comic book/graphic novel publishers and editors
Comics historians and educators
Graphic novel librarians
Owners and managers of comic book specialty retail stores
Who is not eligible to vote?
Comics press or reviewers (unless they are nominees)
Non-creative publisher staff members (PR, marketing, assistants, etc.)
Fans
Before I get back to fluffing the Reverend Dave Johnson so I can be eligible for next year, let the games begin!
Best Cover Artist
Darwyn Cooke, DC Comics Darwyn Cooke Month Variant Covers (DC)
Mike Del Mundo, Elektra, X-Men: Legacy, A+X, Dexter, Dexter Down Under (Marvel)
Francesco Francavilla, Afterlife with Archie (Archie); Grindhouse: Doors Open at Midnight (Dark Horse); The Twilight Zone, Django/Zorro (Dynamite); X-Files (IDW)
Jamie McKelvie/Matthew Wilson, The Wicked + The Divine (Image); Ms. Marvel (Marvel)
Phil Noto, Black Widow (Marvel)
Alex Ross, Astro City (Vertigo/DC); Batman 66: The Lost Episode, Batman 66 Meets Green Hornet (DC/Dynamite)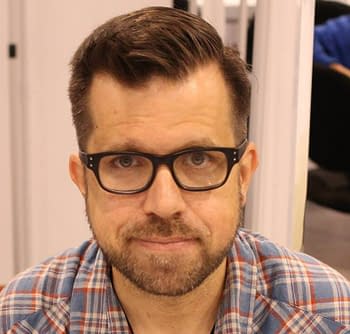 Who I think should win:
Phil Noto, Black Widow (Marvel)
For years Noto has been killing it on covers, and this past year with Black Widow he's been churning out some real great stuff starring Natasha. The elegant mixture of paints and inks in his distinct style really captures the tone of the redheaded assassin on every cover, making her as beautiful as she is deadly each time. Noto definitely has an eye for design and detail for every cover, making every issue absolute eye-candy on the racks.
Who I think will win:
Darwyn Cooke, DC Comics Darwyn Cooke Month Variant Covers (DC)
DC Executive: "You know what the kids want? Darwyn Cooke."
DC Underling: "B-but we can only do so many different printings of Before Watchmen and The New Frontier!"
DC Executive: "Dammit, you're right. What if we were to dedicate and entire month of variant covers to Darwyn?"
DC Underling: "Genius, boss!"
DC Executive: "Darwyn, we want you to illustrate every variant cover for the month of January. Capisce?"
Darwyn Cooke: *dollar signs flash before his eyes* "You had me at 'money.'"
Then Cooke proceeded to illustrate the hell out of every cover for an entire month, each one looking flawless. Many people definitely admire Cooke, so it's a no-brainer he'll win it this year because of the quality and quantity. Even Francavilla was all, "Damn, son! Take a breather!"
Who I think should have been nominated:
Paolo Rivera, Daredevil, Marvel 75th Anniversary (Marvel)
Rivera has always brought his beautiful stylings to the Daredevil covers, and this past year was no different. The way he approaches and illustrates a cover is a thing of beauty, for he doesn't rely on just one style. He definitely debuted a few killer covers in 2014, and it was a shame not seeing his name among the nominees.
Who do you think should win / been nominated?
Cameron Hatheway is a reviewer and the host of Cammy's Comic Corner, an audio podcast. You can judge his Twitter account by its cover @CamComicCorner.