When it was Northstar, it made front-page headlines worldwide. A decade later, Apollo and Midnighter also got their fair share. By the time Alan Scott and Iceman were revealed as gay characters, it made the inside pages. Maybe this will be the last of those headlines to run? Let's see.
Because in Teen Titans Annual, published today, we have a new character go up against the Teen Titans called Joystick. And because this is written by Adam Glass, you get to acknowledge all the obvious innuendos. And even a Fortnite gag, as he takes control of Djinn.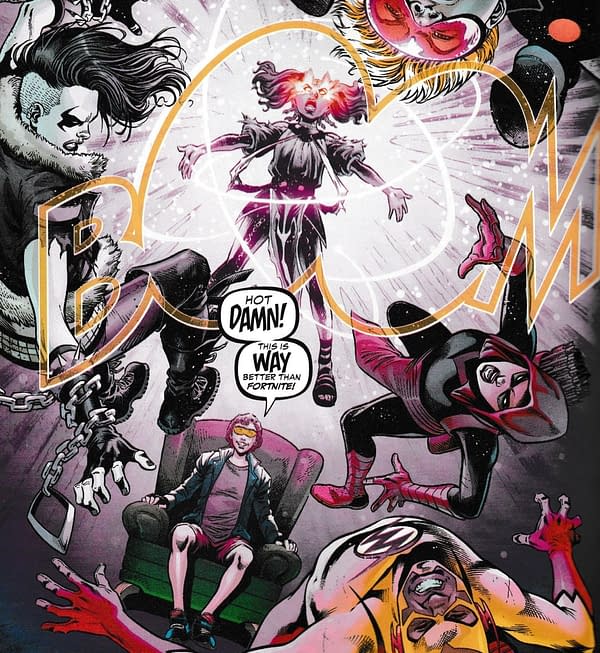 Hilarious. But this also gets the chance for Joystick to understand what Djinn thinks and feels. And says it out, openly.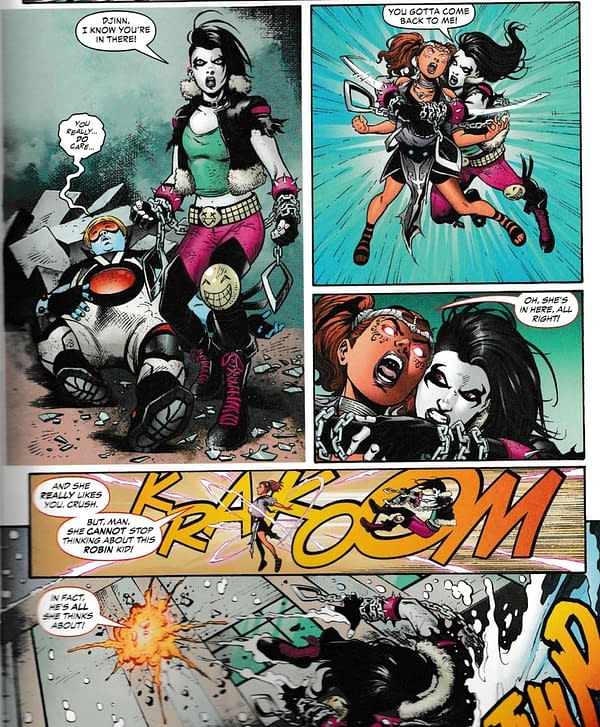 Djinn is all about Damian Wayne. Something that doesn't sit well with Crush. Who has already had to deal with Roundhouse's unwanted affections.
Is this to be the start of some revelation about Crush, Lobo's daughter? Because over in the Valentine's Day-themed Mysteries Of Love In Space 80-Page Giant #1 from DC Comics, there's another scene…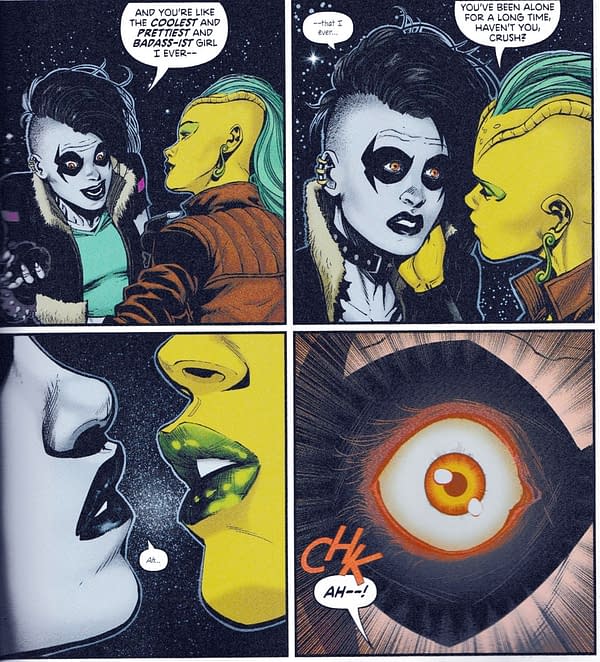 Obviously, things go pear-shaped something sharpish.
TEEN TITANS ANNUAL #1
(W) Adam Glass (A) Ryan Benjamin (CA) Giuseppe Camuncoli, Cam Smith
Betrayed by the Red Hood, Damian hunts down Jason Todd and vows vengeance-or death! Meanwhile, Djinn and the rest of the Titans battle one of the Other's closest allies-Joy Stick! (Making his DCU debut from the Teen Titans Go! universe.) But when Control Freak learns all of Djinn's most dangerous secrets, Djinn will do anything to keep the Teen Titans from finding out the truth! In Shops: Jan 30, 2019 SRP: $4.99

MYSTERIES OF LOVE IN SPACE #1
(W) James Tynion IV, Saladin Ahmed, Cecil Castellucci, Kyle Higgins, Jeff Loveness, Others (A) Tom Grummett, Kyle Hotz, Elena Casagrande, Max Dunbar, Others (CA) Jo?lle Jones
Sometimes love can make you feel like you're from another planet…but what if you actually were? Join Superman, The New Gods, Green Lantern, Starro, Hawkgirl and even the Teen Titans' new sensation Crush for eight tales of romance that will whisk you to the moon and back! In Shops: Jan 30, 2019 SRP: $9.99
Enjoyed this article? Share it!