Dan Abnett's has a Writer's Commentary on Dejah Thoris #1, published by Dynamite Entertainment. He writes,
I was delighted to be offered a new Dejah Thoris series by Dynamite. I've loved Edgar Rice Burrough's Barsoom tales since… oh, before you were born. It's such an influential set of books, more than anyone seems to acknowledge. Its inspiration can be seen in Star Wars, Dune, Avatar, Superman… the list is long, and includes just about all of the genre we love. In fact, I feel that the stumble of Disney's John Carter movie (which I mightily enjoyed) was down to the fact that general audiences found it too familiar. Of course it was… they'd seen its fingerprints in almost every genre movie they'd ever enjoyed.
Anyway, on to the Issue #1 commentary!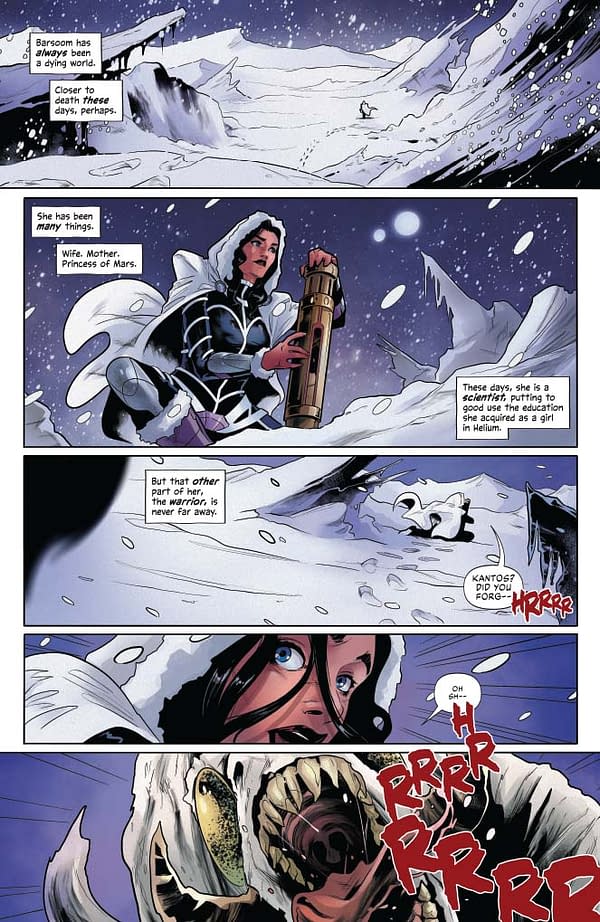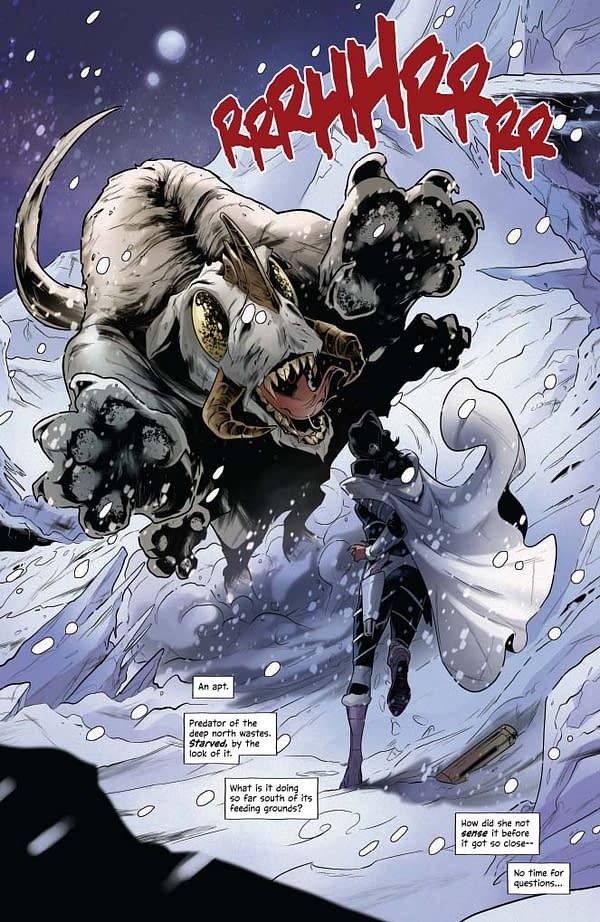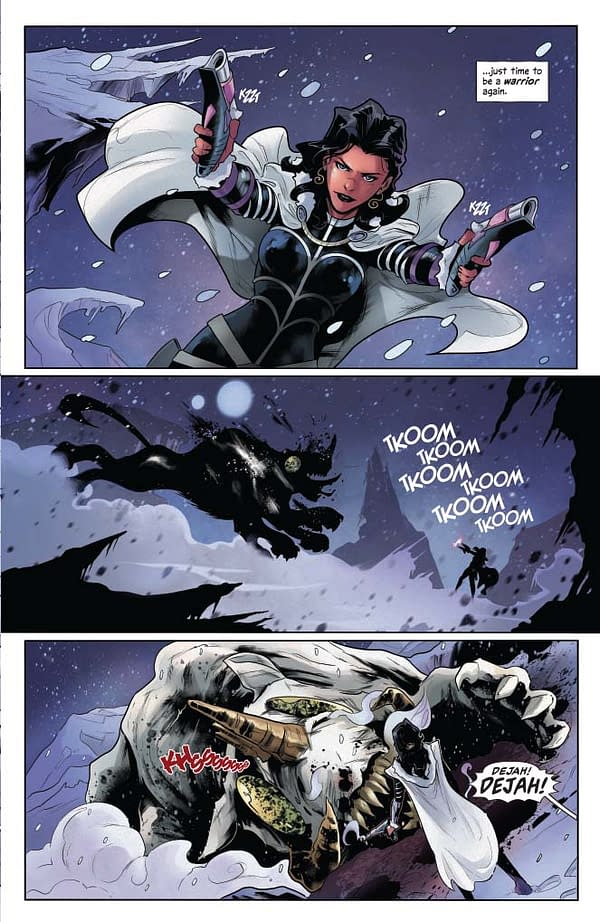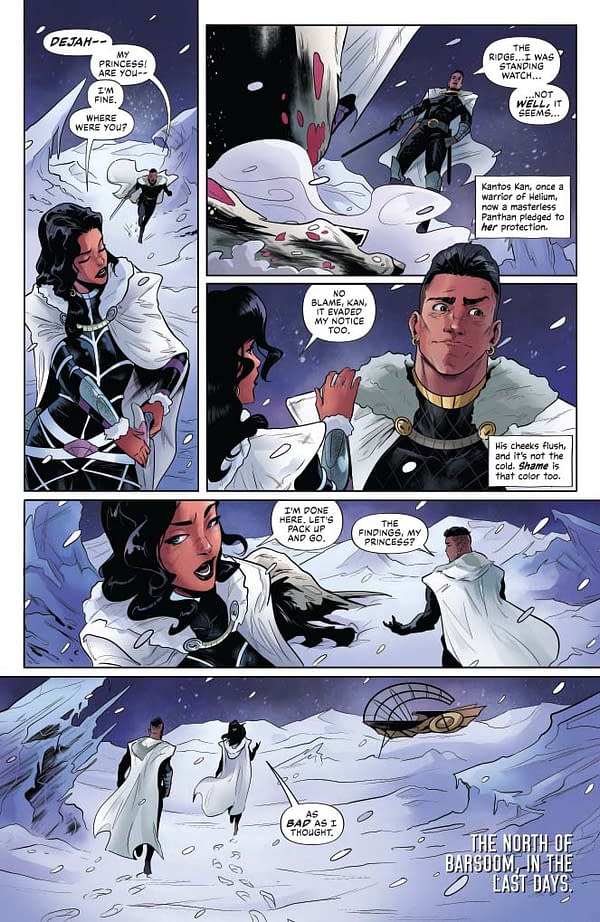 Pages 1-4
It's comics. We need to open with a bang. But I'm also mindful that we're bringing a lot (a lot!) of world-building and lore with us, and we need to deliver that both whole (to new readers) and in specific context (to readers who are familiar with Barsoom). So a key choice here was in the captions. I went with an omniscient narrator, who could be our unbiased guide throughout. This is a very old-fashioned stylistic decision, and uncommon these days in comics, but it felt right for this. The narrative is a confident voice of authority that can deliver key expositional details while other things are happening. Plus, it's a proper storyteller, which I felt added old-school, Pulp SF charm. I asked Simon Bowland (a letterer I work with a lot — check out "Brink" in 2000AD — and who I trust in terms of sympathetic lettering scheme design) to tackle the narrative CAPs in upper and lower case. It feels like a book, like prose, but it also distinguishes it very clearly from the speech balloons (standard comic case). I think it's a very subtle but very effective distinction.
On page two — splash, big monster. We've speed-introed Dejah, let's get ERB lore in there too. Great art from Vasco to showcase his take on one of the classic beasts of Barsoom. Vasco and I, along with our editor Nate, were talking all the way along about how to visualize the classic elements of this setting. Everything should be recognizable, but filtered through Vasco's style. Let's face it, almost every character and creature in Barsoom has been depicted a thousand times before by many artists. Vasco's goal was to give this book its own feel.
And instantly, we establish Dejah's credentials as a hero who can look after herself.
What's that you say? Why isn't she in a string bikini? Because it's snowing, dude.
Seriously, Dejah Thoris has become the epitome of 'good girl' characters, and I felt it was high time we showed that she could be sexy without having to parade around like a pin up. Yes, she'll wear a bikini later (in context), but this series doesn't need to be gratuitous. There should be plenty of good reasons to read this book (strong story, involving characters, high drama) without the need for constant cleavage. Plus, with the snow, we have just introduced the 'meta' problem lurking at the heart of this saga.
Pages 5-10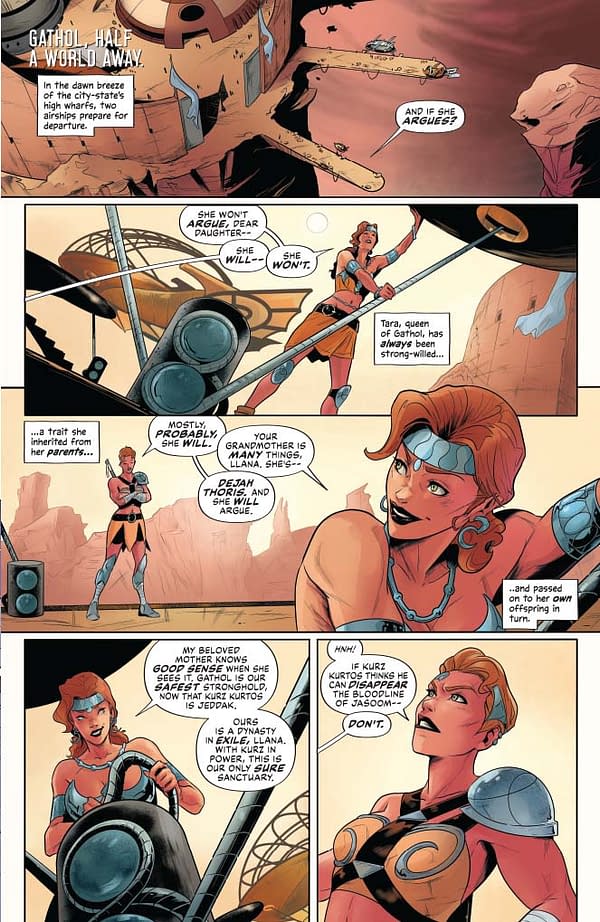 I wanted from the start to make this a 'big cast' book, drawing on the range of ERB's characters. Having met the loyal Kantos Kan a page ago, we now meet Llana of Gathol and Tara too: The Thoris Dynasty, and key parts of our large cast. I believe Barsoom stories lend themselves to intrigue, inter-character dynamics, and delicious, back-stabbing complexity. But I'm trying to keep it clear too, for new readers, letting this scene, and the Thark scene that follows, set up a lot what we need to know about the current situation on Barsoom.
Here we see Vasco cutting loose on other core Barsoom concepts: Tharks! Air ships! Thoats! Tars Tarkas and Sola!
The Barsoom books contain some extraordinary (and very early) world building. In fact, I was amazed when I started work how clearly I remembered all that lore from [indistinctly mumbled word] years ago. It felt like I knew it better, without reference, than other continuities I have spent a long time immersed in. It felt like coming home.
Pages 11-15
Speaking of which, we now reach the great city of Helium, and in those hallowed halls meet some new characters like the cunning Jeddak Kurz Kurtos. He's the new Big Man On Barsoom. Note that now we get Dejah in her scanties… but it's contextualized as 'formal protocol'. She's meeting the Jeddak….this is etiquette. Objectification? Yes. Power? Yes. Cultural? That too. It tells us a lot about Barsoomian tradition and custom. It tells us a lot about Kurtos.
Is he our bad guy? Well, yes. That's pretty obvious. He's certainly not the nicest guy in the story, and he clearly relishes his authority and status too much. But the sheer depth and cunning of his malevolence is yet to be revealed. For now, he's just the asshole in charge.
The underlying intrigue and power-play rife on Barsoom are evolving though…
Page 16
…As we discover when we introduce the frankly crazy and eccentric Sabal Than. In the space of one issue, we have lined up our main players, explained their concerns and motivations, but (I hope!) done it in character, conversationally. If you're going to write a Barsoom saga, you should make the most of the wealth of lore, but I did not want to weigh the book down with hefty expositional info-dumps, so here – and in other places – I wanted to communicate a lot of facts via natural dialogue, where we learn as much about the characters and their inter-relation as we do about the backstory.
Here, we understand why the Jeddak hasn't made a move yet, and why he's going to now. The trap is about to close.
Pages 18-19
Love this moment between Kan and Dejah, and I relish what they are not saying as much as what they are. This series is not without mysteries, the main one being… where is 'he'? You know, the person we're not referring to. The person whose name is usually in the title.
From here to the end, we reach the Atmosphere Factory, another fundamental ERB concept, and set the scene for, well… assassination by White Ape. Which is an actual thing, clearly. Sinister machinations intercut with building suspense, beautifully handled by Vasco, and then comes the big splash to end. I should, of course, mention Dearbhla's fabulous colors, which pull this entire issue together wonderfully.
As is clear from that rampaging cliff-hanger, it's going to get messy. Issue #2 is a huge set-piece battle, and we have a genuine shock in store in terms of where this arc ends up. The high adventure has just begun. So has the intrigue, the dynastic rivalry, the factional in-fighting, the alliances and the betrayals, the wars, the schemes, the twists of fate. And Dejah Thoris is slap-bang in the middle of it all, perhaps the only person with the wit, skill, courage and charisma to stop Barsoom collapsing into chaos.
And winter is…. to coin a phrase… imminent.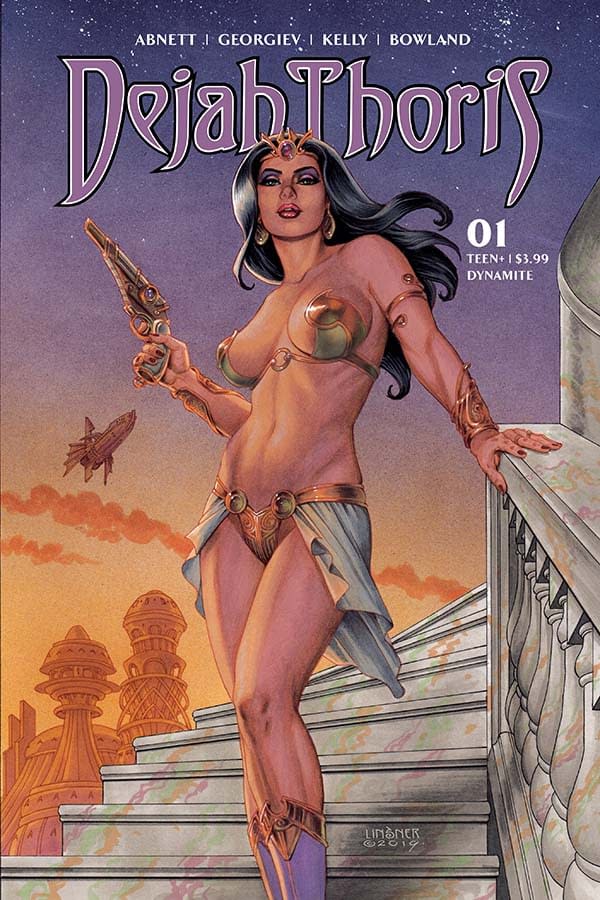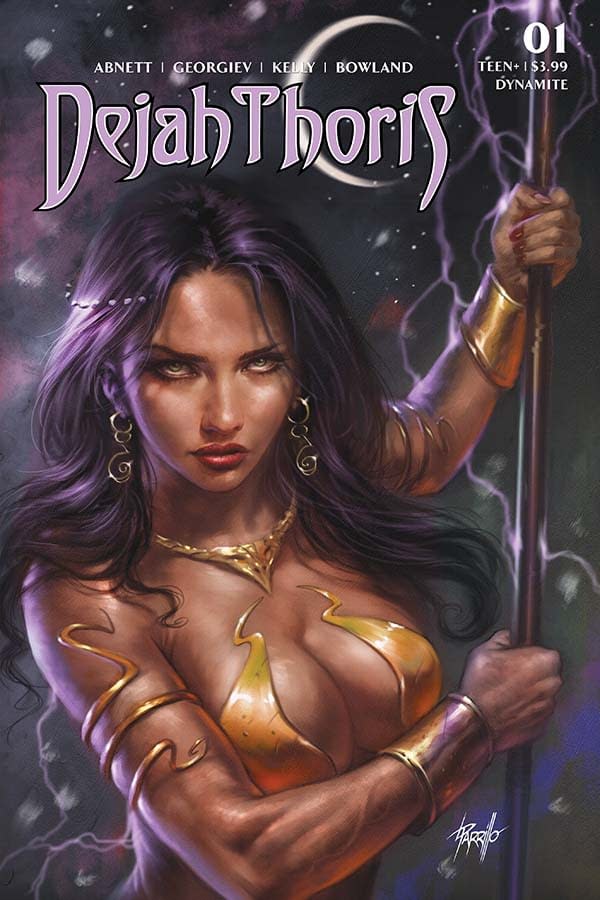 Enjoyed this article? Share it!