Dan Slott Retcons John Byrne AND Mark Millar in Today's Fantastic Four #5… (SPOILERS)
The wedding of Ben Grimm and Alicia Masters is today in Fantastic Four #5. The moment has been prepared for. But it's not the only big change in the title. On Monday, I wrote a piece about the return of Aunt Petunia to the Fantastic Four in today's Fantastic Four #5 by Dan Slott and Aaron Kuder.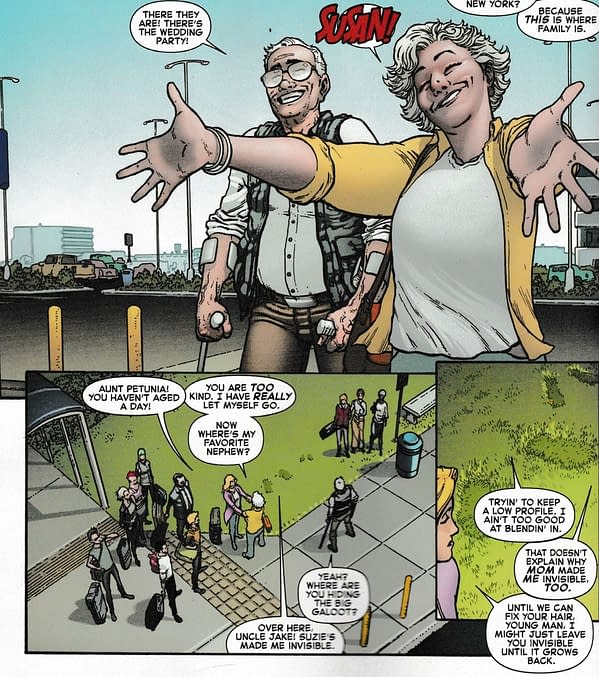 And wrote that while the comic focused more on the ageing of Valeria and Franklin by five years, the relationship between Ben Grimm's Aunt Petunia Grimm and Uncle Jack Grimm was not quite as May-to-December as John Byrne had presented it as.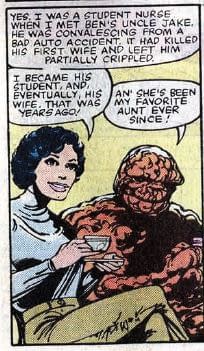 But what I had totally managed to blot out was what Mark Millar and Bryan Hitch had done to her in the interim.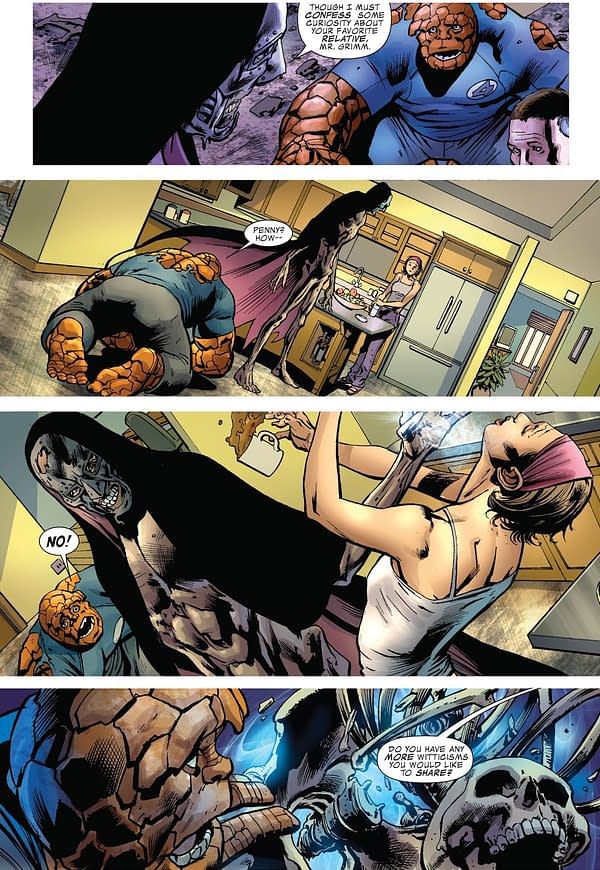 That has not been addressed in her reappearance, though her age is joked away. Dan Slott, amending the excesses of John Byrne and Mark Millar simultaneously? It's a Christmas Miracle…
FANTASTIC FOUR #5
(W) Dan Slott (A) Aaron Kuder, Adam Hughes, Michael Allred (CA) Esad Ribic
SPECIAL 650th ISSUE SPECTACULAR!
The wedding that's been years in the making…Ben and Alicia say "I do!"
No bait. No switch. Not a dream. Not a hoax. And we swear, not a single Skrull around. This is really happening! From the book that brought you the first, best and longest running super hero marriage in comics, we give you…the wedding of Ben Grimm and Alicia Masters! Featuring an untold tale of the courtship of Ben and Alicia. A bachelor party that only Johnny Storm could throw. And a very special ceremony brought to you in the Mighty Marvel Manner.
Rated T In Shops: Dec 26, 2018
SRP: $7.99