Daredevil Annual #1 Review: The World Needs More Misty Knight Stories
[rwp-review-recap id="0"]
We go back to the earlier days of Daredevil, when the Man Without Fear was still a fledgling hero and Misty Knight was still Detective Mercedes Knight. Detective Knight and her partner, Carmen Torres, have their night interrupted by a body falling out of a window onto the hood of Misty's car. Upon investigation, Knight finds two mobsters in a brawl with Daredevil. This puts both Misty and Daredevil onto the trail of a mob boss kidnapping chemistry students to make him Mutant Growth Hormone.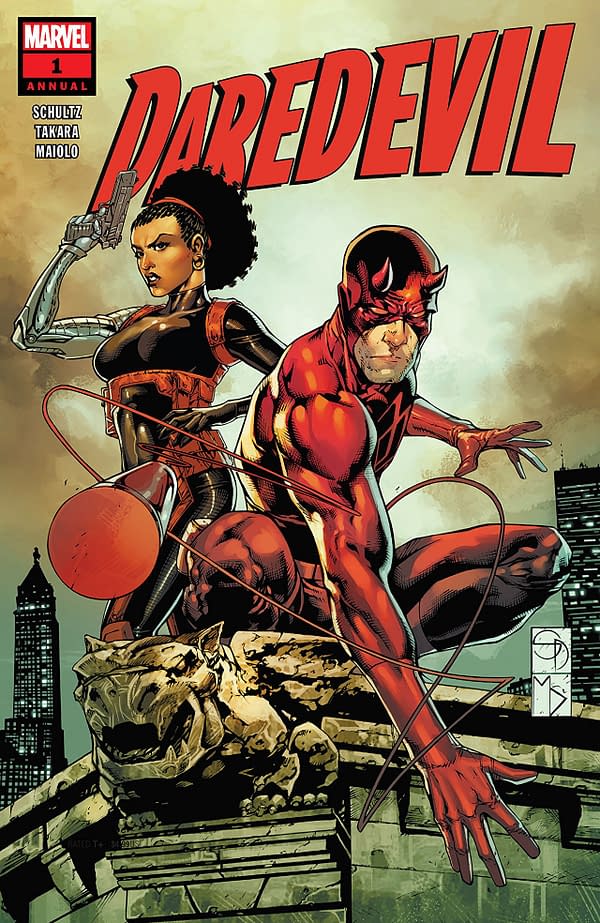 Daredevil Annual #1 revives one of the older comic story structures of the costumed hero trying to convince the hard-edged police officer to like them. In this case, the officer is Misty Knight, and there is an often-reinforced of irony considering how her later career looks.
A good portion of the dialogue is Misty complaining about superheroes. If you're hoping for a story that feels like a classic throwback tale, that isn't really the comic's aim. Matt is a bit more jovial than he is these days, but Mark Waid was playing that game on his run not too long ago. Also, I'm bummed that DD isn't wearing the classic yellows.
The main conflict is technically the strife between Misty and Matt, but the mobster MGH tale is the catalyst. That part of it doesn't give much of interest. The main draw for me, unsurprisingly, is the presence of Misty Knight. She gets a good representation, being the badass that we all know she is.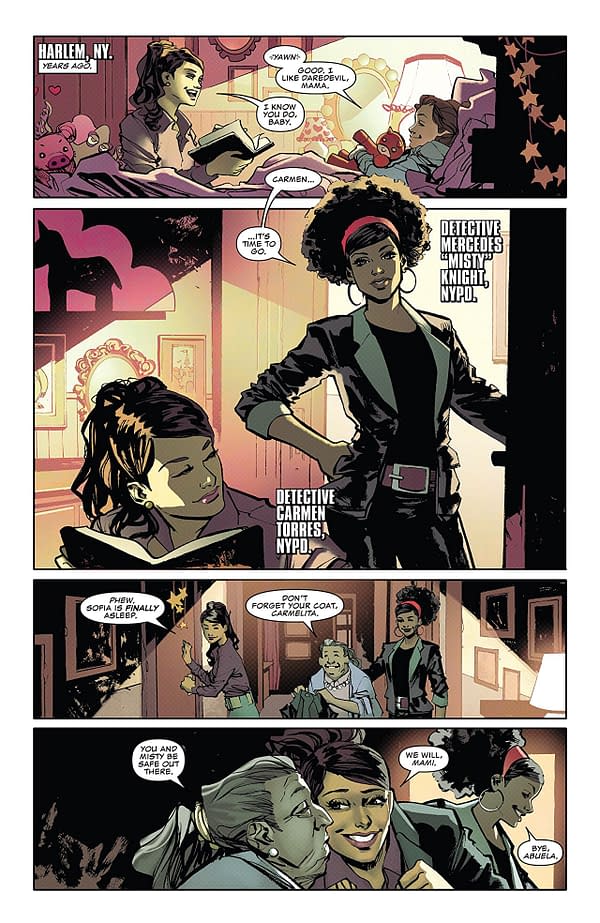 Marcio Takara takes the art on this one, and he gives the book a suiting gritty aesthetic throughout most of the comic. Shadowing is used well, Daredevil's costume looks great, and a lot of the framing is really good. Marcelo Maiolo's color work compliments the gritty linework with dim tones that draw upon Daredevil's noire roots.
Daredevil Annual #1 isn't anything special, but it's nice to see Matt Murdock and Misty Knight teaming up again. The story is fine, the dialogue is solid, and the artwork is good. It's not what I would call a must-buy—especially at the $4.99 price tag—but it's worth a soft recommendation. If you're a DD or Misty Knight, feel free to check it out.
[rwp-review-ratings id="0"]
[rwp-review-form id="0"]