David Avallone's Writer's Commentary on Elvira: Mistress Of The Dark #9 – The Cover Comes First
David Avallone's Writer's Commentary on Elvira: Mistress Of The Dark #9 from Dynamite Entertainment.
What follows is, as always, SOLID GOLD SPOILERS. So go read the comic and come back, and this will all make some kind of sense.
Covers: So I'm just getting started writing "Elvira's Inferno" – the previous arc – when I notice the great John Royle has a new Elvira image on his Instagram. It's a fantastic cover… Elvira roaring into the sky on a witch's broom. Fun and funny. Beautiful color work by Mohan.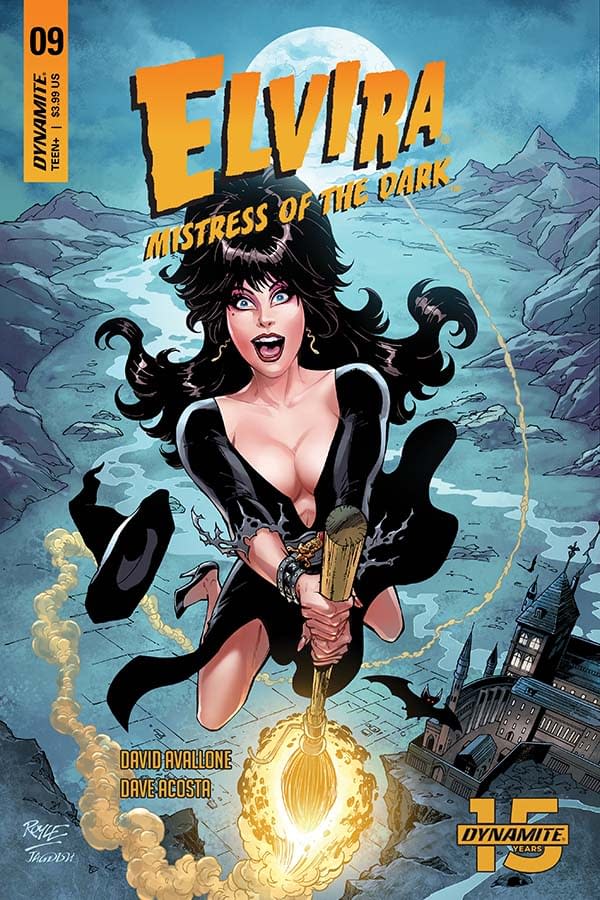 I message John and say, "hey, man… what's this for?" And he tells me it's the cover of Elvira: Mistress of the Dark #9. At this point, Dynamite hasn't yet informed me that there's going to be a #9… so I'm happy to hear the news… but I have absolutely nothing planned. I take another look at John's ridiculously wonderful cover and think… why not? Elvira and witches. Done. Make the comic that goes with this amazing cover. And so we did.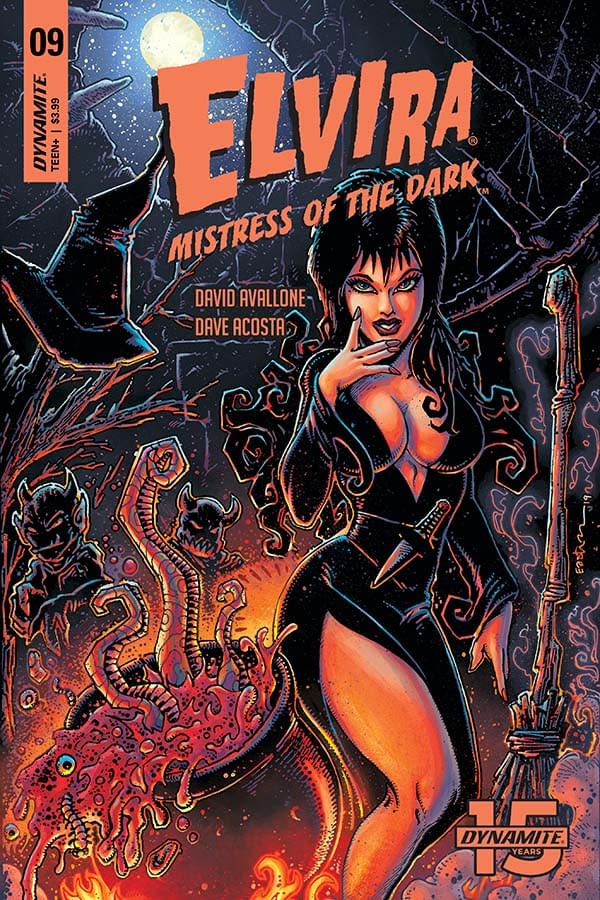 Shortly thereafter, Kevin Eastman – yes, that Kevin Eastman: the "Ninja Turtles" guy – mentions in conversation, "hey, if you ever want me to do a cover for one of your Dynamite titles, a Bettie or an Elvira, I'd love to." Kevin and I have an original comic series we co-created called DRAWING BLOOD, (which you should totally read, by the way) and this is our first collaboration outside of that. I think it was editor Kevin Ketner (I know all the best Kevins, apparently) who suggested it might be great to have Kevin do this cover specifically, so that we'd be kicking off a new arc with an amazing cover from a legendary artist. I called up Eastman and said "Elvira and a witch's broom", and he went to town. The finished piece, with Tomi Varga's vivid colors, is something I've very proud to have on one of my comics.
Because Kevin Eastman is, in fact, the Nicest Man In Comics™, he later sent me the finished art, which I have framed in my office.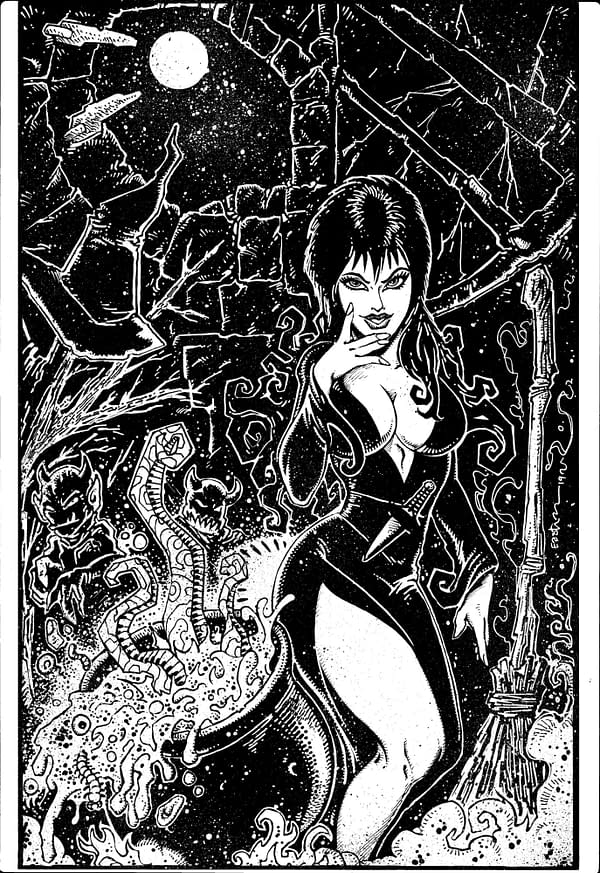 In addition to those two… there's the predictably great work of Craig Cermak (with color by Brittany Pezzillo) and the always-popular photo cover.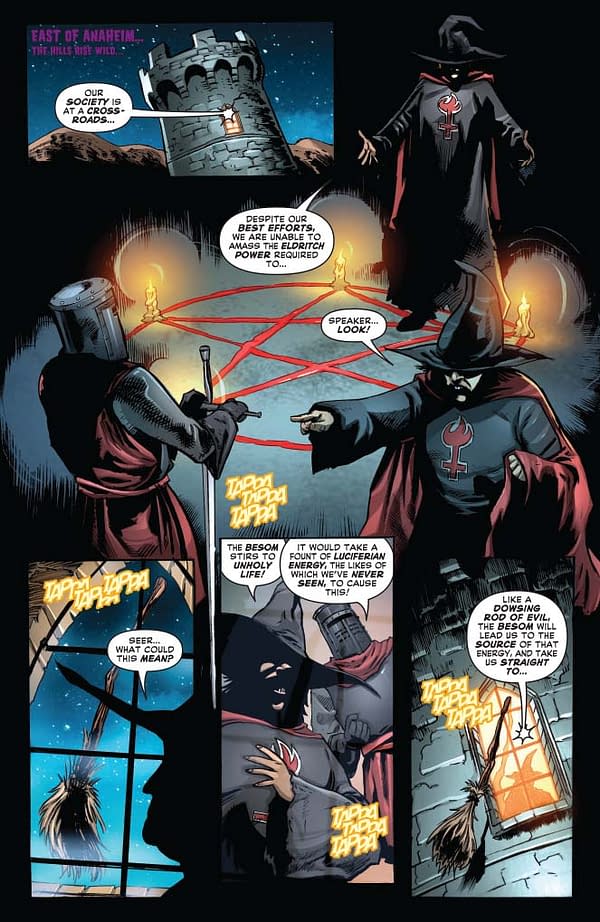 Page 1: "East of Anaheim, the hills rise wild…" is a reference to H.P. Lovecraft. His short story "The Colour out of Space" begins with "East of Arkham, the hills rise wild…" Since our story of the occult opens in Orange County, California, I connected Anaheim with Arkham in my (cluttered, confused) mind and thought it gave me a funny opening. As anyone who's followed my work knows, I'm all about weird references and research. Speaking of research, that's how I found out a witch's broom has a specific name, and that word is "besom." Who knew? (Witches, presumably?) And yes, the "tappa tappa tappa" is absolutely a Simpsons reference.
Pages 2-3: We pick Elvira up right where she left off on the last page of issue 8, shooting a Dracula movie. The issue title is a reference to the TV show SCHITT'S CREEK, in which the character of party girl Alexis (Annie Murphy) has the catchphrase "Vroom vroom, bitches." (Check out the song "A Little Bit Alexis" if you want to hear her say it. Hilarious song.) At the bottom of page 2, Elvira points out that you can figure out how this arc wraps up if you look up the future covers. (But don't!) Meanwhile, Elvira reminds us she was breaking fourth walls before any of these newcomers came along.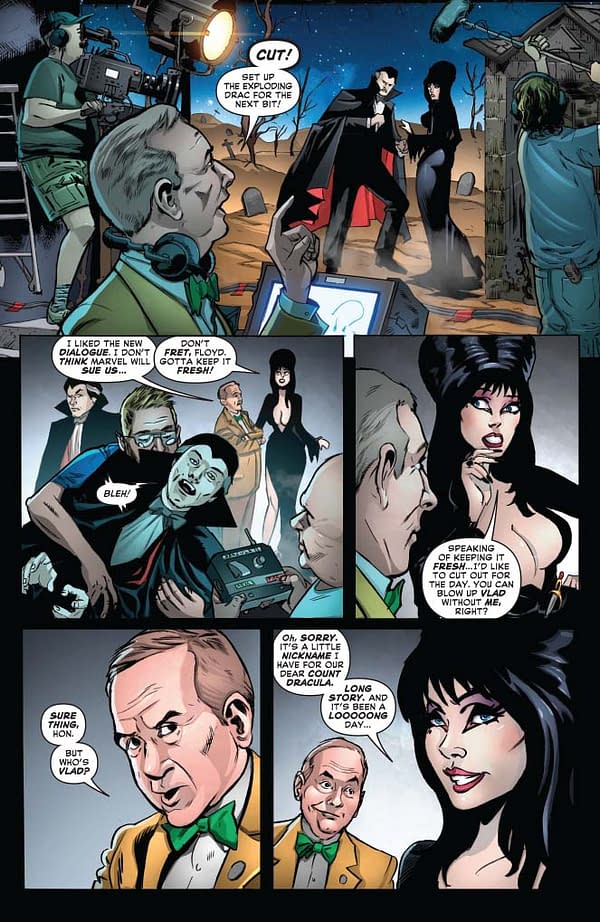 Page 4: Floyd Mankoff calls cut! When I first introduced Floyd, back in issue one… I wondered if his obvious inspiration, Lloyd Kaufman, would take offense at his appearance in these pages. I ran into him at a con sometime later and gave him a copy. He was tickled and promised to sue me… but gently. Dave Acosta, always fantastic, continues to nail the likenesses of Floyd and Elivra… and yes, even Dracula here bears a striking resemblance to one of the great "comedy" Draculas of all time.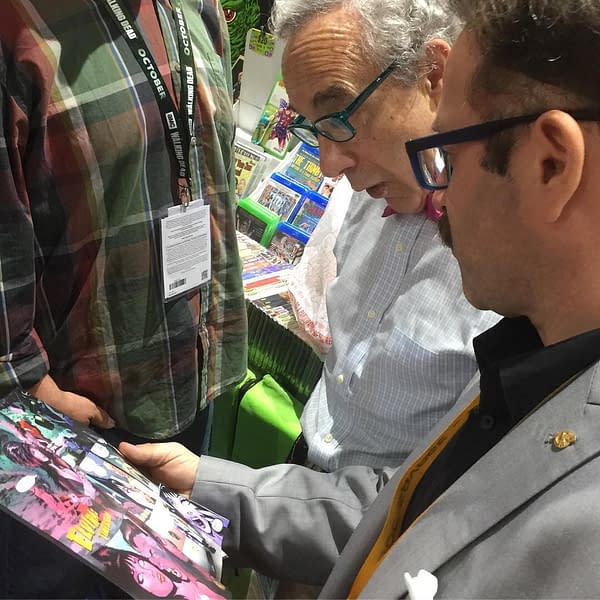 Page 5: Elvira heads home, and the Macabre Mobile and little Gonk make their first appearances in these pages. Look carefully in panel one for a joke about LA traffic. When Elvira and Glenn encountered the traffic jam in Hell, in issue seven, they referenced the 405 freeway, now seen here. The page ends with Elvira setting up what's coming next…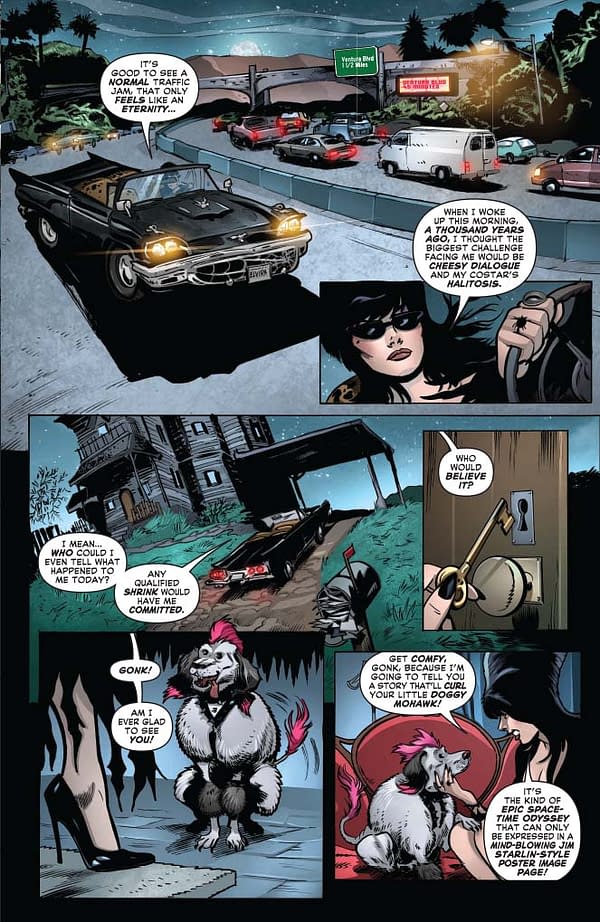 Page 6: I am a big Jim Starlin fan, going all the way back to the seventies. (If you don't know who that is SHAME ON YOU and use Google to rectify your failure.) Jim does these fantastic cosmic epics, and when he wants to recap and bring you up to speed… he does these whole-page poster panels, showing the entire cast. I love those pages. I used to call them "Jim Starlin History Lessons." Since issue 9 starts off a new arc and I'm not sure anyone bothers to read the inside-the-front cover stuff (you should… it's usually funny…), I wanted to put the recap in the story this time. And Dave Acosta did an amazing Jim Starlin-style page for it.
Page 7: The running gag about Elvira hating to do the recaps (which first appeared in issue 2) continues. I'm not going to get tired of it. Elvira takes a bath, and I have to let her make the observation that this is an exploitative horror movie cliché. In my defense… since her last bath she's been in four different time-periods and has traveled the entirety of Hell, top to bottom. Wouldn't you take a bath?
Page 8: The witches have a station wagon, and Elvira makes a dick joke. "I swear this is all Robert Bloch's fault" is another reference to PSYCHO. The late, great Robert Bloch wrote the novel, which Hitchcock (and others) turned into a movie, and then another movie, then more movies, and a couple of TV shows. He was a close family friend, and I loved him dearly. I think – far too often — he gets short shrift from the "creators" of those movies and TV shows, and thereby forgotten by horror fans, in spite of creating one of the most indelible horror stories, and characters, of all time. So I mention him whenever I can, to keep his memory and his legacy alive.
Take note of Taylor Esposito's great lettering work here, including the fun colors on "It's clobberin' time!" (The "great man" Elvira is referencing could either be Ben Grimm aka The Thing, or Stan Lee… depending on your perspective.)
Page 9: In Panel 1, I indulge in a VERY inside joke. My wife, Augusta, AKA burlesque icon Penny Starr, Jr., was the emcee of a long-running "witch-themed" burlesque show called "Belle, Book, and Candle." "Plez" refers to the show's legendary producer and star, Pleasant Gehman, AKA Princess Farhana. The show is still running once a month, if you're in Los Angeles, but Augusta/Penny is no longer hosting… she got too busy with other projects.
Pages 10-11: Elvira meets the boys, and makes a winking reference to Bettie Page comics. I got the joke of saying "bee tee dubs" out loud (for btw) from my wife, who does this all the time. There were MANY versions of "make Dario Argento look like Captain Kangaroo" before I settled on that one. ("Make David Cronenberg look like Mr. Rogers" and "Make George Romero look like Paddington Bear", etc.) I'm happy with where it landed. Argento is the most lurid, Captain Kangaroo the most cuddly and unthreatening.
The reference to "cultural appropriation" is worth mentioning. I wanted to use the trappings of witchcraft in this arc… but the thing is… I know witches. I like witches. They're not "bad guys" and they get enough bad press. So this is a handful of dudes in a cult cosplaying as witches and "culturally appropriated" Wicca and witchcraft. More about their cult and belief system to come…
Pages 12-13: Elvira learns a bit about the cult and their plans. The Deucalionids, as a modern cult, are made up entirely by me. Deucalion was the son of Prometheus. These guys connect the myth of Prometheus giving fire to mankind with the myth of Lucifer giving Eve an apple from the Tree of Knowledge. Gods who try to elevate mankind and get screwed over for it.
Elvira is using the modern slang version of "thirsty" here.
Pages 14-15: And now I finally pay off that amazing cover. This is as good a time as any to draw your attention to the color work of Walter Pereyra, who joined the team last issue. His nighttime color here is really terrific.
Meanwhile, we reveal that the dark tower we've seen in this issue is… the storage room of a failed Medieval Times knock-off called Dark Ages Dinner.
Pages 16-18: LAPD air patrols see a lot of crazy stuff… but this is a new one. The image of Elvira through the windscreen reminds me a little of the opening animation from "Bewitched. Dave Acosta does a great job with this sequence, and I'm proud of this accurate (for once!) depiction of the Hollywood sign (which is about a mile or two up the hill from my home.) Elvira makes yet another dick joke, not that anyone is counting.
Page 19: Elvira is shot down and crash lands. The expression "beautiful downtown Burbank" was coined by Gary Owen, the announcer for LAUGH-IN, the TV sketch comedy show I loved when I was a kid. In the script, I wrote that there was an on-looker watching her fall… when I got the pages I was surprised to find that I was the on-looker. I gave him a line of dialogue (a very on-brand line of dialogue) after I saw the art.
Page 20: John Carradine Memorial Hospital doesn't really exist… but it should. The cop looks just a little bit like Patrick Warburton here, which I like, since I am a big fan. And that leaves us with our cliffhanger: these two gentlemen bear the mark of the Deucalionids. That can't be good. Join us again in a month, for Witches Get Stiches!