Dawn of DC Plans For Aquaman In 2023 (Lazarus Planet Spoilers)
This week's Lazarus Planet: Once We Were Gods may give you a clue as to what DC Comics will be doing with Aquaman in Dawn Of DC ahead of the second movie.
---
The Trench is the name for an underwater race of humanoids created by Geoff Johns and Ivan Reis for the 2011 Ne252 reboot of Aquaman. Vicious, zombie-like monsters, initially their only motivation seen was to feed, but its later revealed they have a society and gather food for their royal children, without caring who they hurt and kill in the process. Basically, like a few members of my own Royal Family, I could care to mention. With razor-sharp teeth, and needle claws, they spit a paralytic chemical from their mouths. But enough about the British Royal Family and back to The Trench who also have the useful ability for the Deep to be bio-luminescent.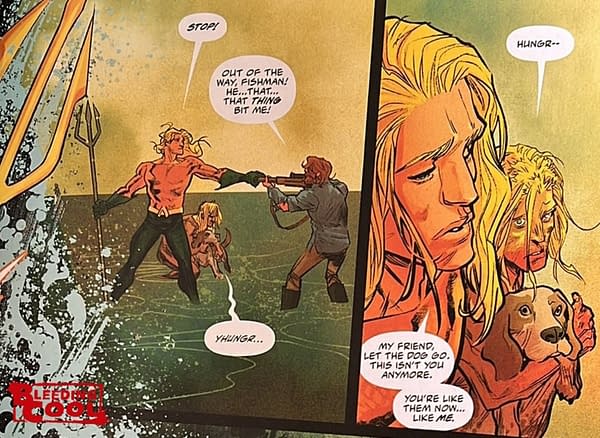 In Lazarus Planet: Once We Wee Gods out this Tuesday, the Lazarus juice continued to pass on powers, abilities and resurrections all round. And that includes the wide oceans of the planet, which get more than any other body. And that includes The Trench who seem to undergo a de-evolution process, reverting to their more human/ Atlantean forms, and as the solicitation reads "What happens when the monsters from the Trench gain the ability to breathe air?" And it appears that this won't be a done in one scenario, but will continue into the Dawn Of DC.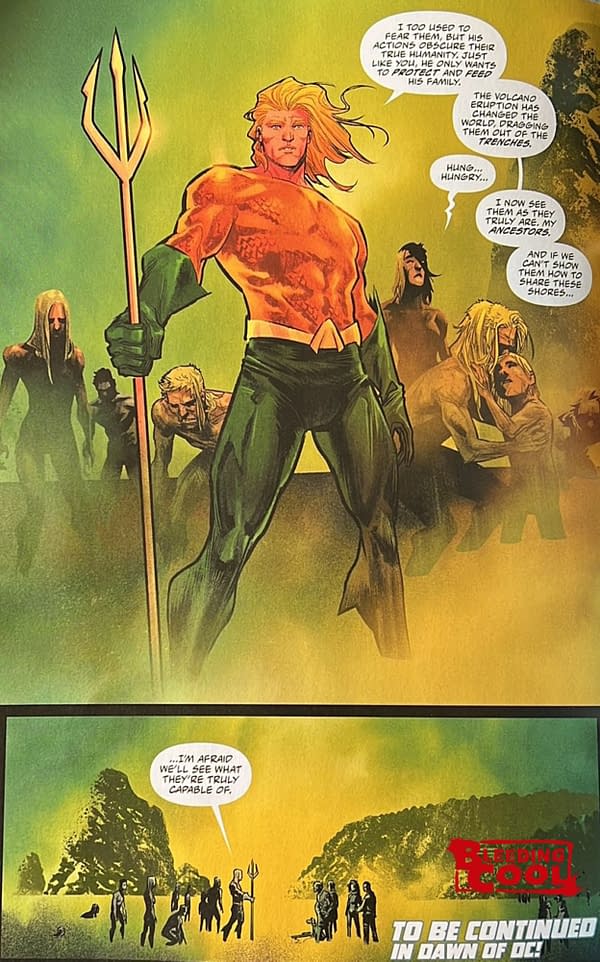 Aquaman still doesn't have a series in DC Comics April 2022 solicitations. The Aquaman 2 movie, Aquaman And The Lost Kingdom is expected in December, and also has elements based on the Geoff Johns' Trench storyline, DC like to have something new in collection form for the release of such a movie. Look forward to something like this, Aquaman dealing with The Trench in more human form moving from the sea back to the land, as the concept for a new Aquaman series starting in… May? June? July? Something like that… might the movie also reflect this plot as well? They do like a little bit of synchronicity…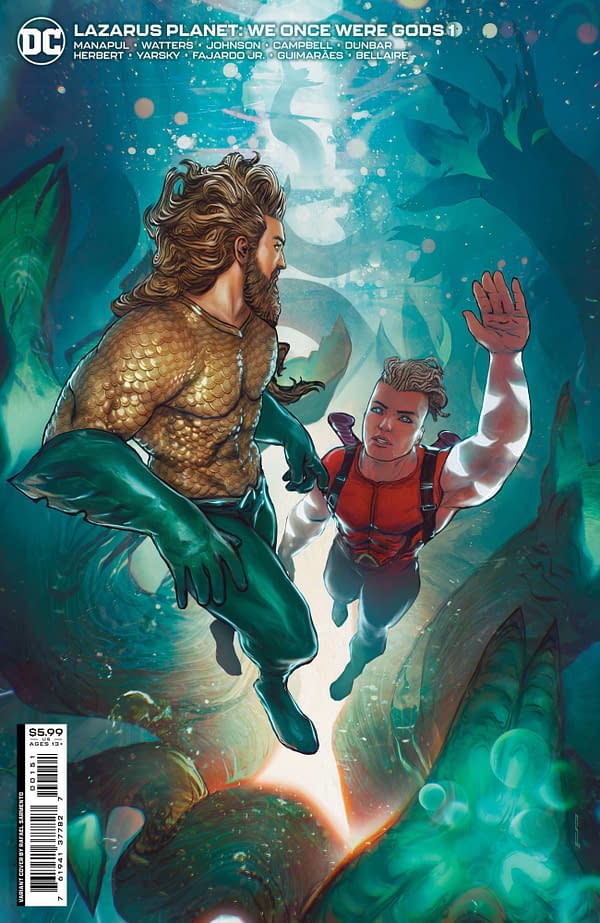 LAZARUS PLANET WE ONCE WERE GODS #1 (ONE SHOT) CVR D RAFAEL SARMENTO CARD STOCK VAR
(W) Various (A) Various (CA) Rafael Sarmento
Written by Francis Manapul, Dan Watters, Philip Kennedy Johnson, and Josie Campbell. Art by Francis Manapul, Max Dunbar, Jack Herbert, and Caitlin Yarsky. As the Lazarus rain beats down upon planet Earth, human beings are only a fraction of those affected by this transformative upheaval–enter: We Once Were Gods. This series of vignettes explores Lazarus Planet's effects across the many extraordinary locations and creatures in the DC Universe, and like their human counterparts, these beings are in for some big changes. Can Themyscira survive the resurrection of every invading army that ever graced its shores? Will Martian Manhunter survive a psychic link to a Doomsday nest? What happens when the monsters from the Trench gain the ability to breathe air? And look out, Shazam Family…the Rock of Eternity is about to get rocked. Retail: $5.99 In-Store Date: 01/24/2023