DC Cancels Superman/Batman Vol.7, Will Resolicit in 61 Years
DC Comics has canceled another collection, this time the trade paperback for Batman/Superman Vol. 7, which was originally meant to hit stores two weeks ago, on February 20th. A Bleeding Cool reader contacted us asking if we could find out what happened to the book, and we were able to discern that though the book was solicited in the November Diamond Previews catalog, its entry no longer exists, and it has in fact been canceled according to Diamond.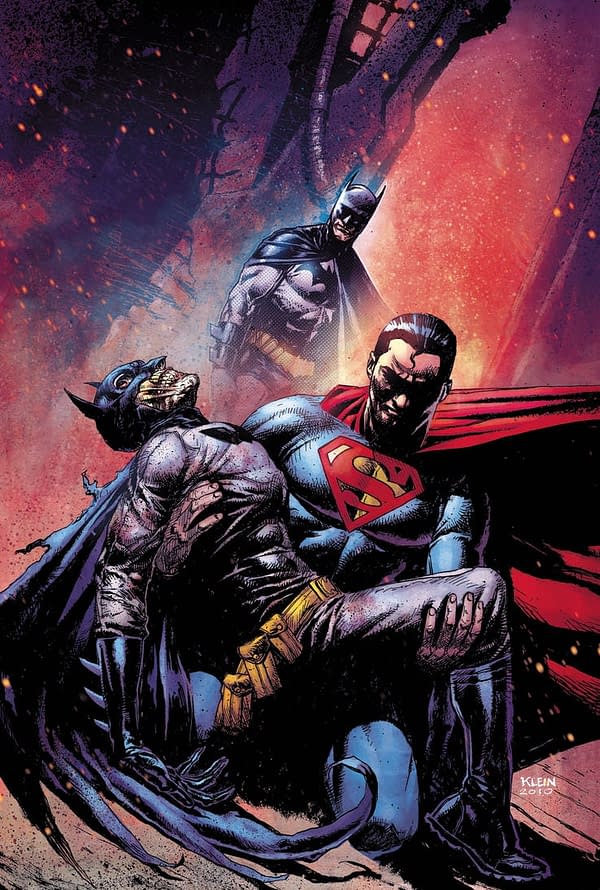 SUPERMAN/BATMAN VOL. 7 TP
written by JUDD WINICK, JOE KELLY, JOSHUA WILLIAMSON, CHRIS ROBERSON, CULLEN BUNN, JOSHUA FIALKOV and others
art by MARCO RUDY, ALE GARZA, ED BENES, JESUS MERINO and others
cover by NIC KLEIN
In these epic team-up stories, the Man of Steel finds himself fighting side by side with a strange Batman against a horde of Solomon Grundys. And just what is the sun doing to his powers? Batman, Dr. Occult, Detective Chimp and Klarion the Witch Boy must face a magical Armageddon in the present as Superman is taken to meet the future Justice League at the Hall of Doom! How did things go so wrong—and can anything be done to stop it? Collects Superman/Batman #76-87 and Superman/Batman Annual #5.
ON SALE 02.20.19
$29.99 US | 328 PAGES
FC | ISBN: 978-1-4012-8801-3
That would normally seem like a simple matter, but it was a little bit confusing because DC's website lists the book as "available now" without a change to its February 20th release date, linking to Barnes and Noble and Amazon for readers to purchase a comic that doesn't exist.
However, in a shocking twist which is sure to get the collective knickers of the internet in a bunch and prompt a DC Comics executive to yell at us on Twitter, Bleeding Cool can EX-X-XCLUSIVELY confirm that the book will apparently be resolicited for release on January 2, 2080, or at least, that's what the Amazon page currently says: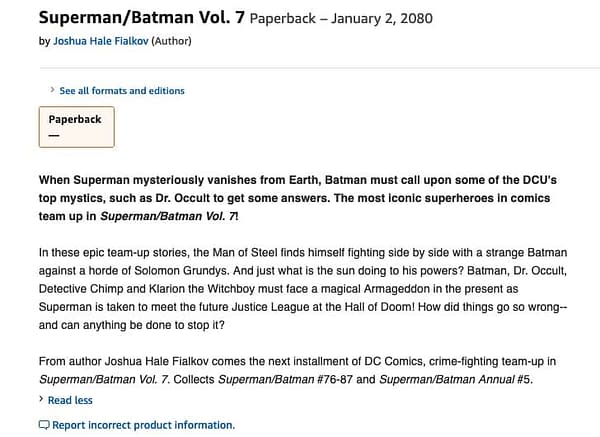 Oh look, there's a link to report incorrect product information. We'll take care of this.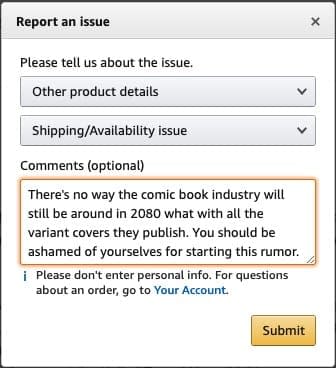 There we go. Problem solved.
Anyway, if you were waiting for Superman/Batman Vol. 7, it looks like you're out of luck, at least for the next half-century or so. Maybe DC will release a hardcover.