There's a couple more DC Comics collection cancellations as the publisher continues its curtailing and cutting back of its catalogue. The first is the DC Comics Essential volume of the Batman: Death Of The Family Saga, itself previously resolicited and intended for August. And the second is the Wonder Woman: Blood And Guts collection intended for July. You may be able to find thses stories in other collections, but here's what would have been.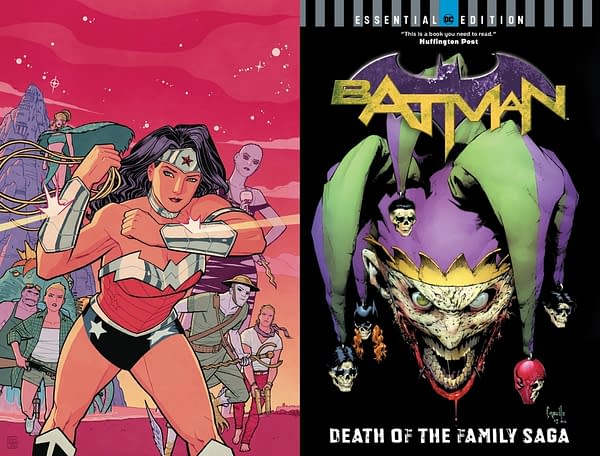 BATMAN DEATH OF THE FAMILY SAGA DC ESSENTIAL ED TP (RES)
(W) Scott Snyder, Others (A) Jonathan Glapion, Jock, Others (A/CA) Greg Capullo
After having his face sliced off one year ago, The Joker makes his horrifying return to Gotham City! But this time he's after the people Bruce Wayne holds most dear! A more vicious Clown Prince of Crime targets Batgirl, Nightwing, Red Hood, Red Robin and Batman's own son, Damian Wayne, a.k.a. Robin, in a sick and twisted gambit to make the Dark Knight all his own! It all leads back to Arkham Asylum…Collects BATMAN #13-17, BATGIRL #14-16, NIGHTWING #15-16 and BATMAN AND ROBIN #15-16, plus pages from BATGIRL #13, NIGHTWING #14, RED HOOD AND THE OUTLAWS #14-15 and TEEN TITANS #16.In Shops: Aug 07, 2019
Final Orders Due: Jun 17, 2019 SRP: $24.99
WONDER WOMAN BLOOD AND GUTS TP
(W) Brian Azzarello (A) Tony Akins, Kano, Dan Green (A/CA) Cliff Chiang
The classic tales of Wonder Woman from issues #1-12 of the New 52 era are collected in a single trade paperback!
Hippolyta, queen of the Amazons, has kept a secret from her daughter all her life-and when Wonder Woman learns who her father is, her life will shatter like brittle clay. The only one more shocked than Diana by this revelation? Bloodthirsty Hera-so why is her sinister daughter, Strife, so eager for the truth to be told? Plus, Wonder Woman goes to hell! After playing Poseidon, Hades and Hera against one another, Hades strikes back by kidnapping Zola and trapping her in the Underworld. It's up to Wonder Woman-with a little help from the god of love and the god of smiths-to break Zola out. But what is Hades' real game, and once you get into the land of the dead, how exactly do you get out?In Shops: Jul 24, 2019
SRP: $24.99
Enjoyed this article? Share it!