In the latest in a series of collection cancellations, DC Comics has decided to cancel the Challengers Of The Unknown by Jeph Loeb and Tim Sale collection that would have collected eight issues of their series together. They've also cancelled the new edition of the Green Lantern/Green Arrow: Hard Traveling Heroes collection by Dennis O'Neil and Neal Adams. And not a comic, but they have also cancelled the DC Engines Of Chaos Batman statue designed by Riley Rossmo and sculpted by David Giraud.
These will not be resolicited. However The Absolute Art Of Adam Hughes, which has also had all its orders cancelled, will be resolicited later in the year.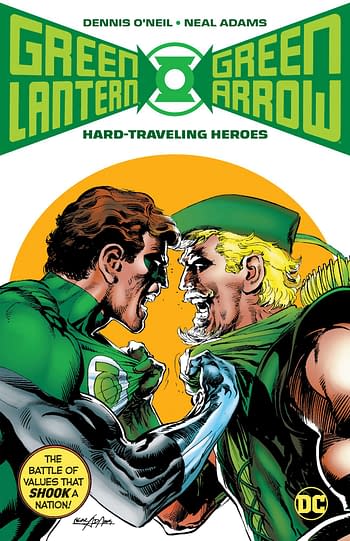 GREEN LANTERN GREEN ARROW HARD TRAVELING HEROES TP NEW ED
(W) Dennis O'Neil, Elliot S. Maggin (A) Neal Adams & Various (CA) Neal Adams
Some of DC's most revered team-up tales from the 1970s are presented once more in a new trade paperback as Green Lantern and Green Arrow confront menaces including racism, poverty and drug abuse! Collects stories from GREEN LANTERN/GREEN ARROW #76-87 and #89, plus stories from THE FLASH #217-219 and #226.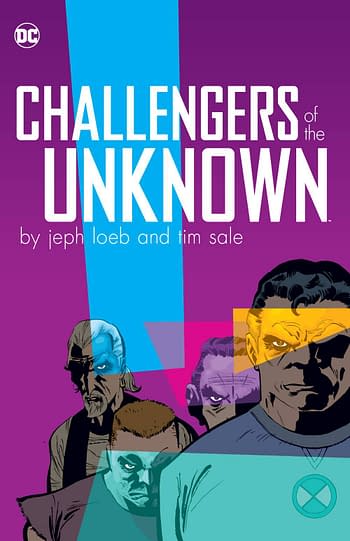 CHALLENGERS OF THE UNKNOWN BY LOEB AND SALE TP
(W) Jeph Loeb (A/CA) Tim Sale
Time has finally caught up with the Challengers of the Unknown. The world seems to have passed them by, and they are now relics, curious artifacts and faded celebrities. All that changes when their fabled mountaintop headquarters blows up and the quartet suddenly find themselves on trial for their lives. So begins the most audacious case of their careers in these stories from CHALLENGERS OF THE UNKNOWN #1-8.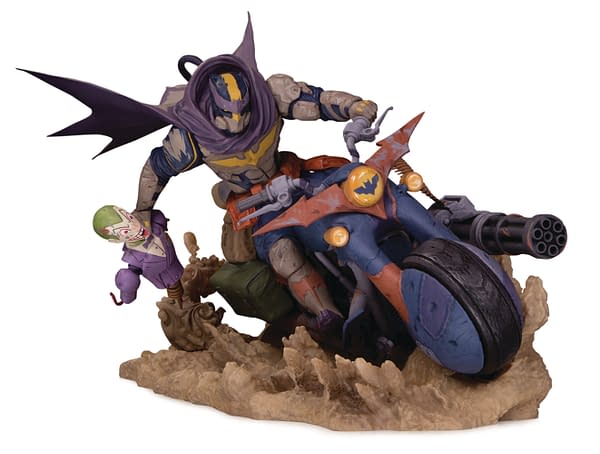 DC ENGINES OF CHAOS BATMAN STATUE
designed by RILEY ROSSMO
sculpted by DAVID GIRAUD
Speed, villains and superheroes with a gritty and dystopian twist: DC'S ENGINES OF CHAOS-the latest statue line from DC Collectibles-is fast approaching.
After Ra's al Ghul succeeds in destroying society as we know it, a postapocalyptic world of motor vehicles and mayhem emerges. Heroes and villains cruise a barren wasteland on distinctly individualized bikes and vehicles as they fight for control in this new world. Based on the designs of renowned artist Riley Rossmo, each statue is a high-RPM reimagining of a beloved DC character uniquely optimized for this world; some figures have adapted to battle, others to survival.
If you think the end of the world is enough to stop Batman…you don't know the Dark Knight. Riding atop a custom bike complete with armored wheels and a bat-shaped grill, it's clear Batman isn't going to let a little apocalypse (or Joker bots) keep him from delivering justice. The statue is cast in polyresin, which allows for delightful details-like sand being kicked up from the force of the bike-to come through on the home product.
• Limited to 5,000 pieces and individually numbered
• Statue measures 6.8" tall
ABSOLUTE ART OF ADAM HUGHES HC
(A/CA) Adam Hughes
This amazing collection features the best of Eisner Award-winning artist Adam Hughes' covers for DC Comics, including covers for WONDER WOMAN, CATWOMAN and more, plus commentary from the artist, rarely seen preliminary material and even more! This title includes everything from COVER RUN: THE DC COMICS ART OF ADAM HUGHES plus more than 100 additional covers with new commentary.
Enjoyed this article? Share it!