Comics sometimes come out later than they were intended to. It happens. Few remember that Watchmen was late. Quite a few folk right now know that Gerard Way's Doom Patrol is late but they will forget. The work is, in the end, what matters.
Still… it's useful to keep an eye on such things.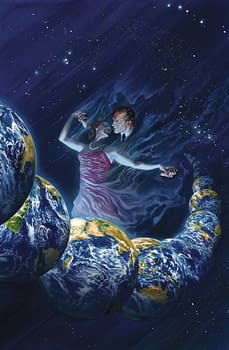 Doom Patrol #11, now the end of this particular run, has shifted from the most recent date of 4th April to 11th April. Which is tiny, I know. But when you remember it was solicited for the 22nd November last year and that was from a series that had already been delayed by months, and it was meant to have been published before the Milk Wars series and so people are reading plot points out of order…. yeah, that's why some folk get annoyed.
The Doom Patrol collection has also been delayed from the 9th of May to the 30th May.
A longer delay is for Astro City #52, the final monthly issue of the series, jumping from the 18th of April by a month to the 16th May.
And Deadman delays its end by two weeks, moving from the 4th April to the 18th April.
DOOM PATROL #11
(W) Gerard Way (A/CA) Nick Derington
Featuring the conclusion of the "NADA" storyline the Doom Patrol fights Dada and someone becomes a mama. How did life and death become so intertwined? It's Robotman versus a classic foe as Casey and Terry take us into a whole new territory we've never seen before. But could this newness also just be a whole lot of nothing?In Shops: Apr 18, 2018
SRP: $3.99
DEADMAN #6
(W) Neal Adams (A/CA) Neal Adams
Just as Ra's al Ghul is hidden in this six-part miniseries, so is his near-demonic influence hidden and slowly revealed in this final issue! Boston Brand's death was no accident, but a planned and ruthless murder…orchestrated by none other than the Head of the Demon. What Deadman needs now is either death-or the help of the World's Greatest Detective!In Shops: Apr 18, 2018
SRP: $3.99
ASTRO CITY #52
(W) Kurt Busiek (A) Brent Anderson (CA) Alex Ross
It's the final issue of ASTRO CITY…for now. Michael Tenicek lost his world years ago. Now he may lose another, as ordinary life among the extraordinary takes a shattering turn. A character-focused finale to the ongoing Vertigo ASTRO CITY series, and a launch point for its new form. Guest-starring the Hanged Man, Honor Guard and more.In Shops: May 16, 2018
SRP: $3.99
DOOM PATROL TP VOL 02 NADA
(W) Gerard Way (A) Michael Allred, Tom Fowler (A/CA) Nick Derington
Flex Mentallo, Robotman, Rebis, Crazy Jane and more are back to twist minds and take control. The most prevailing question in Vol. 2? What is S**t, and why is everyone eating it? Cliff doesn't like it, but Casey can't get enough. Sure, Cliff doesn't like a lot of stuff, but that doesn't mean he's wrong to be suspicious this time around. Meanwhile, we find out where Lotion the cat got off to, and how his journey has changed him. Life on the streets has made him an entirely different animal! Collects issues #7-11.In Shops: Jun 06, 2018
SRP: $14.99
Enjoyed this article? Share it!