The creative team of DC Super Hero Girls' Metropolis High, Amy Wolfram and Yancey Labat – the original artist for the DCSHG franchise, are back together for the latest DC Super Hero Girls original graphic novels with DC Super Hero Girls: Midterms.
Who comes out on top when a Bumblebee, a journalist, and a super-villain fight? Find out when Karen Beecher and Lois Lane face off in a battle of wits with…Harleen Quinzel?!

Three students top the leaderboard at Metropolis High, and the upcoming midterms will determine who's the best in class. But each girl must first face challenges from their real lives!

DC Super Hero Girls: Midterms continues to develop the relationships forged throughout the beloved DC Super Hero Girls series. This story is perfect for ages 6-10 and a great entry point into the DC Universe and graphic novels.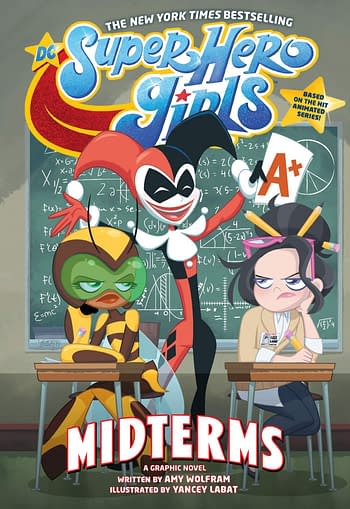 Amy Wolfram is an Emmy-nominated writer for television, movies, and comic books. Best known for writing for Teen Titans for both television (Teen Titans, Teen Titans Go!) and comics (Teen Titans: Year One, Teen Titans Go!), Amy has also written Barbie, Stuart Little, Ben 10, Thunderbirds Are Go, and Scooby-Doo.
Yancey Labat is the illustrator of the original DC Super Hero Girls graphic novel series. He got his start at Marvel Comics before moving on to illustrate children's books from Hello Kitty to Peanuts for Scholastic, as well as books for Chronicle Books, ABC Mouse, and others. His book How Many Jelly Beans? with writer Andrea Menotti won the 2013 Cook Prize for best STEM (Science, Technology, Education, Math) picture book from Bank Street College of Education.
Enjoyed this article? Share it!