Year Of The Villain is DC Comics' big branding event exercise for 2019. With The Batman Who Laughs at the Batman books heading it up, with Leviathan over at the Superman books and Perpetua and the League Of Doom over at the Justice League titles. But it will extend much further than that.
How do we know? Because it's all a number of people at Emerald City Comic Con this past week were talking about in certain bars and at certain parties.
Some versions differ. But what everyone can agree on is that Lex Luthor is going to make an offer to all the super-villains of the DC Universe. The offer will take the form of an upgrade of their power base, or anything they might need in order to increase their villainy.
So the Penguin may get muscles. The Joker may get a dimension-twisting joke flower. I'm just making these examples up, I have no idea. But you get the drift.
And this will spin out across the DC Universe as a lot of threats, major and minor, suddenly power up.
This is, at least, one part of what will make DC's Year Of The Villain a universe-wide event. And all part of the 'connective tissue', a renewed attention to DC continuity stories that 'matter' that DC Publisher Dan DiDio talked about at ComicsPRO.
It all starts on May 1st. And you read it first on Bleeding Cool.
DC'S YEAR OF THE VILLAIN #1
(W) Brian Michael Bendis, Scott Snyder, James TynionIV (A) Jim Cheung, Alex Maleev, Francis Manapul (CA) Greg Capullo
Evil is winning! Lex Luthor and The Legion of Doom conspire with Cosmic Gods, bending mankind toward a dark destiny. Elsewhere, the scourge of Leviathan spreads unchecked, seizing power in every corner of the world. And all the while the Batman Who Laughs busies himself in the shadows, aligned with no one-yet with sinister plans for all.
The carnage starts here as the badguys take center stage in "The Year of the Villain," the most treacherous event in DC Comics history. Some act with united goals, others with plans selfish and secret, every one of them on a monstrous collision course against Batman, Superman and the heroes of the DC Universe. And our heroes will fail us.
Don't miss the start of "The Year of the Villain," featuring the talents of writers Brian Michael Bendis, Scott Snyder and James Tynion IV, artists Jim Cheung, Alex Maleev and Francis Manapul and cover artist Greg Capullo-all for just $0.25! In Shops: May 01, 2019 SRP: $0.25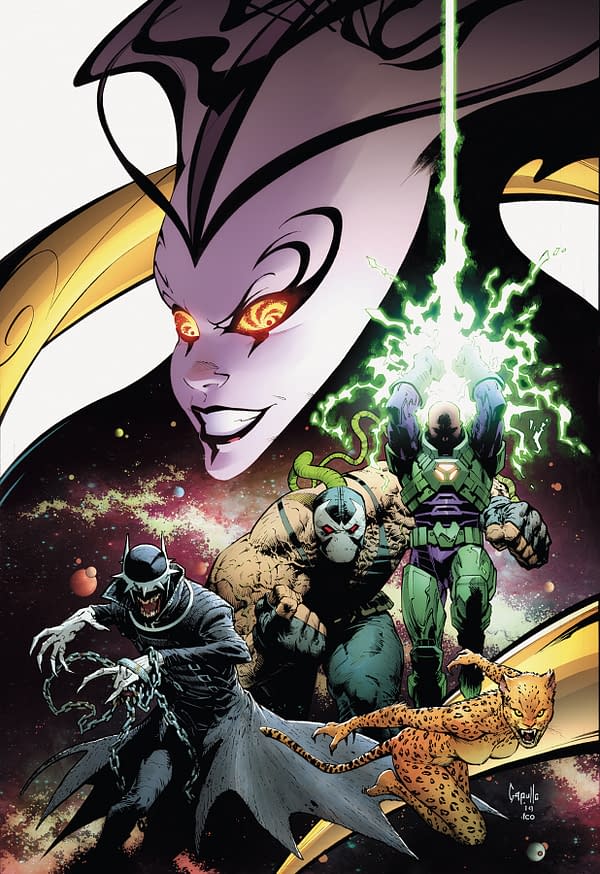 Enjoyed this article? Share it!