Batman: Damned #3 has had all its orders cancelled and has been delayed until May. At least, We'll see what the solicitations say. This is believed to be down to some serious reworking of the comic to be acceptable to the New Puritanism at DC Comics that has also seen Batman Damned #1 unreprinted, Second Coming cancelled, and plenty of titles under the self-censoring cosh, courtesy of new publisher Pam Lifford.
So, as Lee Bermejo redraws and repaints more pages of the book, we do at least have this one sneak peek ahead, featuring John Constantine and Swamp Thing.
And John Constantine wearing a superhero domino mask for the first time in his known existence. I hope that's not Alec Holland's… swamp thing sticking up from below off-panel. No, probably a gravestone. Roll on May…
BATMAN DAMNED #3 (OF 3) (MR)
(W) Brian Azzarello (A/CA) Lee Bermejo
The stunning conclusion to the groundbreaking miniseries by the critically acclaimed team of writer Brian Azzarello and artist Lee Bermejo is here! Batman's most baffling case brings him face to face with his worst nightmare in this highly anticipated finale! SRP: $6.99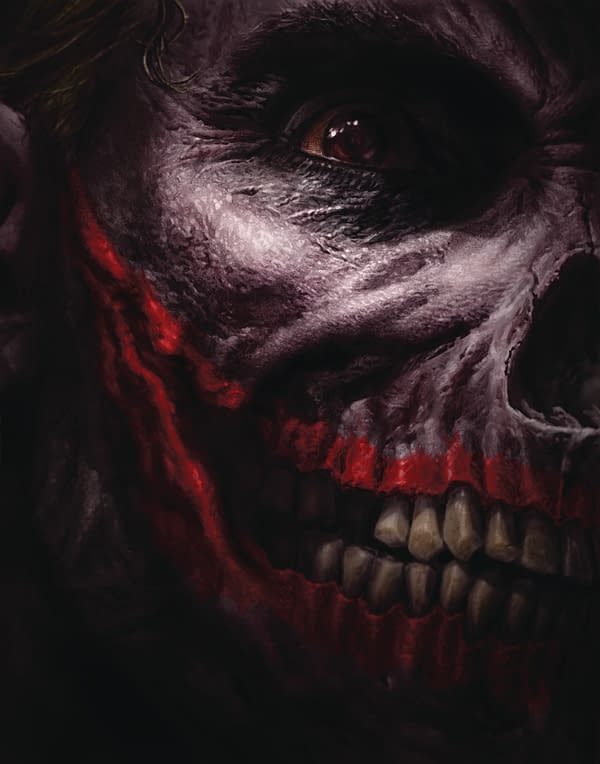 Enjoyed this article? Share it!