BOOM! Studios' latest book offers the most foolproof get-rich-quick scheme since Ralph Kramden came up with glow-in-the-dark wallpaper. All you have to do is start a Kickstarter, and you can make $100,000 or more. Sound too good to be true? Well, author Derek Miller and the creators who have earned over $30 million on the crowdfunding service would beg to differ.
In a press release for Six Figure Crowdfunding: Why Strangers on the Internet Want to Give You $100,000, Miller, co-writer Noelle Pugh, and cartoonist Joy Ho explain how you, too, can become filthy rich with a Kickstarter campaign, and we imagine the first lesson is to come up with as long a title for your project as possible. The press release claims that the book is "the ultimate handbook that delivers everything you need to know about being a modern entrepreneur in today's global marketplace." Basically, you're throwing away money if you don't buy this book.
"Most crowdfunding advice is either too basic to be useful or completely wrong. Trust me, I've read and taken all the courses so you don't have to," said Miller in the press release. "Six Figure Crowdfunding is the no-BS distilled version of advice used from actual creators who have raised at least six-, if not seven-, figures on crowdfunding. This isn't theoretical or fluff, it's the exact campaign tactics that have raised over $30 million on Kickstarter, directly from the creators who did the work themselves. Follow this book and you'll get funded."
"After reading Six Figure Crowdfunding to the end, I was stoked to see that someone had made this beast of an endeavor so clear and fun to understand," added Ho. "As a creative, I have friends who've embarked on campaigns themselves, and it's almost a given that I'll have to engage in one in the future. While the book is a digestible read, it doesn't compromise on the information that you need to know. And if you don't think you might engage in Kickstarter anytime soon, it is still an advantageous read for working out what your audience wants, and what the process is for finding support for your work in the real world."
"Six Figure Crowdfunding is unlike anything BOOM! Studios has ever published. This is truly a modern business book for the modern entrepreneur, packed with hard and honest truths about crowdfunding that you won't get from other authors in the space," said Bryce Carlson, Managing Editor, BOOM! Studios. "Derek and Noelle are here to finally give an authentic voice to this growing DIY creative community. Coupled with the cavalcade of crowdfunding stars featured in this book, readers are going to get a real look into campaign successes—and failures—all straight from people who've lived it. If you're serious about pursuing artistic freedom and earning that sweet, sweet crowdfunding cash, look no further."
The only way we could think of to make money more easily than following the guidelines in this book would be to write a book about how to make money on Kickstarter — which just goes to prove how smart everyone behind this idea is.
Look for this on sale in July.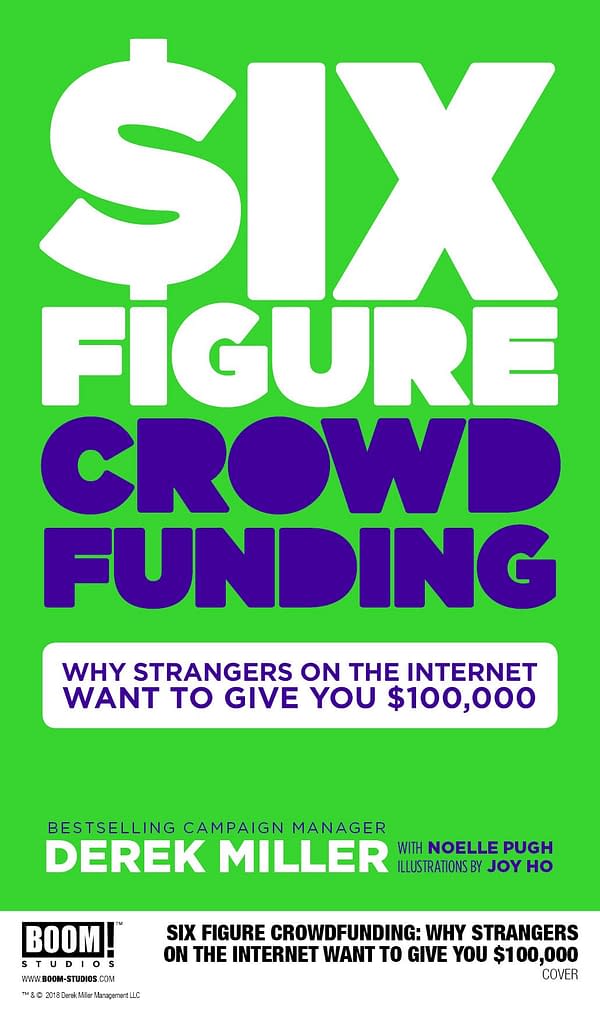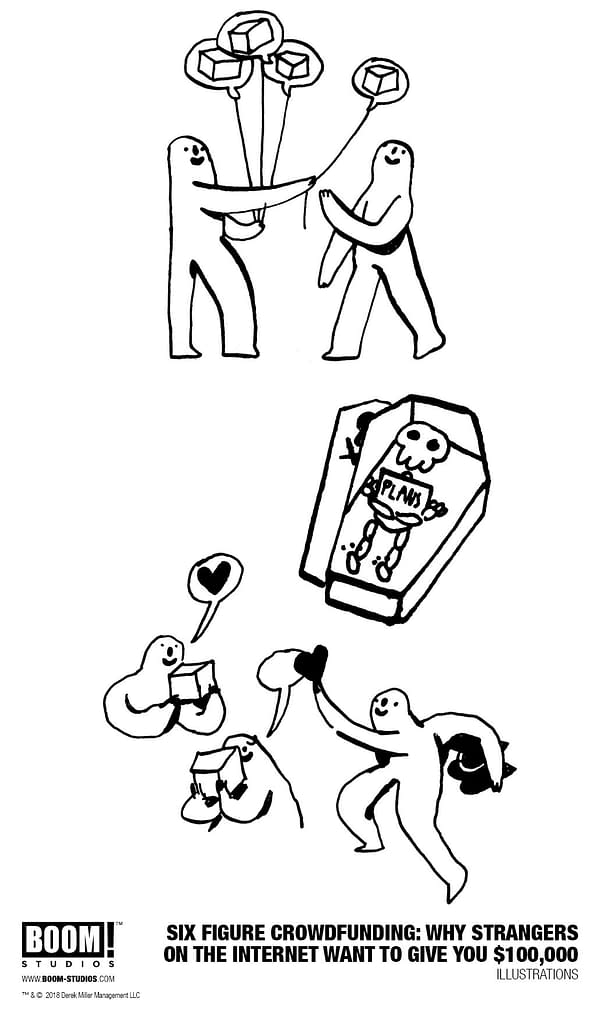 Enjoyed this article? Share it!