The Diamond Retailer Best Practices Awards: Summer 2019 will be announced as San Diego Comic-Con on the Friday. Submitted by retailers, the Diamond BPAs seek to identify and honour comic shops that demonstrate "best practices" in their stores, offering customers and community a consistently appealing shopping experience…
Nominations for the Summer 2019 Awards span four categories: Best Kids Section, Best Free Comic Book Day Event, Best Online Ad Campaign, and Best Movie Themed Display. Winners in each category receive $250 credit from Diamond.
Here are the nominations for the Best Kids Section.
Space Cadets Collection Collection – Oak Ridge North, TX
Space Cadets Collection Collection has a huge 14' x 10' dedicated kids area. It houses 60 front facing all ages comic books, a huge assortment of kids manga, books and graphic novels as well as a chess/ checker board and items for kids to play with while their parents shop (Legos, tinker toys, Lincoln logs). We allow kids to sit and read freely in this area (which always turn into sales, as kids love to own books that they read many times over). We also have a glass case here where we sell Lego minifigures and small loose sets, which is very popular. We have soft foam squares on the floor that are comfortable to sit on and off in the corner below the Ninjago sign, there is a soft fur pillow for kids to sit and read if they need a quiet place. This section has seen a huge growth in sales since we have expanded it and we often see cute teenage couples sitting and having a chess date here.
Challengers Comics + Conversation – Chicago, IL
Challengers' Kids Section is a 300sq. ft. area with 8 metal 2-shelf bookshelves, a 4×4 Ikea cube shelf, and about 60' of wall space that go 4 shelves high. All that equals a LOT of space for all-ages single issue comic books and graphic novels.

We also have life-size replicas of Spider-Man, Batman and 2 of the 4 Teenage Mutant Ninja Turtles (Jakks never got around to making Donatello and Raphael, darn it!!), as well as a flattened version of the Tardis, all for fun photo-ops. And loads of loose action figures and coloring books (and crayons) to keep even the youngest comic fans entertained while their family members shop.
Famous Faces & Funnies – West Melbourne, FL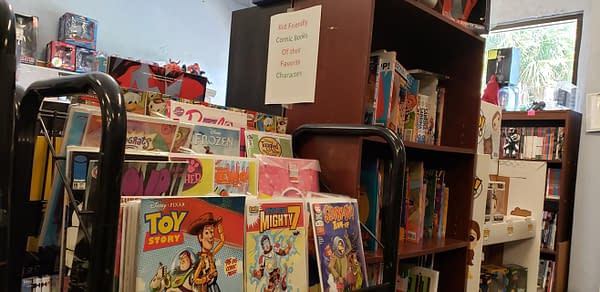 At Famous Faces, our kid's section is always well stocked with the best comics we have to offer for the under 18 crowd. Our kid's section consists of two parts, the bookshelves that house digests and graphic novels, and the racks stocked with single comic favorites like Disney's Frozen and Tangled, Steven Universe, Marvel Action, Sonic and more. The bookcase is split into two sides, one with mainly superheroes like DC and Marvel, and the other with more character and independent favorites just in alphabetical order. We keep it organized, often devoting a few minutes each morning, evening, and night to make sure everything is grouped together. We're never going to fault a kid for putting My Little Pony back next to Scooby Doo. Our job is to organize it, their job is to be a kid and pick out their new favorite comic.

Our kid's section mainly focuses on elementary age kids, but we also stock it with more middle school friendly titles. We noticed some parents hesitant to let their kids grab Lumberjanes, or Go Go Power Rangers when it was on the regular shelves, so stocking it in the traditional kid's section eases parents worries that their kid might be grabbing the "wrong" comic. We've noticed more and more sales in this age range, and have recently talked about expanding this section out and including even more books like Champions, Spider-Man, Ms. Marvel, a ton of Boom books, and more.

Notice a small lack of signage? That's deliberate on our part. We have a few simple signs pointing out that this is the kid-friendly spot, but they're mainly on an adult level. Again, it eases parents fears that their kid might peek at something they shouldn't, but without tipping off some of the older or more "independently" minded kids that they're in the (as one very opinionated nine year old pointed out) "baby" section. So, simply moving the signs up has actually helped us out.
Level Up Entertainment – Mays Landing, NJ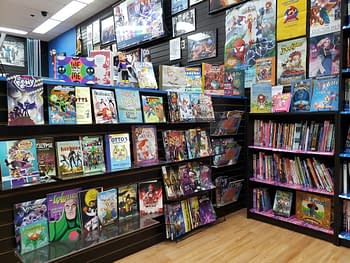 We have a bookcase near the register at the front of our store where we feature new and popular all-ages titles. Then in the back of the store near our main Graphic Novel selection, we have a "kids corner" Where we have our all ages single issue, a display for graphic novel suited for young readers and our main selection of all ages graphic novels.
Zepplin Comics – Benicia, CA
When you walk into Zeppelin Comics, the first thing you see is a colorful, clean, and welcoming display of fun books and items for customers of all ages! We pride ourselves on being a family-friendly establishment and have become a destination for young readers. We have arranged this section to be accessible to children and adults, with extra space for strollers and mobility devices. Books are arranged with our youngest readers in mind, putting the most enticing and appropriate titles at their eye level. Each week's new all-age comics are labeled and displayed in the spinner rack, greeting young minds at the door.
Enjoyed this article? Share it!