The Weirdest Price Discrepancies of Marvel's ComiXology Sale
ComiXology is being allowed to play in Marvel's quarterly digital sales rather than just the Amazon Kindle digital comics getting all the love. It's still the same company and you can read your Kindle-bought comics through the ComiXology App, and vice versa, but it probably matters a lot, internally, to ComiXology when justifying their existence and specialness within the Amazonian setup.
But it does create some weird conflagrations, with Marvel collections normally priced $20 or under getting pushed out for 99 cents a pop.
So the big Marvel Legacy #1 comic by Jason Aaron and Esad Ribic is priced at a discount $2.99 against the standard print $5.99.
But buying the Marvel Legacy collection that includes this comic and 52 back-up strips giving the origins of Marvel characters and the FOOM Magazine is just 99 cents.
All the $4.99 Generations one-shots from last year are just $1.99 each. But all 10 are collected in the Generations collection for 99 cents.
Volume 1 and Volume 2 of Tom King and Gabriel Walta's The Vision are reduced down from $10.99 each to $6.99 each. But the collection of both with all the Director's Cut backmatter is 99 cents. While the six individual issues of the Vision Director's Cut are $2.99 each.
And issues of Secret Empire are $1.99 each. Twice as much for each issue as the collection combining all 12 issues, for 99 cents.
I could go on. And I will.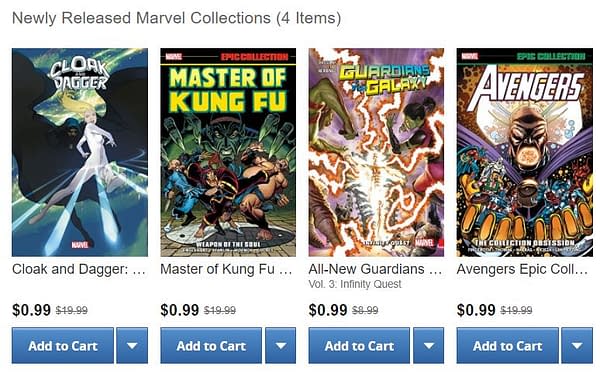 Take new collections such as Cloak and Dagger: Runaways and Reversals, which is published today, for $34.99 in comic stores, collecting Runaways (2003) #11-12, Runaways (2005) #9-12, Cloak and Dagger (2010) #1, Spider-Island: Cloak and Dagger #1-3, Amazing Spider-Man (2015) #6-8 and material from Strange Tales: Dark Corners, Marvel Knights Double-Shot #3, Dark X-Men: The Beginning #2, Amazing Spider-Man (1999) #663, and Amazing Spider-Man Annual (2016) #1.
Ninety-nine cents on ComiXology.
Master of Kung Fu is published today for $39.99 and collects Special Marvel Edition (1971) #15-16; Master of Kung Fu (1974) #17-28; Giant-Size Master of Kung Fu (1974) #1-4; Giant-Size Spider-Man (1974) #2, and material from Iron Man Annual (1970) #4.
Ninety-nine cents on ComiXology.
Same with All-New Guardians of the Galaxy Vol. 3: Infinity Quest and Avengers Epic Collection: The Collection Obsession, also both out today in print and also less than a buck each.
Also, if 99 cents isn't cheap enough, if you join ComiXology Unlimited for $5.99 a month, you get a further 15% off of that. Sign up, fill your digital boots, quit.
This appears as if Marvel is cannibalising its own base. Undercutting retailers on the same day that certain items come out — before some stores even open. And selling collections so cheaply that readers would be fools not to buy at that price. And then wonder why they pay full price at the comic store.