Doctor Strange #18 – The Perfect Super-Hero Comic Book That You May Just Miss Today
There will be a lot of focus on Marvel Comics #1000 today. And rightly so. And even as Mark Waid's Captain America essay had its own Orange Skull moment, there was something else he wrote from Marvel Comics out today that may get missed.
Because, as Absolute Carnage blows out its second issue, Legion Of Super-Heroes kicks off at DC and Batman/Superman launches its first issue, Justice League has the big one issue you have to read and House Of X has its third issue, superhero fans may like to take time out and pick up Doctor Strange #18.
The run by Mark Waid and Jesus Saiz has been a fun one, the highlight probably being the mundane bureaucracy of the multiverse. But today's issue is not part of any wider-ranging event. Not launching a major continuity point that will grip storytelling for the following eight months. Or having some end-of-world apocalypse that must be averted.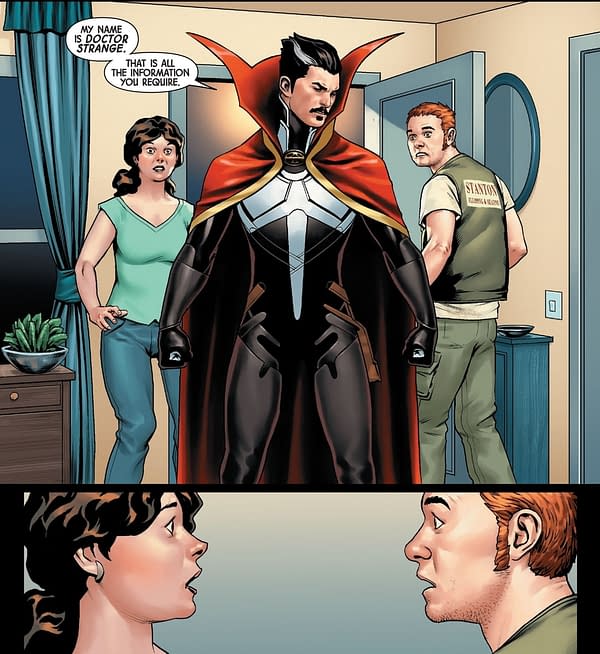 It's just a done-in-one story of Doctor Strange arriving at a suburban house with a job to do. And doing it all in twenty of the more gorgeously rendered pages on the market right now.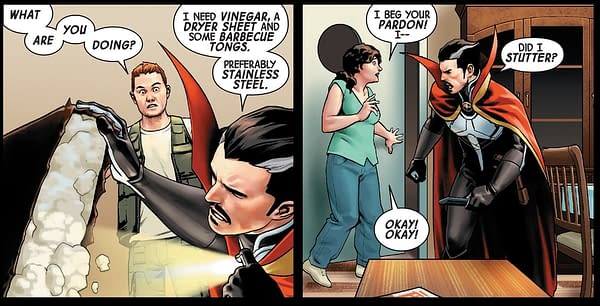 It also has a Doctor Strange speaking a bit like Benedict Cumberbatch's portrayal of Sherlock.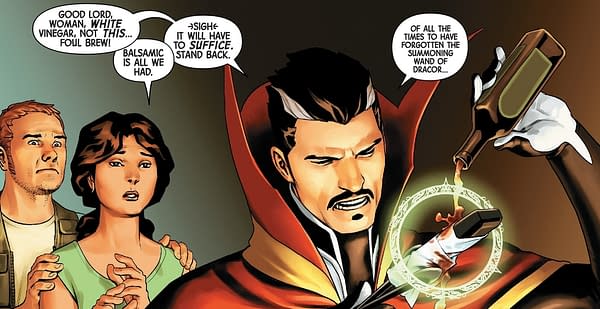 Either way, it rather works. It is the perfect superhero comic book. Done in one. And ten out of ten.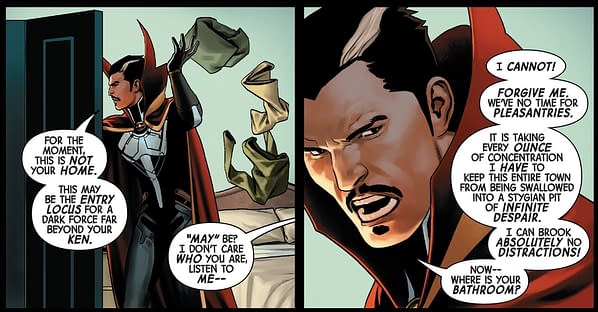 Doctor Strange may be ending soon. There may be a big Doctor Strange event to come accompanied by a relaunch. That's all by-the-by.
Because Doctor Strange #18, out today, is pretty much all you need. Why not read it in public somewhere today? See if you get any envious glances…
DOCTOR STRANGE #18
(W) Mark Waid (A/CA) Jesus Saiz
• Stephen Strange is back on Earth after his Multiversal odyssey with Galactus and Clea.
• But is the Multiverse done with Doctor Strange?
• A truly terrifying villain is working their way into the Marvel U via a small house in Kansas, in the issue that will have people talking for years!
Rated T+In Shops: Aug 28, 2019
SRP: $3.99
[rwp_box id="0"]