It's all about Liam Sharp and Doctor Who in November from Titan Comics. But not yet together. They should sort that out.
But there are two projects starting from Liam. Naturally with a little Madefire crossover,
CAPTAIN STONE #1
(W) Liam Sharp, Christina McCormack (A/CA) Liam Sharp
The world's first and only superhero has disappeared after undergoing a cataclysmic fall from grace in the eyes of the world. Middle-aged and unable to support his operations he had made a preposterous claim that the world was in danger, a notion derided by the media and the public at large. But what if the claim is true? Outcast writer and infamous murderess Charlie Chance, AKA The Pet, finds herself searching for the one man who was able to bring her to justice — Captain Stone.
32pgs, FC (1 of 6) $3.99
And then he puts the pen down and hands it to his mate Ben…
MONO #1
(W) Liam Sharp (A/CA) Ben Wolstenholme
"From the Boer War, through the First and Second World War, the Cold War and beyond, Mono was there…where no one else could go…" The ape-human hybrid secret agent and Queen's assassin, possessed of a deadly prehensile tail and "the strength of twelve men," made his debut in the pulps of the 1930s and enjoyed a brief revival in the late 1960s and 70s. But can it be that the fiction is closer to historic fact than was ever previously guessed? Now a series of tales, told in hand-written journals and reported first-hand by those that knew him, reveal Mono as a dual-natured and conflicted adventurer — savage and noble; civilized, but ultimately untamable.
32pgs, FC (1 of 6) $3.99
But then there's the three ongoing Doctor Who comic books, each one with a different man and a different mannerism.
DOCTOR WHO: THE TENTH DOCTOR #8
(W) Robbie Morrison (A) Alex Sanchez (CA) Mariano Laclaustra
Trapped in a tunnel beneath No Man's Land, the Doctor and the surviving soldiers under his protection fight for their lives — with open eyes! With the TARDIS lost, the Weeping Angels on one side and the might of the German front lines on the other, how much will the Doctor sacrifice to keep Gabby safe? And in the endless dark, struggling not to blink, sparks are fanned between Gabby and Jamie Colquhoun. Is he just one more doomed soldier?
MARIANO LACLAUSTRA COVER—32pgs, FC $3.99
SUBSCRIPTION PHOTO COVER—32pgs, FC $3.99
DOCTOR WHO: THE ELEVENTH DOCTOR #7
(W) Rob Williams (A) Simon Fraser (CA) Verity Glass
The day after tomorrow — and the Vrezian Confederacy and the J'arrodic Federation have brought their "honorable" air-war to Earth. They're not here to invade, and they're being exceptionally considerate about collateral damage, all things considered. But human air travel is at a standstill, our culture is collapsing, the skies are clogged with toxic smog. And UNIT can't do a thing, as the aliens vaporize the weapons stockpile of any country that dares interfere! The deadlock needs a peaceful and clever solution; let's hope the Doctor is up to the job! And in the middle of it all, Alice is given a shocking offer she dare not refuse! (STK654180)
MARIANO LACLAUSTRA COVER—32pgs, FC $3.99
SUBSCRIPTION PHOTO COVER—32pgs, FC $3.99
HOLIDAYS PHOTO COVER—32pgs, FC $3.99
DOCTOR WHO: THE TWELFTH DOCTOR #3
(W) Robbie Morrison (A) Dave Taylor
"The Swords of Kali," Part 1 (of 3). In the distant past, the land that would be India played host to a war between ancient aliens, whose cross-temporal battles contributed to the country's rich myths and legends. Kali, oldest and deadliest of these creatures, was thought defeated long, long ago; her body scattered throughout time to prevent her return. But her psychic essence could not be killed, nor her millennia-long quest for vengeance. Now, in the 23rd Century, she is on the brink of resurrection. And with India at the forefront of human spaceflight, it's not only Earth that falls to her predations if she succeeds -– but the whole cosmos! In a race against time and across it, the Doctor and Clara must gather secrets, intelligence and allies from across India's past, present and future if they are to survive!
REGULAR COVER—32pgs, FC $3.99
SUBSCRIPTION PHOTO COVER—32pgs, FC $3.99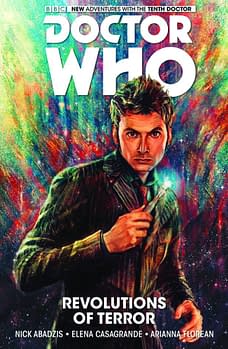 DOCTOR WHO: THE ELEVENTH DOCTOR VOLUME 1: AFTER LIFE HC
(W) Al Ewing, Rob Williams (A) Simon Fraser, Boo Cook (CA) Alice X Zhang
Alice Obiefune was at her lowest ebb when the Doctor burst into her life; she'd lost her mother, her job, and her apartment. But it didn't take much of the Doctor's compassion to get her on board the TARDIS, rediscovering the beauty in life, one time-lost adventure at a time! From tackling an alien pet in the streets of London, to exposing a devilish mystery in the 1930s Bayou; from discovering the truth behind an austerity-hit pleasure planet to facing a shapeshifting horror in a scientific research station — every day with the Doctor brings a new, impossible, life-threatening experience! Collects Doctor Who: The Eleventh Doctor #1-5.
HC, 7×10, 128pgs, FC $19.99
DOCTOR WHO: THE TENTH DOCTOR VOLUME 1: REVOLUTIONS OF TERROR HC
(W) Nick Abadzis (A) Elena Casagrande (CA) Alice X Zhang
The Doctor thought he was done with new companions after Donna's tragic exit — but that was before he met Gabriella "Gabby" Gonzalez during an incursion of psychic parasites in Brooklyn, New York! Now she's traveling the cosmos as the Doctor's latest companion — and life couldn't be more exciting! Battling invisible creatures on the Day of the Dead, uncovering a galactic conspiracy in the universe's most famous art gallery — the only downside is the constant threat of death! Collects Doctor Who: The Tenth Doctor #1-5.
HC, 7×10, 128pgs, FC $19.99
And they publish a few other comics as well…
ALIEN LEGION: UNCIVIL WAR HC
(W) Chuck Dixon (A) Larry Strohman, Carl Potts (CA) Larry Strohman
In a galaxy savaged by strife, torn by civil war, boiling with spilt blood, Alien Legion is a cosmic military force doing its damnedest to keep the peace by being always ready for war. At the tip of the Legion's multi-species spear is Force Nomad — the worst of the worst fashioned on the white-hot forge of battle into the best of the best. Now the squad's grizzled veterans are on what should be a boring milk run; shepherding refugees fleeing a civil war ripping apart their system. Could be a good chance to toughen the newbies of Nomad into soldiers, until straight-up peacekeeping descends into full-scale war!
HC, 7×10, 104pgs, FC $19.99
THE CHIMERA BRIGADE VOLUME 2 HC
(W) Fabrice Colin, Serge Lehman (A/CA) Gess
A thrilling journey through pulp literature and alternate history! In the trenches of World War I, a new kind of superhuman was born. Formed by secret and illegal chemical weapons, this superpowered generation has risen to take control of the capital cities of Europe. Some fight against injustice, others spread terror. But now, in 1938, a new, even more powerful threat is looming, as Europe becomes a battle-ground for different political and ideological factions. It is a time that tests allegiances and forge new alliances. A stunning period cross between The League of Extraordinary Gentlemen, Planetary, and B.P.R.D!
HC, 7×10, 48pgs, FC (2 of 6) $9.99
THE CHRONICLES OF LEGION VOLUME 2: THE THREE LIVES OF DRACULA
(W) Fabien Nury (A) Tirso & Various
Three lives, three incarnations of Vlad Tepes Dracula. The same blood flows in the veins of all three, the blood of Dracula. They will all be forced to take part in a fratricidal feud between Vlad and Radu: a battle that has lasted for centuries and has claimed countless lives! South America, 1531. Doña Gabriella is surprised by her feelings for the bastard son of her future husband, the conquistador Hernan Torres. Russia, January 1812. Captain Armand Malachi continues his search for a legendary treasure! London, 1885. In the mansion of Lord Cavendish, Victor Thorpe faces a cruel dilemma: he stands as the only heir to Cavendish's fortune, ready to inherit on one condition: he must drink the cup of blood that stands before him. (STK654176)
HC, 8×11, 56pgs, FC (2 of 4) $10.99
DRAGONS: RIDERS OF BERK VOLUME 2: DANGERS OF THE DEEP GN
(W/A/CA) Simon Furman
Swooping in from DreamWorks Animation's smash-hit TV series Dragons: Riders Of Berk, Titan Comics proudly presents all-new original adventures of Hiccup and Toothless! When Stoick and all the grown-ups head off on a mission, Hiccup is left in charge! Sounds like fun? It is, until an old enemy decides to attack Berk Meanwhile, in the scary Veil of Mists, Stoick and co. face something very scary! Titan Comics presents the most exciting Dragons: Riders of Berk adventure yet, written by Simon Furman (Transformers) with incredible art by rising star Iwan Nazif!
RES. from Previews Vol. XXIV #1
SC, 6×9, 64pgs, FC $6.99
PENGUINS OF MADAGASCAR #1
(W) Alex Matthews (A/CA) Alex Fereyra
DreamWorks' Penguins of Madagascar are getting their own brand new 4-issue comic series! Yep, Skipper, Kowalski, Rico and Private are jumping from the big and small screen to the CMYK panels! Written by comedy genius Alex Matthews (Phoenix, Dandy) with eye-popping art from Lucas Fereyra, feathers are set to fly in this unique and exciting — and very funny — new series.
32pgs, FC (1 of 4) $3.99
13 COINS #4
(W) Martin Brennan, Michael B. Jackson (A/CA) Simon Bisley
From Eisner Award-winning artist Simon Bisley comes a new series that finds Heaven and Hell at war in an angelic battle over the fate of Mankind. Growing skeptical of his newfound mentors, John Pozner, Earth's reluctant savior against the forces of darkness and light, decides to hit the streets and face his destiny alone. But with evil's stranglehold on congress tightening and his training far from finished, will John be prepared to face the holy war that's on the horizon?
MATURE THEMES
32pgs, FC (4 of 6) $3.99
Enjoyed this article? Share it!