Doctor Who The Seventh Doctor: Operation Volcano #1 Review – Classic Doctor Who Fun
[rwp-review-recap id="0"]
In the year 2029, a routine space debris-clearing mission takes a turn when the crew encounters a massive alien ship in Earth's orbit. The crew find a man aboard and bring him back to Earth. In 1967, an expedition into the Australian Outback discovers that same alien ship half-buried in the desert. The British overseers of the expedition call upon the aid of the Doctor and his companion, Ace, to discover the nature of this ship.
In a back-up story, the Doctor and Ace aid a small moon colony as their werewolf population comes under threat by the ruling government.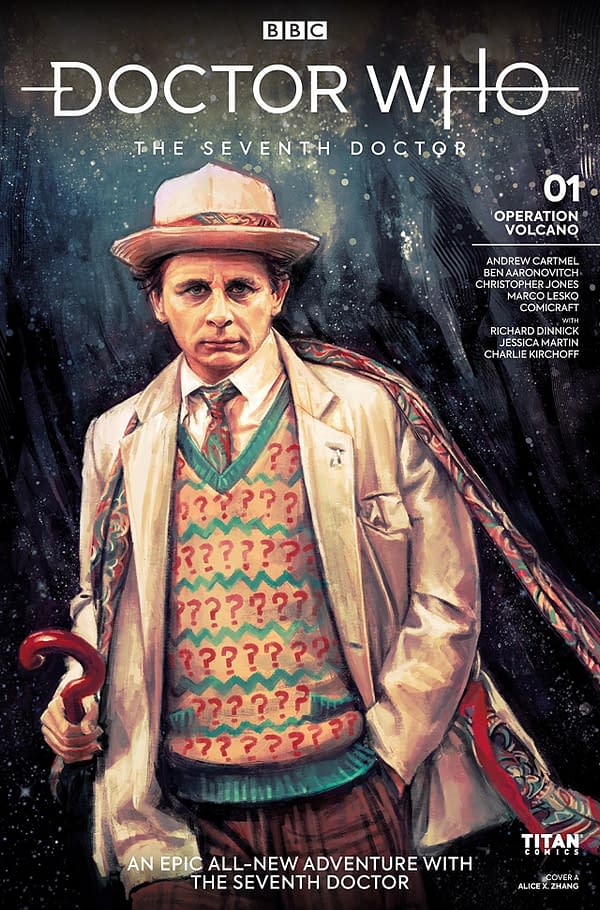 Doctor Who: The Seventh Doctor – Operation Volcano moves very much like an episode of Doctor Who. People unearth a strange alien machine on Earth that could be relevant to the future, the Doctor is called, and everyone tries to work towards a solution.
Well, that is a type of Doctor Who episode at least.
This issue follows the human characters far more than viewers of the newer show may be accustomed. There are stories about military intrigue, spycraft and espionage, and people struggling against their roles. The Doctor mainly exists in the background of it all, occasionally popping up to help the plot along.
The follow-up story is weaker. It uses Holocaust imagery and references to tell a story about these werewolf people coming under oppression and possible extermination by the ruling government, and it does it all with an unfitting air of whimsy and a fairly unfocused narrative.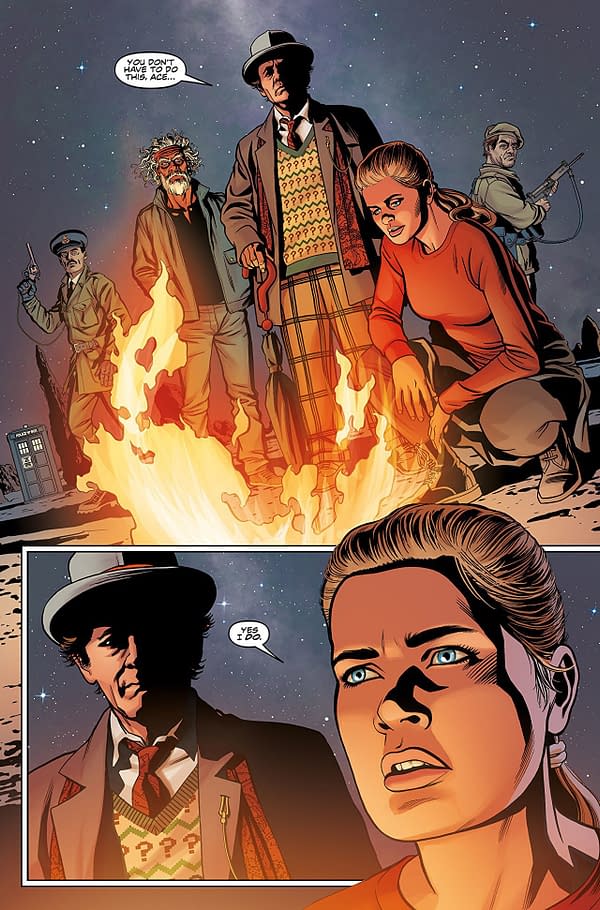 Christopher Jones and Marco Lesko are the respective artist and color artist in the main story, and they bring detail, depth, and visual expression well suited to the challenges of a Doctor Who story. Plus, the color art is well balanced and often quite bright. Jessica Martin and Charlie Kirchoff cover the art and color art of the second installment, and it's unfortunately less appealing. The characters look off, and it's hard at times to see what's going on because the framing is too tight on the scene.
Doctor Who: The Seventh Doctor – Operation Volcano is a fun and generally entertaining read. The science fiction mystery of the first tale is interesting, and Ace brings a lot of enjoyably personality to the book. "Hill of Beans," the second story, is less enjoyable but doesn't weigh down the charm of the first story by much. As such, I can recommend this comic. Check it out.
[rwp-review-ratings id="0"]
[rwp-review-form id="0"]