Sometimes, you try to make a joke and it goes right over people's heads. Sometimes, even those well-versed in the humorous arts can miss the punchline, as is the case in this preview of next week's Weapon X #27, in which Deadpool needs Domino to explain a joke to him.
It starts out with Sabretooth giving an inspiring speech about how Weapon X is going to kill William Stryker, save Sabretooth and Mystique's son, Graydon Creed, and escape hell with everyone alive. And when Sabretooth asks for thoughts from demon Marduk Kurios, Kurios says…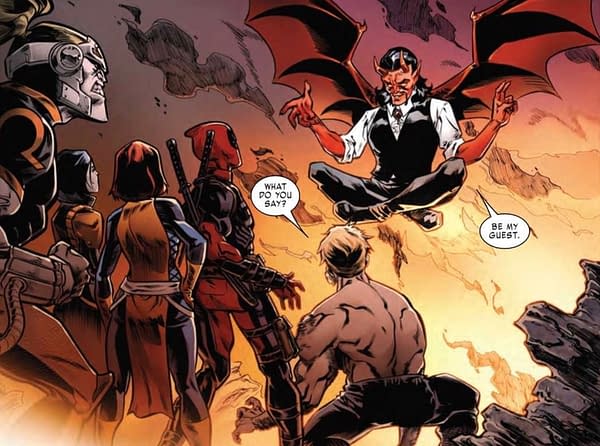 But Deadpool doesn't get it, requiring Domino to explain…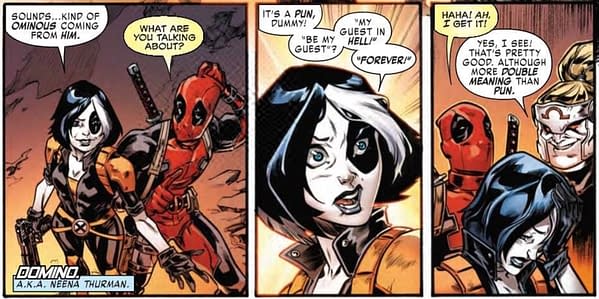 Is Domino looking for extra freelance work? We could use her around here at Bleeding Cool sometimes.
Weapon X #27 hits stores Wednesday, and we're sad to say it's the final issue, so probably some people are going to die.
Weapon X #27
(W) Greg Pak, Fred Van Lente (A) Luca Pizzari, Alberto Alburquerque, Ibraim Roberson, Roberto Di Salvo (CA) Rahzzah
WEAPONS OF SELF-DESTRUCTION!
• Two roads diverged in a blood-soaked wood. For a time, Sabretooth took the one less traveled. In this issue, he pays for it.
• Everything changes here.
Rated T+
In Shops: Dec 12, 2018
SRP: $3.99
Enjoyed this article? Share it!