Double Take Zombie Comics Sell Out – And Bill Jemas Says They Won't Be Reprinted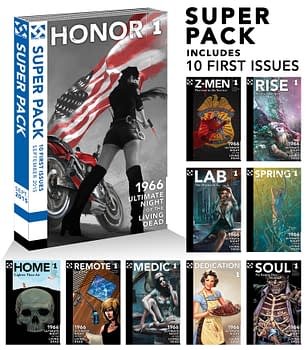 Back in the day, then-publisher of Marvel Comics Bill Jemas made the decree that they would stop reprinting comics that sold out. As a result not only did certain titles such as Ultimate Spider-Man become incredibly collectible, but retailers were encouraged to make higher orders to begin with rather tan relying on being able to order subsequent printings. And slowly sales began to rise.
Well, he's trying it again with his Ultimate Night Of The Living Dead comics from Double Take. The single first issues of the ten zombie comic series have sold out, including the film-optioned Z-Men, although the ten packs are still available (possibly the ones Hot Topic sent back).
Could this make for a collector splurge? That's all to come.
But the planned shift forward in storylines by sixty years from 1966 to 2016 to show a post-zombie apocalypse superhero universe, the zombie plague having shifted the result of its infection on the populace…. well it probably couldn't hurt back issue sales.