A New Nova Corps And The Return Of The Fraternity Of Raptors, On Free Comic Book Day
The Guardians Of The Galaxy story for Free Comic Book Day, well-timed to the release of the new movie and being bally lots of fun courtesy of Gerry Duggan, Aaron Kuder and Ive Svorcina appears to shows the very shadowed return of the Darkhawk or Darkhawks to the Marvel Universe.
Remember Darkhawk? Christopher Powell who discovered a mysterious amulet that allowed him to switch places with a powerful android that his mind controlled. Powell vowed to use the amulet as "an edge against crime." In this role, he worked with other superheroes and battled a number of costumed villains.
Later in his career, another Darkhawk named Talon came to Earth, claiming to be part of The Fraternity of Raptor", an order created as "the curators of history, and the custodians of the future." He offered to teach Powell, how to control his amulet. They went to the Negative Zone to fight Annihilus and fully bond with his amulet.
This allowed him to learn that the Fraternity of Raptors that Talon represented was evil and that the Fraternity had created the amulets.
And now… they're back.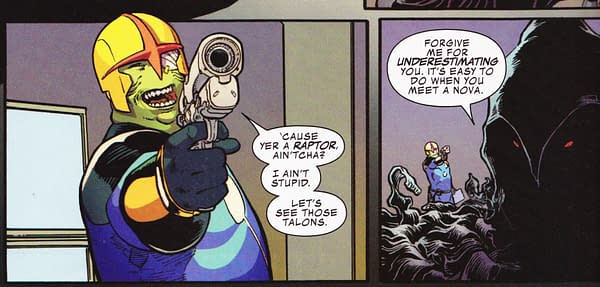 And part of the Guardians Of The Galaxy story.
And a very clear launch of a new Nova Corp sometime between Secret Empire and the New Guardians Of The Galaxy series.
We now seem to have a Nova Corp very similar to the movies and lacking no powers and no real link to the comics version except the helmet. Whatever this means for the currently cancelled Nova series is anyone's guess.
But since Duggan brought us most of the new Nova Sam Alexander adventures it seems very likely that he'll address this…