Exclusive First Look At Dynamite's Collections And Trades Shipping September 2017
Our final exclusive look at Dynamite's solicitations and covers for books shipping in September 2017 focuses on their collections and trades, including The Best of Vampirella, a Dresden Files Omnibus, John Carter: The End collected and a softcover version of Brandon Sanderson's White Sand.
WHITE SAND VOL. 1 Trade Paperback
Cover: Julius Gopez | Writer: Brandon Sanderson, Rik Hoskin | Art: Julius Gopez
Format: Softcover Page Count: 160 pages
A brand new saga of magic and adventure by #1 New York Times best-selling author Brandon Sanderson. On the planet of Taldain, the legendary Sand Masters harness arcane powers to manipulate sand in spectacular ways. But when they are slaughtered in a sinister conspiracy, the weakest of their number, Kenton, believes himself to be the only survivor. With enemies closing in on all sides, Kenton forges an unlikely partnership with Khriss — a mysterious Darksider who hides secrets of her own. White Sand brings to life a crucial, unpublished part of Brandon Sanderson's sprawling Cosmere universe. The story has been adapted by Rik Hoskin (Mercy Thompson), with art by Julius Gopez and colors by Ross Campbell. Employing powerful imagery and Sanderson's celebrated approach to magical systems, White Sand is a spectacular new saga for lovers of fantasy and adventure. DRESDEN FILES OMNIBUS VOL. 2 Trade Paperback
Cover: Ardian Syaf | Writer: Jim Butcher, Mark Powers | Art: Joseph Cooper, Carlos Gomez
Format: Softcover Page Count: 432 pages
When the Chicago Police Department are baffled by cases, they turn to Harry Dresden: private investigator and wizard! Armed with vast yet unrefined mystic skills, Dresden doggedly pursues every lead in his search for answers, crossing mobsters, renegade sorcerers, otherworldly monsters, and more! This second volume of The Dresden Files Omnibus collects three complete comic book series: "Ghoul Goblin", "War Cry", and "Down Town". These mind-blowing tales of Harry Dresden are set within official continuity, expanding Jim Butcher's rich universe with adventures never-before-seen in the novels!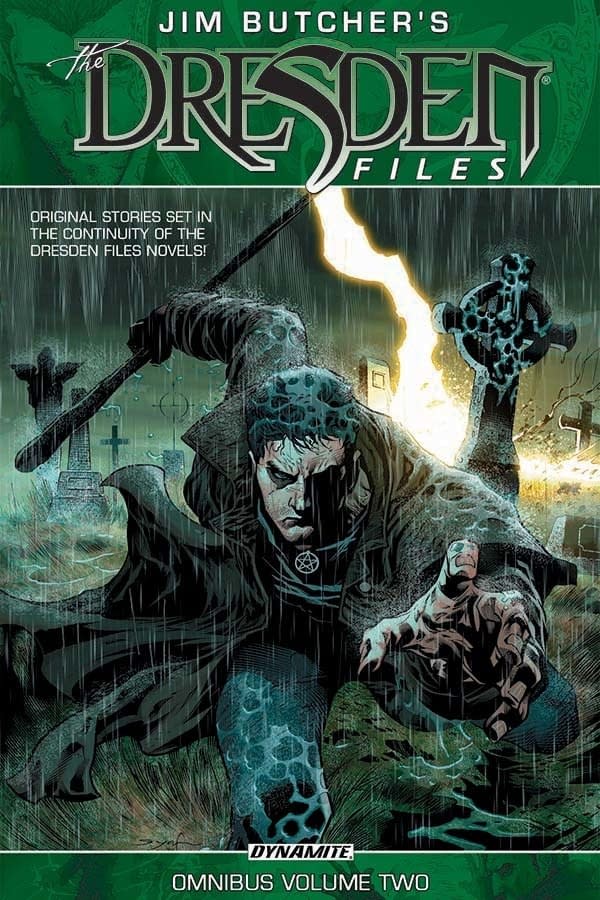 PATHFINDER VOL. 1: DARK WATERS RISING Trade Paperback
Cover: Matteo Scalero | Writer: Jim Zub | Art: Andrew Huerta
Format: Softcover Page Count: 224 pages
The warrior Valeros can rely on his sword arm and his friends, the mysterious sorceress Seoni, quick-witted elven rogue Merisiel, powerful wizard Ezren, well-traveled dwarven ranger Harsk, and courageous cleric Kyra. However, nothing can prepare him for the dangers that lurk ahead! The scattered goblin tribes of Varisia are unifying in ways no one has ever seen before. At the heart of this strange evolution is an ancient force of evil looking to establish itself anew in the world of Golarion! Journey into Paizo's award-winning fantasy world, fiction line, and tabletop RPG with an action-packed story written by Jim Zub (Street Fighter Legends, Skullkickers) and incredibly detailed artwork by Andrew Huerta (Underworld, Homies), this first volume introduces readers to a richly envisioned fantasy world filled with compelling characters and impressive sights. Collects the first six issues of the Pathfinder comic series; an exclusive ten-page bonus story; "The Last Mosswood Goblin;" and over 30 pages of encounters, characters, and world detail for the Pathfinder Roleplaying Game!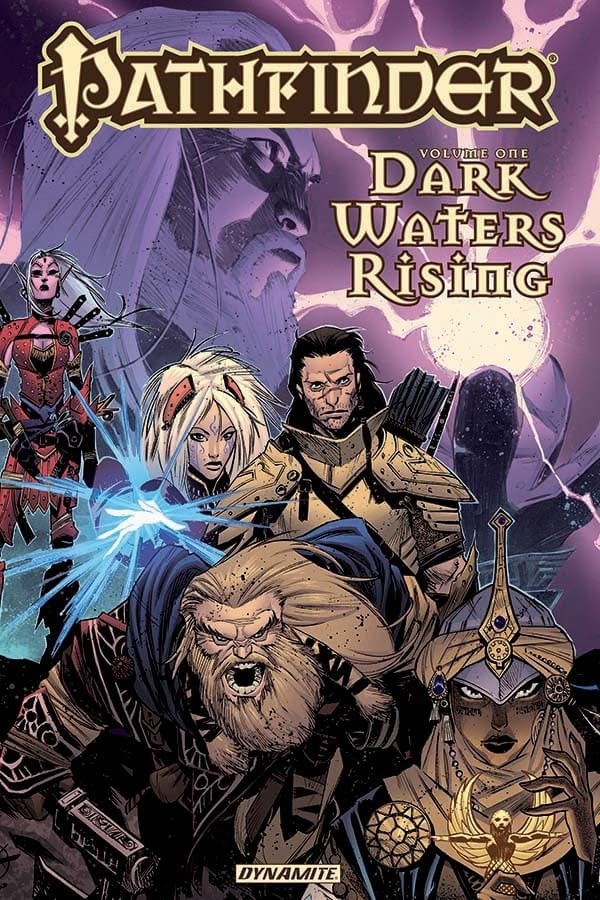 WARLORD OF MARS: DEJAH THORIS OMNIBUS VOL. 1 Trade Paperback
Cover: Paul Renaud | Writer: Arvid Nelson, Robert Place Napton | Art: Carlos Rafael, Marcio Fiorito, Debora Carita
Format: Softcover Page Count: 480 pages
Dejah Thoris, the Martian heroine of Edgar Rice Burroughs' classic Barsoom novels, strikes out on her own, proving herself every bit as resourceful and daring as her famous human consort: John Carter, the Warlord of Mars! Thrill to her solo adventures in this massive Omnibus edition, collecting the first twenty issues of her ongoing comic book series! Four hundred years before John Carter would arrive on the Red Planet, the long-lived Dejah Thoris must unite the forces of Greater and Lesser Helium, two warring city-states, to fend off the greatest threats ever to plague their lands: a rampaging colossus, pirate raiders, the dreaded Boora Witch, invading vampires from Saturn, and even more unspeakable menaces!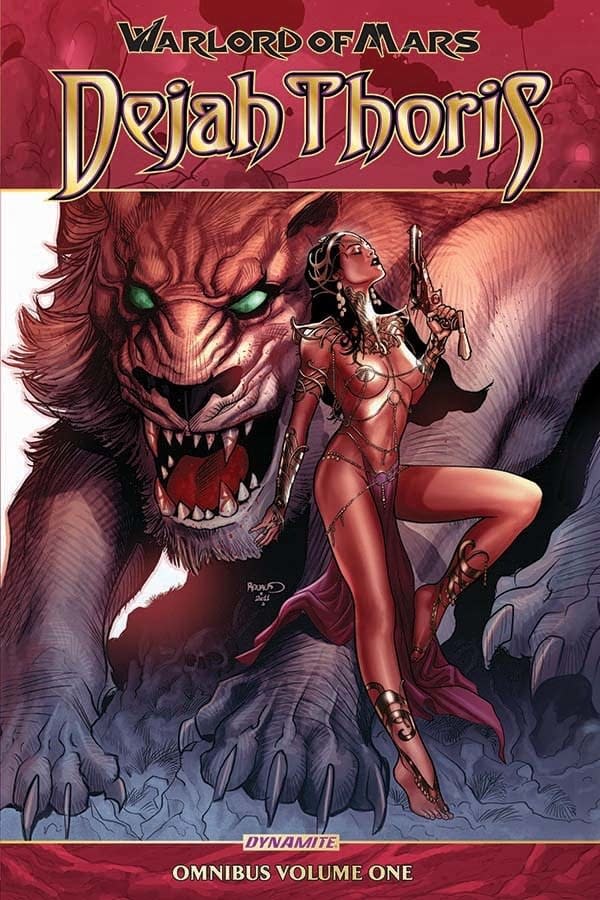 JOHN CARTER: THE END Trade Paperback
Cover: Juan Doe | Writer: Brian Woods, Alex Cox | Art: Hayden Sherman
Format: Softcover Page Count: 136 pages
Centuries have passed and time has taken its toll on Mars. Conflict burns across the landscape. A war of supremacy and genocide at the hands of a brutal despot has brought the planet to the edge of collapse. A search party has finally located an aged John Carter and Dejah Thoris, living in quiet seclusion on a desert moon, in perpetual mourning for their lost son. How could they be Mars' last hope? Introducing a John Carter story like you've never seen before, from co-writers Brian Wood (Star Wars, DMZ, Northlanders) and Alex Cox (Adventure Time), joined by artist Hayden Sherman (Civil War II: Kingpin). THE BEST OF VAMPIRELLA MASTER SERIES OMNIBUS Trade Paperback
Cover: Amanda Conner | Writer: Grant Morrison, Mark Millar, Warren Ellis, Alan Moore, Jeph Loeb, Kurt Busiek, James Robinson, Mike Carey | Art: Amanda Conner, Mike Mayhew, Gary Frank, Tim Sale, Louis LaChance, Joe Jusko, Mike Lilly, Mark Texeira
Format: Softcover Page Count: 568 pages
The finest comic book creators of the modern era delve into the mystery and the macabre in The Best of Vampirella Masters Series! Revisit the greatest tales of horror comics' most iconic heroine with the following stories, each crafted by a legendary team of writers and artists!
* "Ascending Evil" by Grant Morrison, Mark Millar, and Amanda Conner
* "Vampirella Lives" by Warren Ellis and Amanda Conner
* "Nowheresville" by Mark Millar and Mike Mayhew
* "The New European" by Alan Moore and Gary Frank
* "Looking for Mr. Goodwin" by Jeph Loeb and Tim Sale
* "Morning in America" by Kurt Busiek and Louis LaChance
* "Blood Lust" by James Robinson and Joe Jusko
* "Revelations" by Mike Carey, Mike Lilly, and Mark Texeira