Comic book writer Eric S Esquivel, responding to allegations of sexual, mental and physical harassment from toy designer Cynthia Naugle that led to the cancellation of the DC comic book Border Town, issued the following statement on December 15th.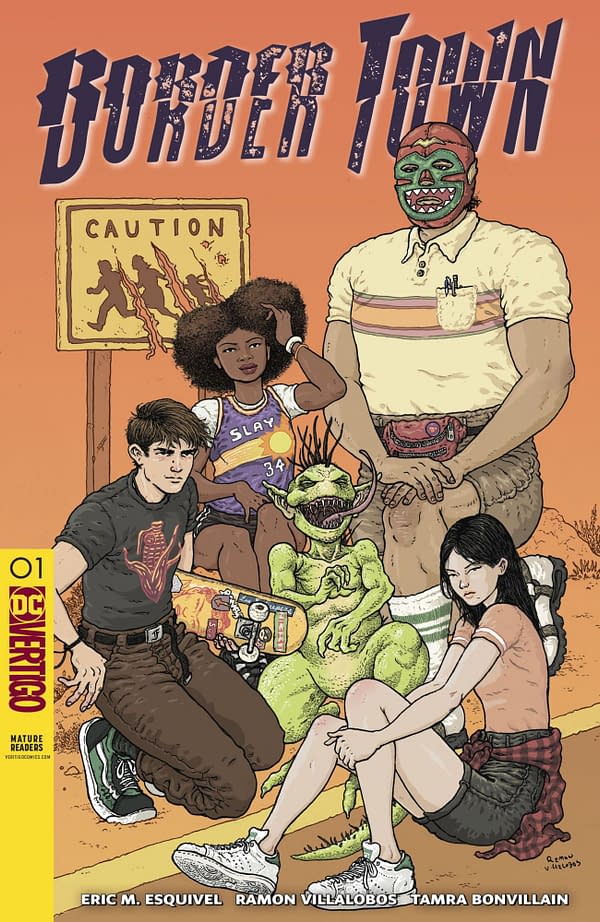 It came directly from him, rather than his legal representatives at Hirsch Wallerstein Hayum Matlof + Fishman LLP.
I was recently accused of misconduct by a former romantic partner. Not recent misconduct. Misconduct which allegedly happened many years ago. Out of respect for her and our prior relationship, I will not publicly name names.

I've taken a few days to respond, because I wanted to make sure I wasn't talking over anyone. We're in the midst of a very important cultural conversation right now. One I wholeheartedly believe in.

Never in my life did I expect that I would become one of the accused. I will not speculate as to her motivation for making these reckless allegations, but I want to make it clear that they are false. Though our relationship was unconventional, we always treated one another with dignity and respect.

I heavily encourage, and will fully cooperate in, any forthcoming independent investigation of these claims, which I am confident will show that I have been falsely accused.

I have been notified that DC Vertigo has canceled the book I was working on. My heart breaks for the book's supporters, and my creative collaborators. They don't deserve to be negatively affected by this unfortunate situation.
In response, Portell Law issued the following statement on behalf of their client, Cynthia Naugle
Portell Law, P.C. represents Mrs. Cynthia Naugle-a victim who has taken the courageous step of coming forward to share her story. The horrific abuse she suffered at the hands of Eric M. Esquivel must be condemned in the strongest
possible terms.

The outpouring of support for our client is heartening. Mrs. Naugle wants to thank you all for your compassion and understanding. She is especially grateful to those who have shared their own stories of Esquivel's abuse.

Portell Law understands that victims of sexual assault take risks when they come forward. One of those risks is that the abuser will respond in a way that reopens old wounds. This is especially true of women who were physically attacked and subject to repeated threats and emotional manipulation. Yesterday, Mr. Esquivel released a public statement that questioned our client's motivations and the delay in reporting his crimes. He even suggested his abuse was part and parcel of a "romantic" relationship. This man needs help, and we hope he receives it soon. His public statement shows no comprehension of his crimes, including those committed against other victims who have since come forward.

Our client is directing all future inquiries to Portell Law. Our client will not exchange words with Mr. Esquivel. Instead, she will use her time and energy to stand up for other victims. Portell Law is proud to help her in this effort.
They also distributed another statement from Tucson comic shop Heroes & Villains where Esquivel and Naugle both used to work and where some of the named incidents are alleged to have occurred.
It is December 15, 2018, and our Heroes & Villains family has read the public statement of Eric Esquivel released late yesterday. His public statement contains gaslighting of the worst kind. In it, he questioned the motivations of his victim, took issue with the purported delay of reporting his abuse, and even characterized the relationship as "romantic". These are the tired deflections of abusers everywhere.

Esquivel's public statement yesterday stands in stark contrast to the brave account of Cynthia Naugle and other victims who have come forward. Our support for Cynthia is unwavering. We know her. We believe her. We will not let her or any victim be silenced. Victims must be allowed to come forward and be heard.

Our effort to make the comic book community safe from these abuses remains our top priority. Cynthia is going to help us lead the way.

Michael Camp Heroes & Villains
Bleeding Cool will continue to cover this story as more details come to light.
Enjoyed this article? Share it!