We've got another exclusive early look at a batch of books coming from Dynamite this February. This batch is their science fiction tales including a Battlestar Galactica omnibus, Flash Gordon and KISS. Never thought of KISS as science fiction, but I'm okay with that.
BATTLESTAR GALACTICA: GODS & MONSTERS #4 (of 5)
Cover A: Alec Morgan Cover B: Pete Woods Writer: Karl Kesel Art: Alec Morgan
Things go horribly wrong during an important operation on a volcanic planetoid, but is Baltar's monster—the rebuilt Cylon Centurion—responsible…or is it Galactica's only hope? Can Starbuck and Apollo trust it? Should they? Everything comes to a boiling point in this TRIAL BY FIRE!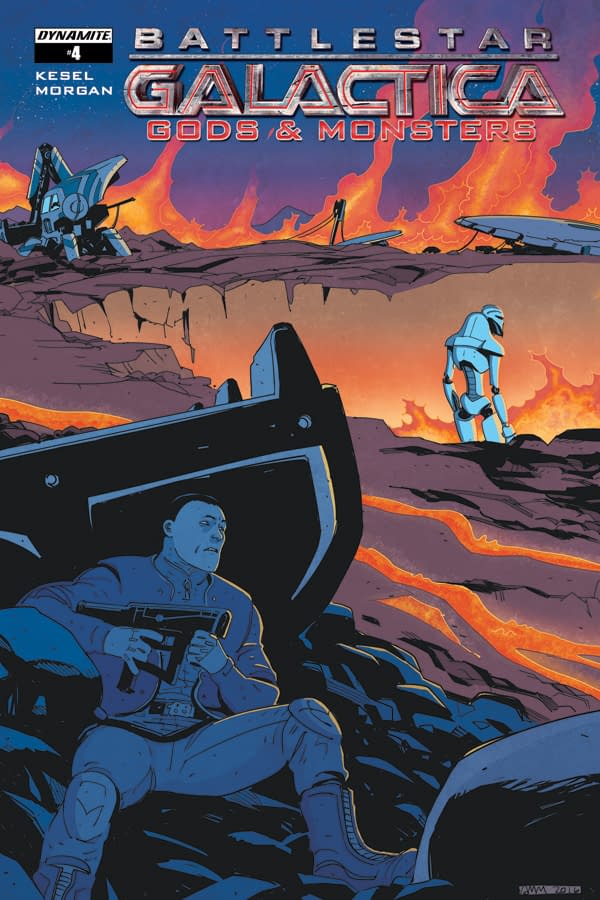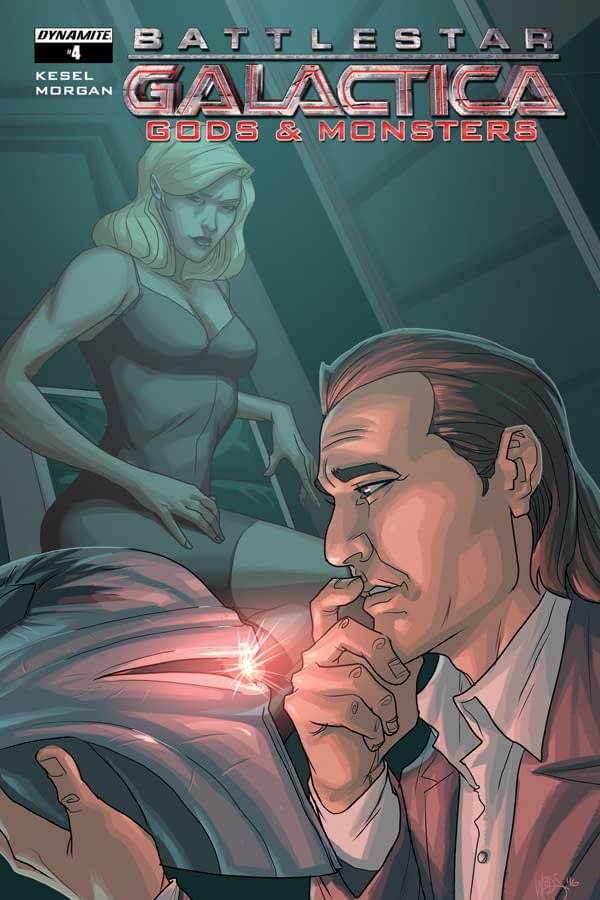 BATTLESTAR GALACTICA CLASSIC OMNIBUS Trade Paperback
Cover: Dave Dorman Writer: Rick Remender, Javier Grillo-Marxuach, Marc Guggenheim Art: Carlos Rafael, Cezar Razek
Format: Softcover Page Count: 328 pages
Dynamite Entertainment is proud to bring back the original crew of the Battlestar Galactica, the heroes of the classic 1978 sci-fi sensation, as imagined by the all-star comic book team of Rick Remender (Uncanny Avengers), Javier Grillo-Marxuach (Annihilation), Marc Guggenheim (Agents of SHIELD), Carlos Rafael (Warlord of Mars), and Cezar Razek (Doc Savage)! This massive Omnibus edition collects the complete Classic Battlestar Galactica miniseries (2006), plus BSG: Cylon Apocalypse (2007) and Galactica 1980 (2009). From the heart of a Cylon stronghold, to a civil war among their most hated enemies, to the planet Earth, Dynamite brings the adventure of Adama and your favorite Viper Pilots to your hands in its entirety!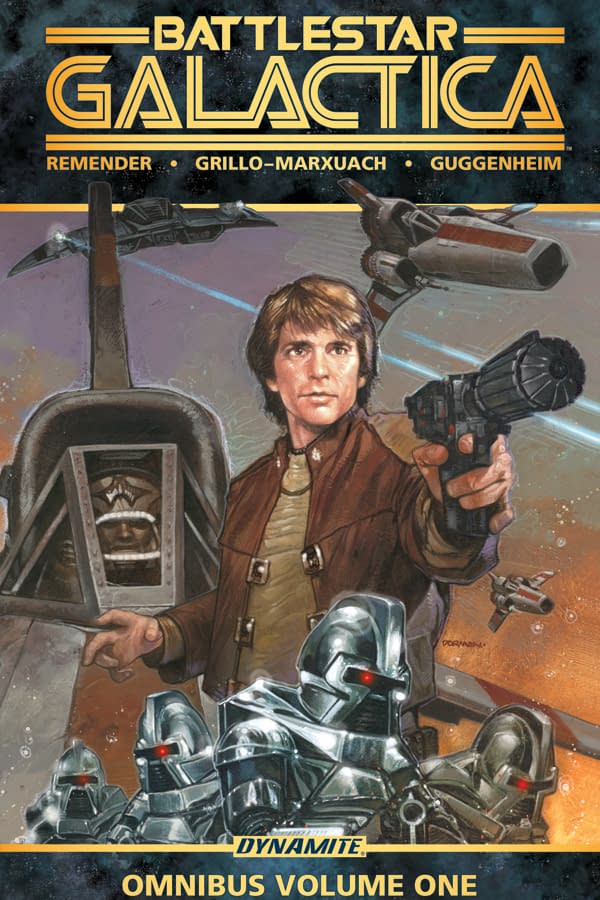 BRICKLEBERRY Vol. 1: ARMOOGEDDON Trade Paperback
Cover: Jeffrey Rebner Writer: Waco O'Guin, Roger Black Art: Timothy Hopkins, Frank Forte
Format: Softcover Page Count: 104 pages
Brickleberry's back, and now in comics! Written by show creators Waco O'Guin and Roger Black, the epic "ArMOOgeddon" storyline picks up right where television's most outrageous animated sitcom left off! In the distant future, Steve Williams — the only Brickleberry park ranger who managed to escape death at the hands of the Alien Cow Invasion — has joined forces with a small group of human rebels in an underground hidden base. With the help of Dr. Kuzniak, Future Steve must travel back in time to the year 2015 and kill head ranger Woody Johnson, whose actions led to the Invasion and the destruction of all humanity. But Denzel Jackson has other plans for Steve's time travel technology, redneck Bobby Possumcods willingly submits to Alien Cow domination, and Connie's advances toward Ethel get… weird.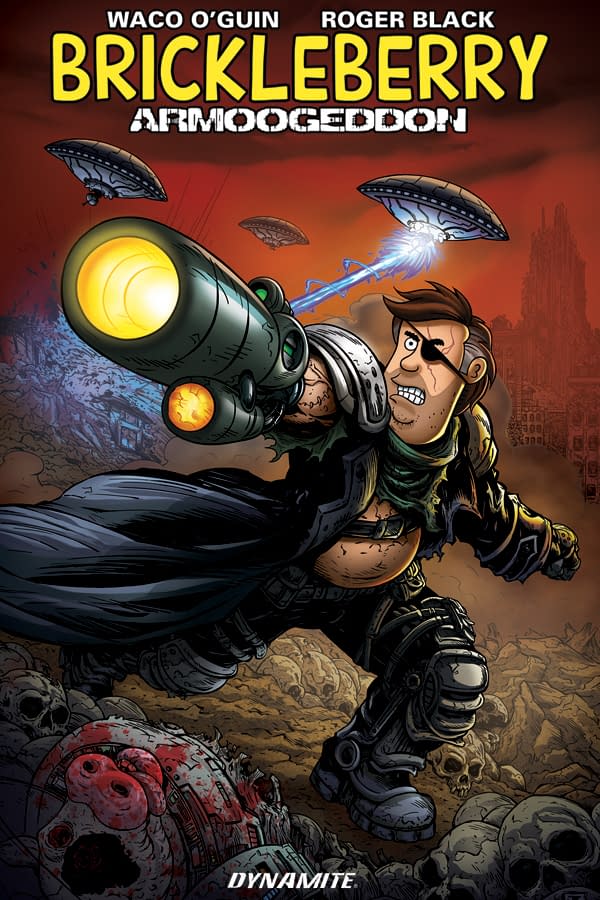 FLASH GORDON: KINGS CROSS #4 (of 5)
Cover A: Jesse Hamm & Grace Allison Cover B: Adrian Nelson Cover C Subscription: Roberto Castro Writer: Jeff Parker & Jesse Hamm Art: Jesse Hamm & Grace Allison
Superstar JEFF PARKER (Future Quest) returns to FLASH GORDON, alongside the astounding team of JESSE HAMM & GRACE ALLISON! It's going bad. REAL bad. Quantum breaches, shifting continents, hordes of Beast-Men on the loose. But whenever all hope seems lost, MANDRAKE THE MAGICIAN always has an ace up his sleeve…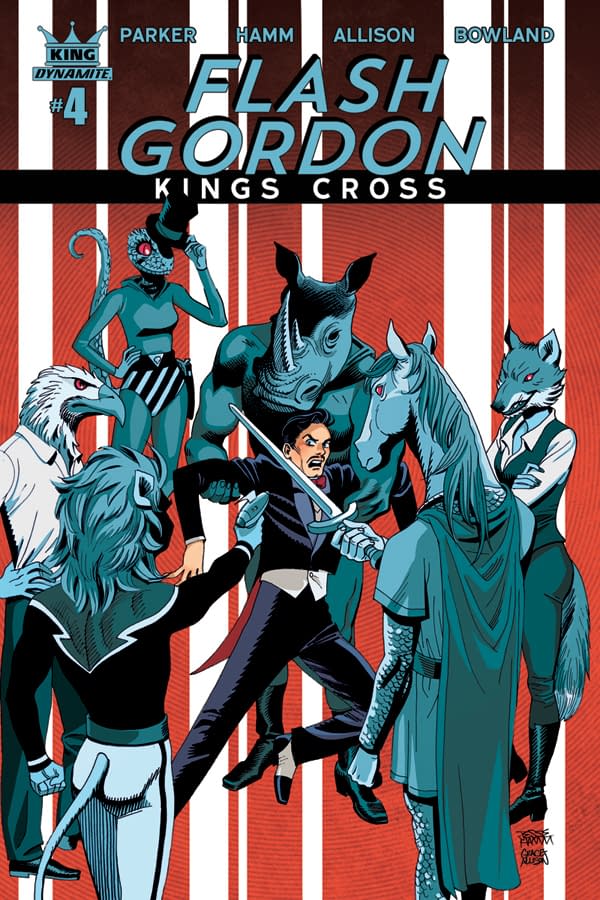 GREAT DIVIDE #6 (of 6)
Covers: Adam Markiewicz Writer: Ben Fisher Art: Adam Markiewicz
The shocking conclusion to what critics have called a "flat out impressive" series that "rewrites apocalyptic standards." The secrets of the Divide have been revealed, but at great personal cost. In the face of certain death and against impossible odds, can Paul and Maria save each other – and, just maybe, the world? Each issue of THE GREAT DIVIDE comes with unique digital content. Issue #6 includes the Great Divide's swan song performed by the incredible "dark fairie" folk band, City Below!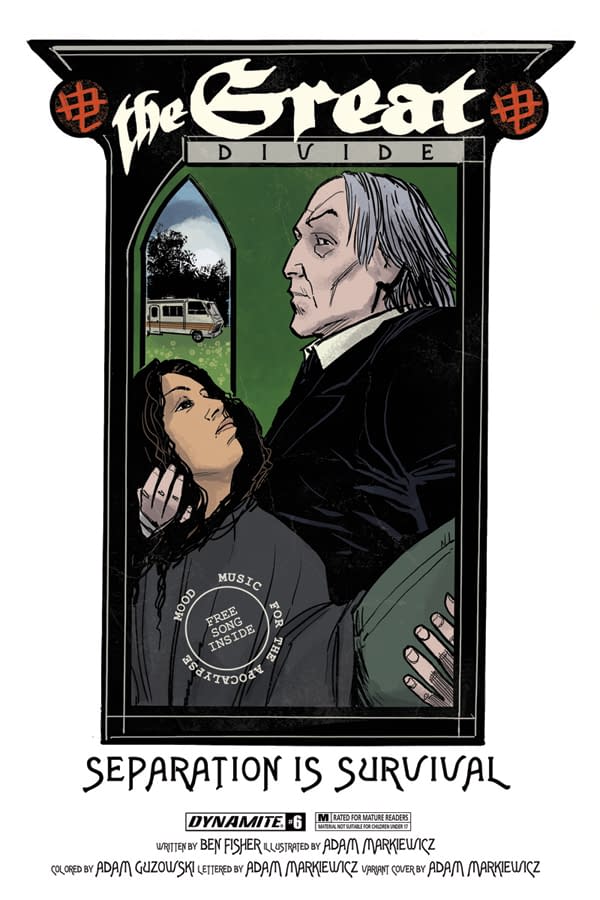 KISS #5
Cover A: Lucio Parrillo Cover B: Shouri "Emoji" Cover Cover C: Photo Variant Writer: Amy Chu Art: Kewbar Baal
Things are heating up fast, and when we say heat, we mean HOT—the ventilation system is broken and the city is running out of air! Meanwhile, Noa and Eran are still reeling from the revelations about their past. The four friends must reconcile their differences to save everyone, and with the help of MORPHEUS, solve the big mystery of Blackwell before it's too late.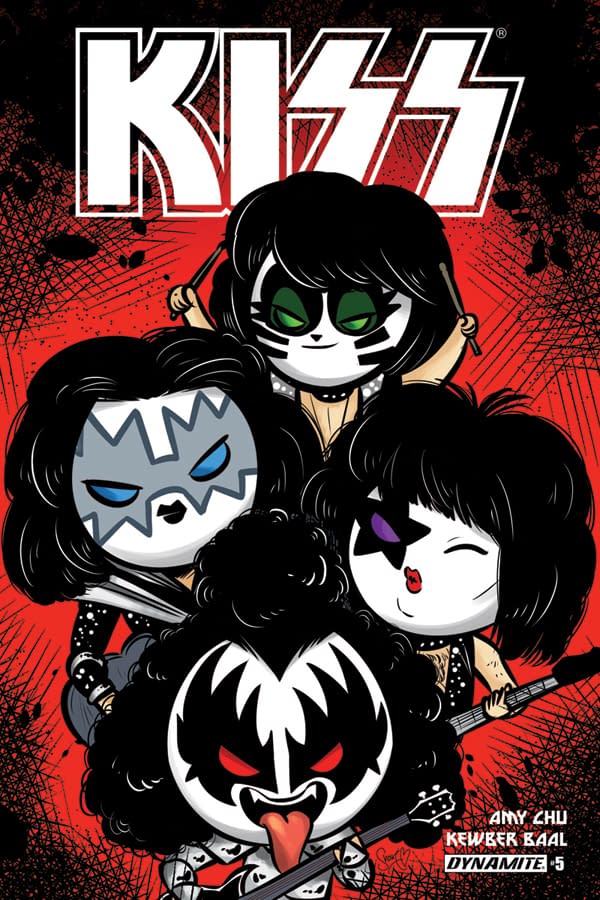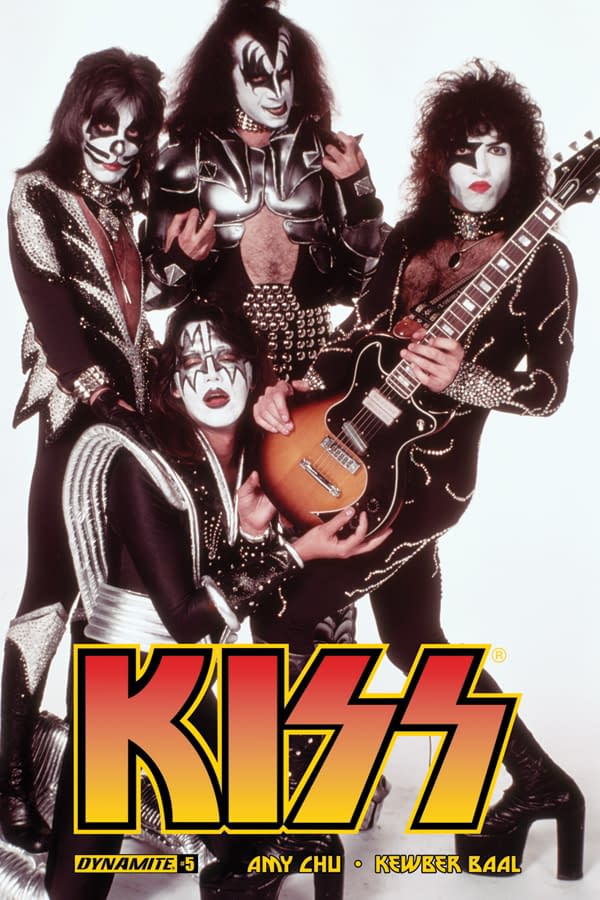 KISS: THE DEMON #2 (of 4)
Cover A: Kyle Strahm Cover B: Tom Mandrake Cover C: Michael Adams 8-bit cover Cover D: Photo Cover Writer: Amy Chu, Erik Burnham Art: Eman Casallos
After the sudden death of his father, Sam Jr. takes over the Blackwell family company. Milo's family moves to California and Kimi gets a scholarship to study abroad. Despite being apart, the former bandmates remain forever connected by their love of music and KISS. However, Sam's obsession with the band, and especially the Demon, takes on a new and potentially dangerous twist… The 2nd chapter in the prequel to the ongoing series.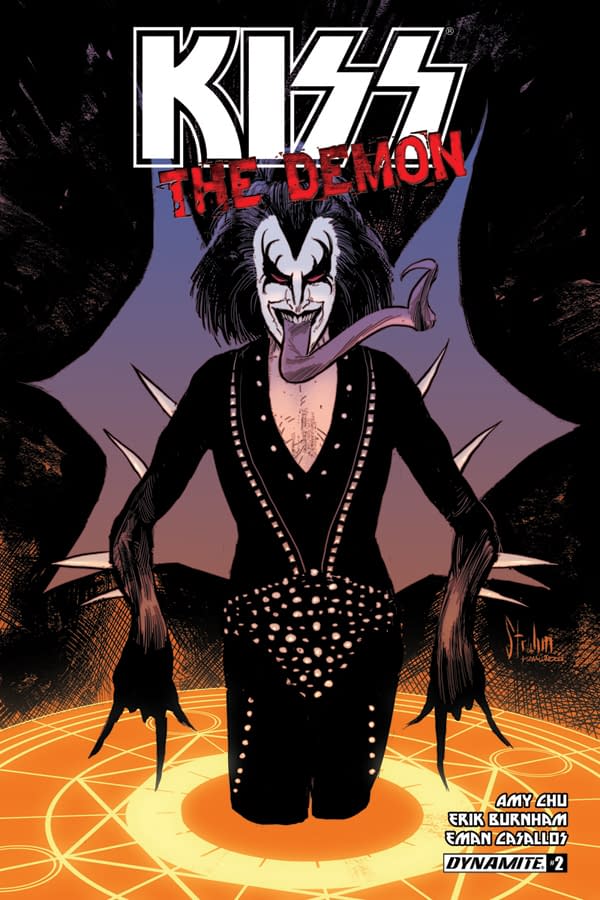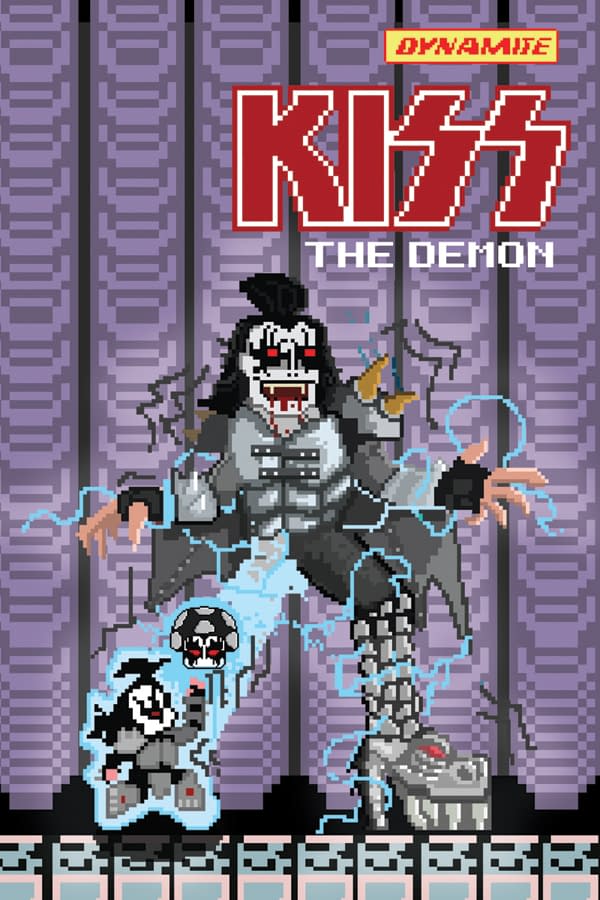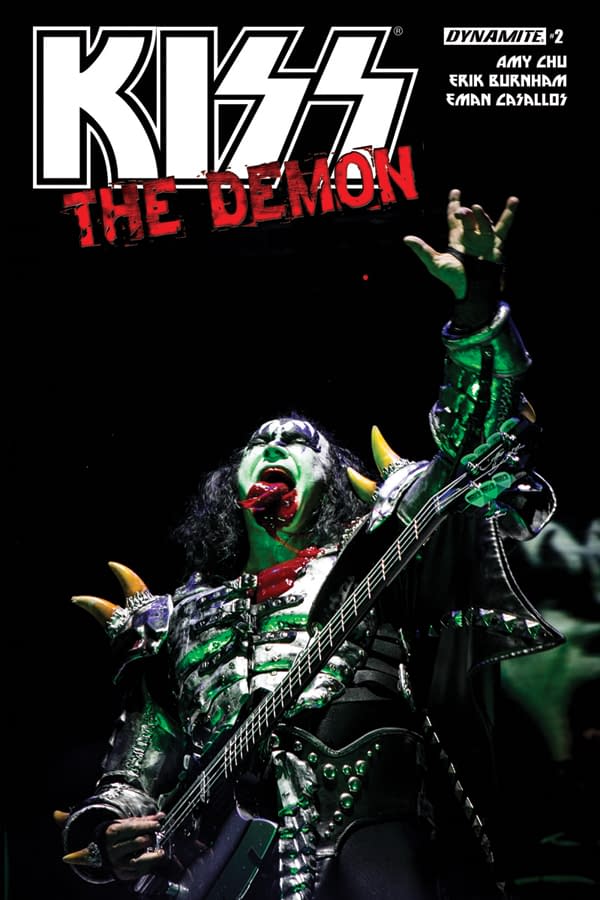 Enjoyed this article? Share it!