Fake News! Counterfeit Copy Of Teenage Mutant Ninja Turtles At Auction You might need more eagle eyes than usual for this one. When Teenage Mutant Ninja Turtles was published, it was a smash hit, going through numerous printings and rising in value, especially with the release of the kid's cartoon. So much so that some bright spark decided that they could make money running off their own print run, with separate runs for the cover and the interior, and sell each copy for thousands. Teenage Mutant Ninja Turtles #1 was not the only such comic targeted in this fashion, so was Cerebus #1. But what followed for both was new – the counterfeit copies, once identified, became part of the story and were actually considered worth money. Indeed, after the passage of time, they are worth far more than they were originally sold for when people thought they were the real first prints.
A counterfeit copy of Teenage Mutant Ninja Turtles #1 is currently up for auction, slabbed at CGC 9.4 at ComicConnect, ending on Friday, the 16th of April, and has already had bids over $7000 at the time of writing. And while the listing for the comic definitely states it is counterfeit, it doesn't give a history of the counterfeit; instead, it treats it as another cover variant. Which, to be fair, is how everyone treats out now. Here's the listing;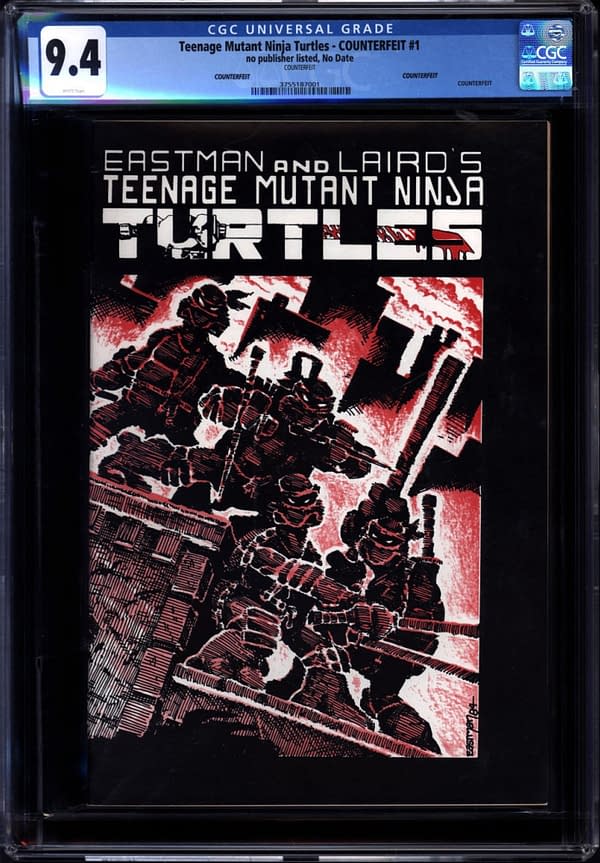 white pgs, Counterfeit copy!
origin and 1st app. of the TMNT; most valuable comic of the Copper Age!
Kentucky Collection
Anybody who grew up in the 1980s understands the significance of this comic book. It is the Action #1, the Showcase #4 and Amazing Fantasy #15 of the 80s. Self-published by scrappy creators Kevin Eastman and Peter Laird, this book contains the origin stories of the Ninja Turtles and the Splinter, as well as the introduction of Shredder, and the Foot. The moody cover, an homage to Frank Miller's Ronin mini-series, features deep blacks and bloody reds with muscular cross-hatched renditions of our heroes standing ready against the forces of evil. Eastman and Laird's characters were soon to be toned down and made more child-friendly, but in these early books, they pulled no punches on the way to devouring their beloved pizza pies.
A Copper Age classic, not many comics can be referred to as that, but this particular issue, one which gave rise to numerous films, cartoons, video games and the like, has truly earned those accolades. This book is notoriously difficult to find in such good condition, the black motif displays creases and dimples as easily as light covers show dirt and stains. With a sequel to the latest iteration of TMNT released upon the world the time is nigh to grab your own copy before the price begins to climb once again.