[rwp-review-recap id="0"]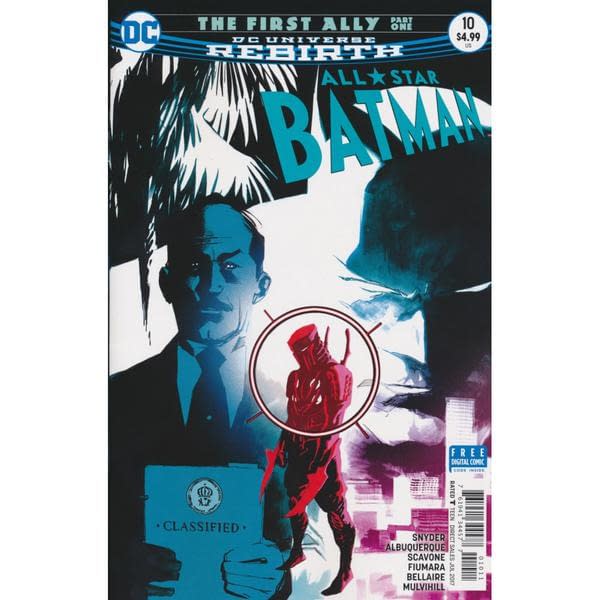 [SPOILERS FOLLOW]
All Star Batman #10 by Scott Snyder, Rafael Alburquerque and Jordie Bellaire gives us a father and son story wrapped up in punk teenagers, pirates and priceless paintings. Not too unusual, as DC are having a bit of a good time with father and son stories of late, though this one is a tad different from the adventures in Superman.
Because much like the Batman villain of this issue, Hush, one could imagine the identity of this tale is almost as enshrouded, though perhaps the final reveal not so much.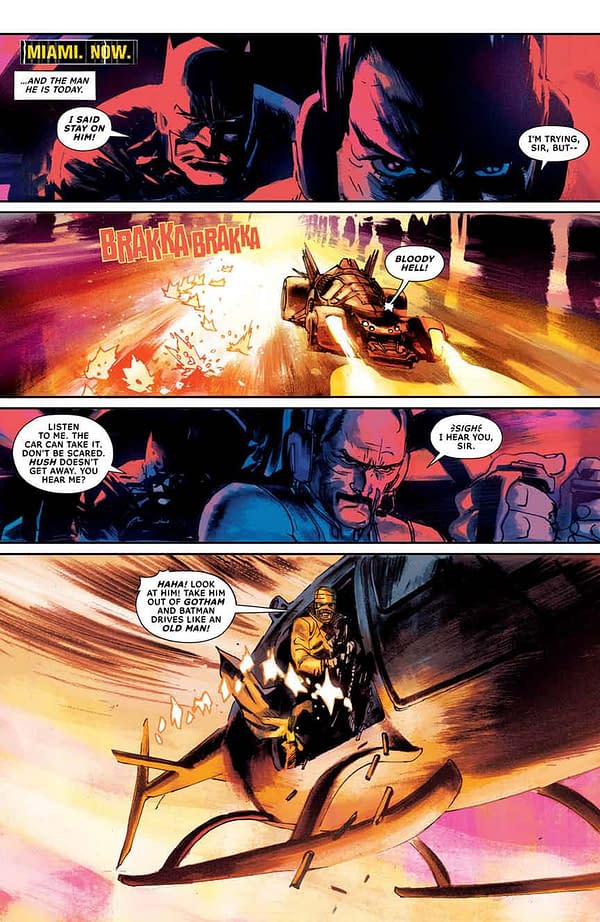 This is because this is an Alfred Pennyworth story, the long-suffering manservant of the Dark Knight, as he explains to us in captions his relationship with his criminal-bashing charge. The thing is, Alfred is so much more than just Bruce Wayne's butler, something that Snyder has arguably been exploring since he started writing Batman. This issue makes it as explicit as ever: Alfred Pennyworth fully sees himself now as Bruce Wayne's adopted father – and as such, he sees his son walk out into the night and throw himself into danger every night.
It's a particularly interesting exploration, especially given Snyder's on record comments on why he doesn't really involve Robin much in his Batman stories, finding the idea of writing a father sending his son, who is not much older than Snyder's own son, into extreme danger jarring and difficult to write. Certainly, Snyder puts a lot of himself in his work, so this isn't too hard a dilemma to understand.
Here, in the comics content, we get a kind of version of this: obviously, Bruce is an adult and Alfred knows full-well he cannot stop him, but the concern and at times absolute terror as his son puts himself at risk is evident and adds layers to the Dark Knight's most trusted ally. Mixed in with the worry and fear, however, is a kind of absolute pride – one could almost imagine it like how the parents of police officers or soldiers feel, dealing with the bizarre, almost-freezing mix of dread and pride.
The artwork in the issue is stunning, and works really well with the new locale, as the action takes place in Miami. Albuquerque's art with Bellaire's colours feels oddly hot and humid, leaving the reader almost capable of feeling it. The flashback scenes in London are the complete reverse, more muted in colour and with more blues, and it creates not just the difference of flashback to present, but also the difference in temperature of the locales.
These flashbacks are basically what maybe hasn't quite worked, with the final page reveal: we learn these parts of the story are not looking at a moment in Bruce's past training, but rather a young Alfred Pennyworth, who appears to be graffiti artist punk in presumably 70s London now. Problem being, this reveal was pretty obvious when reading through. It's not story derailing, and certainly there's plenty of intrigue for the reader as we have a new mystery, a murder that somehow ties to Alfred's past, and hey, I am all about Punk Alfred – but I think few would be surprised by the last few panels.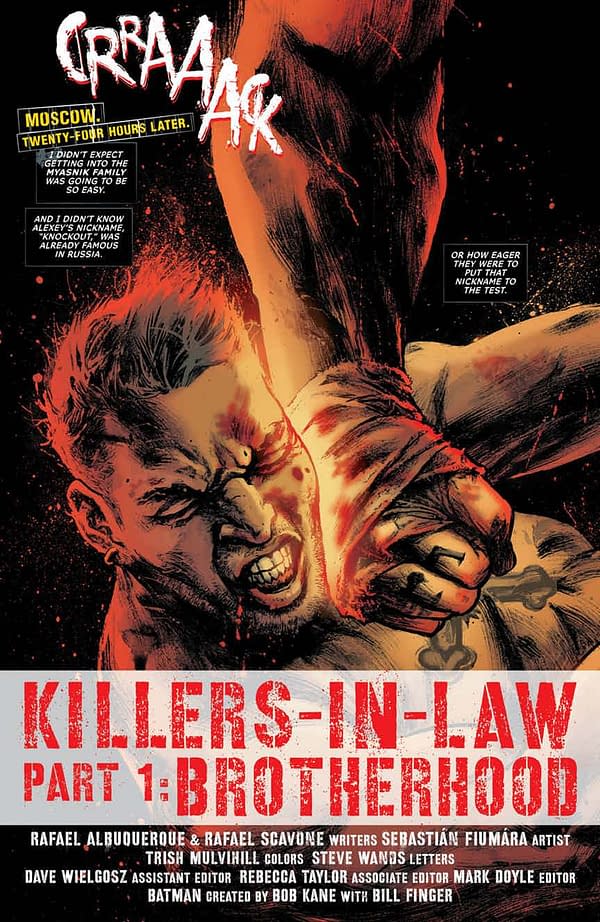 The back-up story, by Albuquerque and Rafael Scavone with art by Sebastian Fiumara and Trish Mulvihill, is a bit of a departure, as it doesn't deal with Duke, and instead is presenting a whole other Batman case. So far, it comes across as a strong if fairly standard undercover story, with some really lovely, gritty artwork. It will be fun to see how this goes, both in terms of the story and if the backups in future may feature stories from other creators rather than also being written by Snyder.
[rwp-review-ratings id="0"]
[rwp-review-form id="0"]
Enjoyed this article? Share it!