Actor/writer/producer/director/voiceover Felica Day has been talking at New York Comic Con about her new book, Embrace Your Weird: Face Your Fears and Unleash Creativity. Inspire by her own life, as well as people who come up to her to talk about their own work, insecurities and challenges, it's a self-help book aimed at the geek demographic, that underlines Felicia Day's own weirdness, educated untraditionally, without friends aside from those she found on the internet, and emphasising that one should find what makes oneself different to other people, and emphasise that rather than try and confirm to some impossible 'norm'
And whether success comes from that or not, the process is itself worth it. Looking at her webvideo work that gained her success, she says that looking back, even if she'd never made another, or if no one watched it, it would have still been worthwhile.
She sees one mistake that people make is just looking to other people's end result in their careers, without the path that they took away from the spotlight.
She also talks about her own tenacity, unencumbered by reality, and used some entertaining metaphors along the way.
It might work or it won't, and I just keep showing people.

I don't go away y'all, I'm like a fungus, I'm like herpes.

I put the fun in foot fungus.

I'm like glitter, get inside your cracks and never come out.

I want to be around as long as I can… just like foot fungus.
The rest of the panel collapsed into laughter and accidental cursing… as she put it
At one day it's all going to end, it's Comic Con let's talk about death.
It may have been four years since Felicia Day was last at New York Comic Con but it's like she never went away. Embrace Your Weird: Face Your Fears and Unleash Creativityis out now.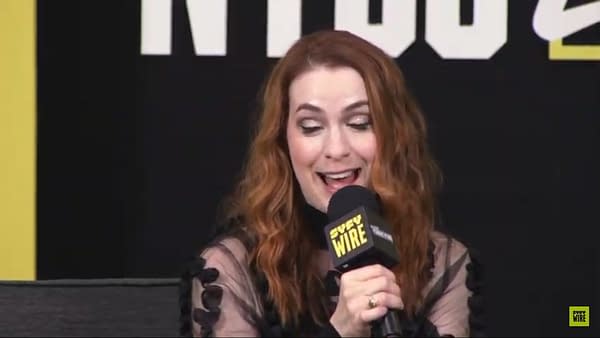 Enjoyed this article? Share it!