An hour ago, Batman #50 went on sale in British stores running midnight opening promotions. In four hours, New York joins in. In seven hours, so does Los Angeles. Others may be somewhere in between.
Much has been made of the big spoilers that the New York Times. But in our original report, we noted that there was something that they missed.
I am told that DC Comics has sent the final page of Batman #50 separately to media organisations to run in the very early hours of Wednesday morning. Some may not be as fussy with spoiler warnings, whereas we are doing this sort of thing.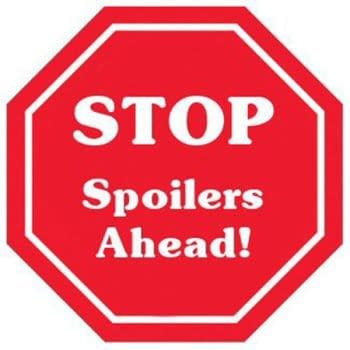 Tom King has also gone out of his way to point out that this is only halfway through the 100-issue storyline he has planned about Batman and Catwoman. And there is plenty yet to come.
Also, it was a cracking comic. The symmetrical poetry, the changing artistic perspectives that contrasted the macro with the micro, and the filling of the comic with both detail and nostalgia for the fans… but then…
Because it's the final scene where it all comes together, but casual readers who haven't read the last two years of King's run may be left scratching their heads.
So if you haven't read Batman #50 yet, stop reading.
If you have read Batman #50 and you understand the ending, you're golden.
But if you're not sure…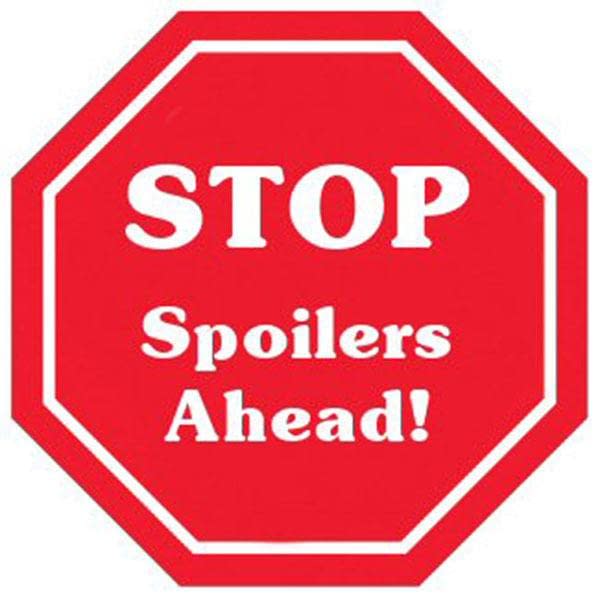 After departing Gotham, Holly Robinson narrates a scene in which she is placed back in Arkham Asylum by Catwoman. Addressing someone about the emotional status of Batman and Catwoman.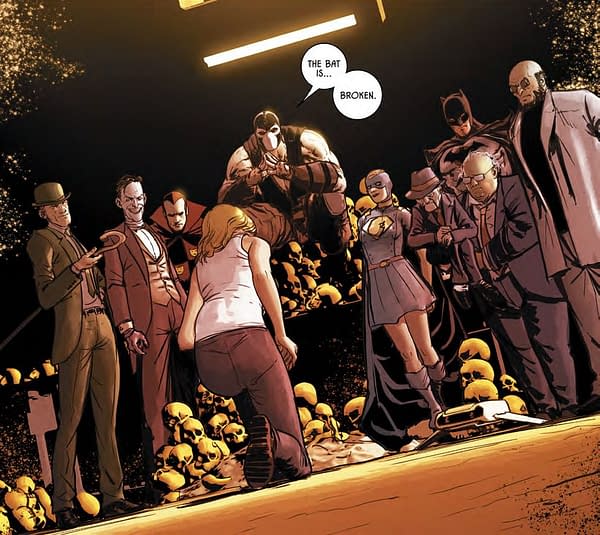 That person is Bane. This has been his plan. And everyone around him is part of that plan — something he has been doing since the beginning of this 50-issue run of Batman but only now revealed.
Bane always tries to break the Batman. This breaking has been a long time coming. Last time he gave him more crime than he could work with and broke his back. This time… well, what? Leaving an emotionally crippled man acting not out of trying to make things better but to block out the pain, prone to mistakes and dooming himself? And committing suicide, death at his own hand?
And here, every storyline in King's two-year run is now reflected in Bane's group of co-conspirators.
Are the Joker and the Riddler not at odds after all? Did Bane settle their War of Jokes and Riddles? Was the Joker's appeal to Catwoman with his apparent death part of this?
Did Bane always intend to hand over the Psycho Pirate when Batman and Catwoman came for him?
Was Gotham Girl turned, or was she always as twisted as her partner Gotham? Did his death do this?
The Ventriloquist — was his betrayal of Bane part of the plan, just as Catwoman's betrayal was part of Batman's plan?
Flashpoint Batman? The parallel dimension version of Batman where Bruce Wayne died and his Father Thomas Wayne became the Bat, who told Bruce to stop being Batman, be happy and start a family. And somehow is in this reality — is that the Psycho Pirate's doing?
Or is it Skeets, Booster Gold's robot chum who showed Catwoman what a world without Bruce Wayne as Batman would look like? And is Skeets evil again?
And Hugo Strange, seemingly independent, but here part of Bane's scheme too.
And of course Holly Robinson, Catwoman's bestie since the beginning and who, as the issue shows us, always knew that Batman was Bruce Wayne. How long has this game been played for?
With one panel, Tom King upended Batman #50, created a counterpoint for his 100-issue run to revolve around, and asked far more questions about the stories he'd been telling. And maybe sold some trade paperbacks of those previous issues so everyone can try and dive in and get to grups with this…
And you thought it was just about a wedding.
Enjoyed this article? Share it!