Boom Studios announced today that Firefly #1, the first of a new comic series from the publisher based on the Firefly TV series and Serenity movie has sold out at the distributor level before arriving in comic book shops on November 14th.
As a result, a second printing will be published, in stores for December 12th with an all-new cover by Kirbi Fagan (Star Wars: Han Solo) featuring Kaywinnet Lee "Kaylee" Frye.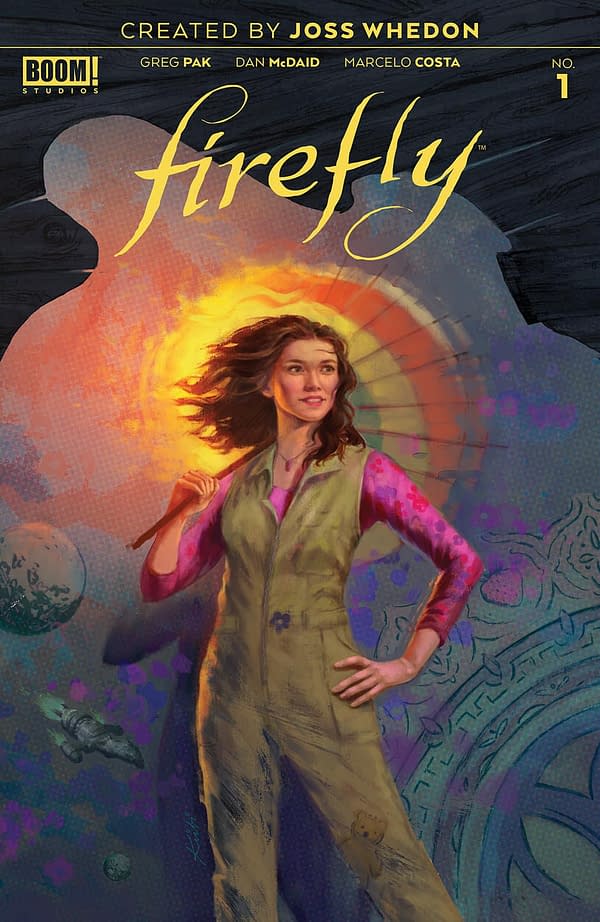 "We're thrilled by the response from retailers and fans to this crucial new chapter in the Firefly mythology, as Greg and Dan finally address the elephant in the room: what really happened during the Unification War?" said Jeanine Schaefer, Executive Editor. "From here on out, we're moving at a breakneck pace, asking tough questions about the controversial decisions Mal and Zoe have made, and introducing important new characters who'll make you think differently about what you think you know about Serenity's crew."
FIREFLY #1
(W) Greg Pak (A) Dan McDaid
BOOM! Studios, along with visionary writer and director Joss Whedon (Buffy the Vampire Slayer, The Avengers), presents an all-new era of the pop culture phenomenon Firefly , as one of the most demanded stories in the franchise's history is revealed for the first time! Captain Malcolm "Mal" Reynolds, a defeated soldier who opposed the unification of the planets by the totalitarian governed Alliance, will undertake any job-legal or not-to stay afloat and keep his crew fed. Find out now how his story began as BOOM! Studios delves into Mal's past, how he met his first mate Zoe and the real truth about the War of Unification.the intergalactic civil war that divided friend and family alike. Focusing on family, loyalty, identity, and the price of redemption, writer Greg Pak (Mech Cadet Yu, Totally Awesome Hulk) and artist Dan McDaid (Judge Dredd: Mega City Zero) take you back to the battleground where Mal's journey began. SRP: $3.99
Enjoyed this article? Share it!