First appearing in Bomber Comics #1 in 1943, Kismet, Man of Fate, is known as the first Muslim superhero. Now, straight from the Golden Age of Comics, Kismet is returning in a new 160-page graphic novel by A David Lewis and Noel Tuazon, from A Wave Blue World, just in time, a press release declares, "to confront a new age of Fascism."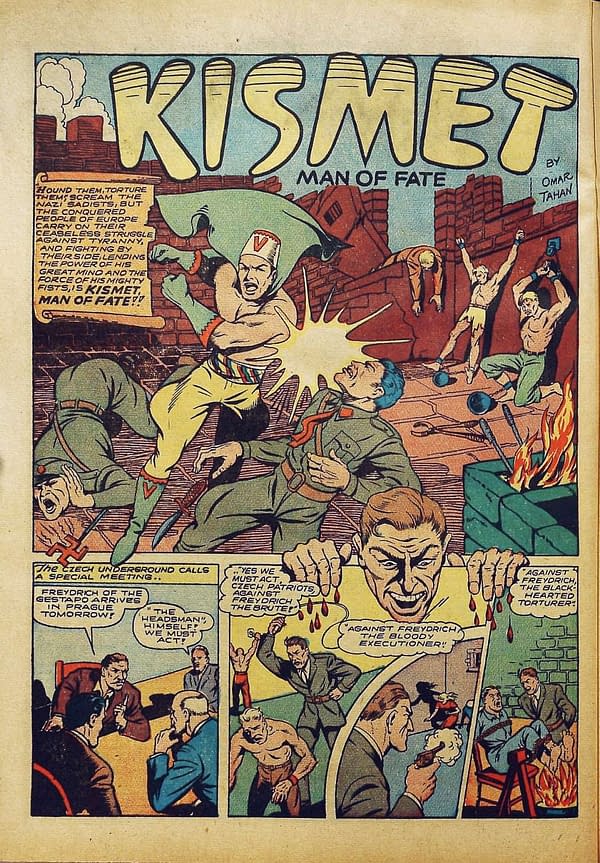 More details from the press release:
Kismet, Man of Fate is a 160 page, full color graphic novel featuring the triumphant return of the world's first Muslim superhero (originally appearing in 1943's Bomber Comics #1). Last seen punching Nazis on the front line during WW II, Kismet has returned to the modern era to lead the charge against an all-too-familiar threat!

And for those who find fear to be an effective coping mechanism, we invite you to stare into the abyss with the new horror anthology, This Nightmare Kills Fascists. Reflecting on the state of current U.S. politics, this collection features stories from some of indie comic's hottest talent including Vita Ayala, Justin Jordan, Tini Howard, Christopher Sebela and many more.
Says AWBW publisher Tyler Chin-Tanner:
Comics have always had a strong link to politics and world events, going back to their roots during World War II. And if you take a look at what's going on in the world around us today, this is no time to ignore the lessons history has taught us.
Check out the solicits and trailers below.
Kismet, Man of Fate
Diamond Order Code: SEP181562
Diamond "Certified Cool"
(W) A David Lewis, (A) Noel Tuazon, (CA) Natasha Alterici
Description: Kismet was the world's first Muslim superhero, fighting Nazis behind enemy lines in WWII. Then, he disappeared. Gone without a trace… until now.
Back from beyond, Kismet finds a new world of advanced technology and equal rights still fighting against the same old evils of bigotry, greed and ignorance.
In Stores: Nov. 28, 2018
This Nightmare Kills Fascists
Diamond Order Code SEP181563
(W) Vita Ayala, Justin Jordan & more, (A) Ariela, Kristantina, Chris Dibari & more (CA) Ben Bishop
Description: Horror and politics collide in this new anthology reflecting on the current state of U.S. policy.
In Stores: Nov. 28, 2018
Enjoyed this article? Share it!