Getting Scared By Five Ghosts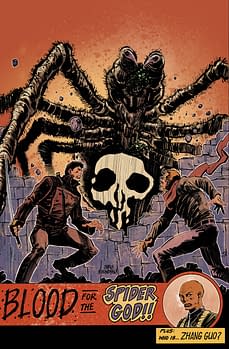 Louis Falcetti writes;
Bleeding Cool has given Five Ghosts well deserved coverage before, that's why we're all plenty excited about it's Image Comics debut. I talked with writer Frank Barbiere (with a little help from artist Chris Mooneyham) about the journey, the book and what else is on the horizon for the team.
First off congratulations on getting picked up by Image, that's huge. You and Chris deserve it, the book is killer and I know you two have certainly hustled enough getting Five Ghosts out there. From Kickstarter to San Diego to New York Comic Con, are you burnt out on indie hustling yet? Or has the experience refreshed and replenished you? What is it like to take an idea from conception through the birth stages to coming out under the Image imprint? Not so much what happened, but how does it feel looking back from here? Did you know that your book was good enough to make it or were there points where you didn't want to go on?
It's a bit exhausting, but I don't mind hustling as long as people are excited, haha. This is the best response that I've ever had to any project I've worked on, so that magic will probably take a long time to wear off. It's definitely invigorating to have people excited about the book, asking questions, and just generally being interested. We're coming in to our first con season with the book being "public" and on Image, so I'm definitely excited to see how people are going to be responding at shows…we definitely have a lot of cool stuff to bring with us, so I think people will be pretty thrilled if they are interested in Five Ghosts.
I've been working on comics stuff for almost six years at this point and as I mentioned it's just very exciting to see the work being well received. You can never predict how people are going to process your work, if they are going to give a damn, and if anyone is even going to want to publish it, so we really are having our cake and eating it too. I'm optimistic that if people have enjoyed the first issue they'll want to stick around; we have some very cool stuff planned and Chris's artwork is just getting better and better.
Being a relatively unknown creative team, we came into this project with zero expectations. We had learned enough about the market from our previous collaboration to know that first and foremost we had to be doing a book for us. We were really happy when people donated to the Kickstarter and that was a fun reassurance that we were on to something special, but the response at NYCC really just blew us away. After that, when Image exhibited interest, we were really just floored and humbled. It's still a little surreal, but we are keeping our concerns on making a book that we are proud of as creators, and hopefully that will continue to resonate with the audience we've found.
For a pulp type story like this, do you turn more to comics or cinema or radio serials for inspiration? Where do you turn to for references for the clothes and language? Are there any particular movies that helped with the aesthetic choices or the plot points in the book?
I think it's really just a mix of all those things. We're part of a generation that has processed all this exciting genre fiction and are fortunate enough to be accessible to ALL of it thanks to the digital age, so we really just have that all in the mental blender and add our own sensibilities. Clearly Indiana Jones is a big influence, but we dig even deeper into some old serials and pulp influences as well–especially in the horror and gothic elements that have found their ways in. I'll let Chris address more of the design stuff as that's his wheelhouse, but we definitely have drawn from a lot of "classic" material. The cycle of entertainment just goes round and round, hah.
Artist Chris Mooneyham: With Five Ghosts we set the story in an era that isn't too specific to a year, so it's easier to mesh decades as far as fashion and technology. The fact that we're not tied down to a specific time gives us more opportunity to open the universe a little more. Plus it makes it more fun for us. And really, who's to say that we aren't just rewriting history the way we want to, like Tarantino has done in his recent films.
This book is an homage to everything we love about comics and stories. So, when I'm coming up with a "look" for the characters and settings, I'm looking at so much all at once. I pretty much just look for things that scream "classic" to me. I would say that most of what I look at are comics from the 60s, 70s, and 80s.If you want specifics, I remember scouring through Marv Wolfman and Gene Colan's Tomb of Dracula series, John Buscema's Conan the Barbarian, Lone Wolf and Cub, Al Williamson's Star Wars stuff, Frank Miller and John Romita Jr's runs on Daredevil, and even some newer stuff like Mike Mignola's Hellboy. Anything that just really inspired me to create, really.
Of course there are cinematic influences, too. Indiana Jones, obviously, is one that Frank and I mentioned early on. As we moved forward, though, I think that we wanted to bring something new to the table instead of just rehashing those movies, so we started incorporating elements from James Bond, and other movies that had the right ideas like The Phantom and The Mummy.
As for within the book, we're told that Fabian is a thief, but that he's also on a tale of redemption, can someone rob their way to redemption? Is Fabian an anti-hero or a hero? Do you think that anti-heroes are more popular than heroes these days and if so, any idea as to why that might be?
I think as we approached the modern age (and now live in it) of story telling the line between "hero" and "villain" has blurred, and quite frankly makes for much more interesting protagonists. We'll learn a lot about Fabian's past and what makes him who he is, but he's definitely not your typical do-gooder. A big theme of the book is redemption and Fabian certainly has a lot of regrets…being a "master thief" has taken its toll on his moral compass and the adventure he finds his way into is going to lead him to have to step into a very different role than he's used to. We are planning a fairly long form story and Fabian's character arc is at the center of it–we'll certainly see him starting to change, but it certainly won't click into place over the span of one issue, haha.
I'm particularly proud of the world building and characters we've (hopefully) achieved. I thought about this concept for a long time and mapped many of the arcs and characters intensively before we even put the pencils to paper. There is a pretty robust cast that will come to light over the span of the project (and the first mini) and I can't wait to start getting more of our literary references in there. We also have a few strong female leads that will be popping in, and I'm certainly very excited to not have the book just be a "boys club."
Dracula is a member of the ghosts, it seems that vampires are on their way out of the cultural zeitgeist, out of the other four, do you think there's a chance for wizards or samurais to become the next thing teenagers go crazy for?

read a forum where someone was already complaining about the character archetypes (Vampire, Wizard, etc.) not realizing they were characters from literature which was really funny. I think the stuff we do with the Dracula ghost will be pretty fresh–we call him "The Vampire," but early on I was calling him "The Monster" or "The Beast," as he is slowly consuming Fabian with a dark bloodlust. We'll certainly get more into the nature of the "ghosts" and what they actually are (so to speak), but I think we'll be doing some creative things with the idea of vampire mythology that will be different from what people are used to.
As far as the other ones catching on–I certainly hope so! I'd love to see more Samurai fiction out there, and have some wizardry that gets away from Harry Potter. I think strangely all five of the ghosts have popular sects in current pop culture–with shows like SHERLOCK and ARROW on TV and developing rabid fan bases, I think people will be able to find something they like in our book, haha.

Has Hollywood contacted you yet? This story seems ready to make the transition to the big screen, or do you think the comic book movie bubble has burst? If there was a magic wand that could make Five Ghosts into a movie, who would you want at the helm? Would that be something you'd be interested in or is the story formulated specifically for comics?
Even though I haven't really done a lot of publicly visible work, I've already talked with many Hollywood folks about different projects and quickly learned that it's a very slow machine with the ball mainly in their court. We haven't done anything with Five Ghosts yet, and certainly I'd be open to it–if I got a perfect pick down the line, I would die of nerd happiness if Guillermo Del Toro was ever attached. I think a director like him could really find what's cool about the project and really have a blast with all the cool characters and monsters we have in the universe. But that's just dreaming out loud, haha.
I'm very adamant about not tailoring my books towards film specifically. I like genre mashing which a lot of Hollywood execs don't seem too keen on. Our last book, Endless West, was a sci-fi western and it only takes one bomb (see: Cowboys & Aliens) to take all that off the table. I think comics exists in an awesome spot where you can literally do anything which is why I'm drawn to them; there really are no limits or budgets to consider. I love film and clearly would love to see my own work adapted, but I won't lose any sleep holding out for adaptation and it certainly isn't a focus.
Where can people go to find out more about your work and what else are you working on, what's coming up for you?
I brand all of my work under "Atlas Incognita Productions" and you can keep up to date with me at http://www.atlasincognita.com, as well as more personally with my tumblr athttp://fjbarb.tumblr.com and on twitter @atlasincognita. Chris can be followed on tumblr athttp://mooneyham.tumblr.com, his deviantart which is http://mooneyham.deviantart.com, and his website http://ctmooneyham-art.blogspot.com, and @CTMooneyham on twitter. Social networking!
We'll also be doing a lot of conventions–look for me at Emerald City Comic Con at table I-7 (with all kinds of goodies including original artwork), Chris and I at C2E2, NYCC, possibly Baltimore, and all over the universe. We also have a North East book tour in the works for the release of Five Ghosts.
Otherwise, I am working on some other cool stuff on my own and at Dark Horse Comics. At Dark Horse I've been working on a series called "The White Suits" in the pages of Dark Horse Presents that will hopefully be moving forward with a mini-series in the near future. I'm also really excited and humbled to be launching a new Dark Horse superhero called "Blackout" in the pages of DHP starting in May. It's a very cool sci-fi story that I think readers will be very excited about.