Flash Gordon's Balsa Wood Plane From Dell's Four Color #247
Flash Gordon's Balsa Wood Plane From Dell's Four Color #247
---
Four Color Comics was published by Dell between 1939 and 1962, with an irregular publishing pattern, everywhere from one to six issues a month, with each comic book featuring a different story, a different franchise, with very little in common between them. The final issue being issue #1354, it holds the record for most issues produced of an American comic book title. The name, Four Color, Four Color Comics or Dell Four Color, is a reference to the four colours used in the manufacture then of most comic books, cyan, magenta, yellow and black. As a series, it published many of the first licensed Disney comics, but would also jump to its rivals for subsequent issues, with Mickey Mouse one week, and Bugs Bunny the next. The first issue was made up of Dick Tracy newspaper strips, and the very last from 1962 was based upon the then-airing TV series Calvin and the Colonel. Indeed, the name of the comic was eventually erased, replaced by the name of whatever story was being featured, even in the copyright indicia, the only common element being the Dell logo and the continuing issue number.
You would get Westerns, science fiction, both serious and silly stories, and the comic has been seen as a direct reflection of culture and pop culture at the time, given that every issue could be anything, trying to reflect what was popular and sold at the time. It also became a place for Dell to try and test out a possible appeal for ongoing series, with Tarzan and Little Lulu getting ongoing series after proving popular in Four Color.
Many of the first issues of Four Color were reprints of newspaper comic strips, such as Flash Gordon, but then it moved into commissioning original stories. Such as Four Color #247 from 1949, featuring an original Flash Gordon comic book story, one of the first told outside of the original newspaper strips. Featuring a story in which Flash, Dale, and Zarkov battle King Zero and his queen, both in the snow and underwater, to save the planet Mongo, it also has a back cover with plans to make a balsa wood Flash Gordon Space Ship. There is a copy being auctioned from Heritage Auctions today that appears to be a copy for use by Dell and Western printing's own offices. It has a current bid of two dollars but I expect shortly after this Bleeding Cool post runs, it will go up significantly. Why not pop by and watch the market reaction?
Four Color #247 Flash Gordon (Dell, 1949) Condition: Apparent GD. Flash Gordon. Paul Norris cover. Back cover has plans for a balsa wood Flash Gordon Space Ship scale model. Back cover ripped from top to bottom and repaired on interior with tape. Small piece missing from back cover. Overstreet 2022 GD 2.0 value = $18.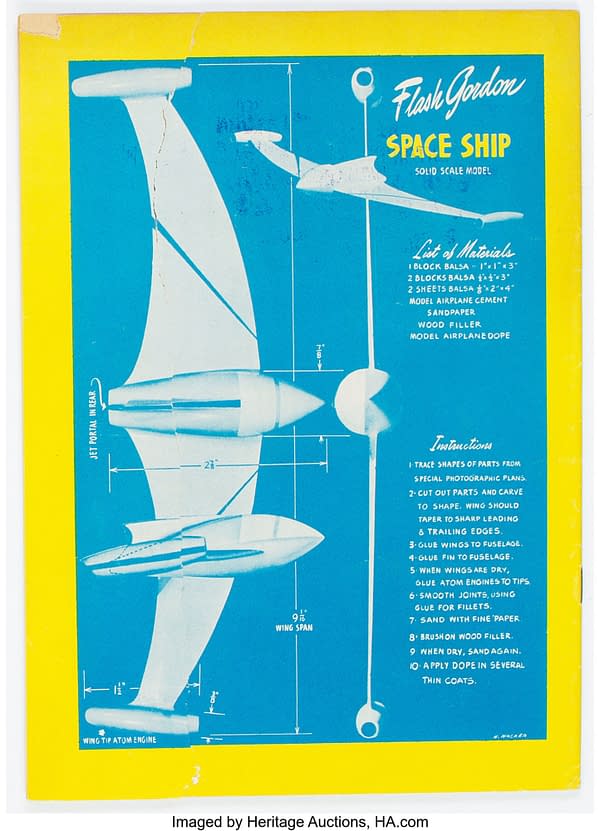 Affiliates of Bleeding Cool buy from and/or consign to Heritage Auctions.