Comic Con International dropped the Eisner shortlist on April 26th, and I didn't expect I'd recognize the very first nomination in the Best U.S. Edition Of International Material category: About Betty's Boob by Véro Cazot and Julie Rocheleau (Assemblage, The Wrath Of Fantômas, Laura Letorneau).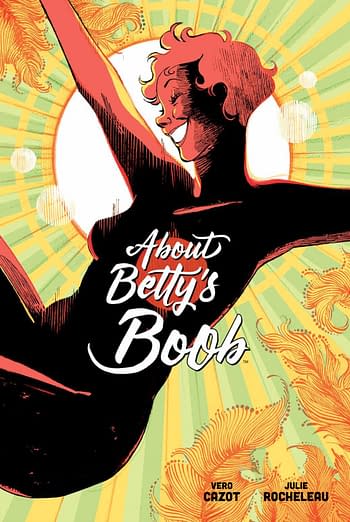 Best U.S. Edition of International Material
* About Betty's Boob, by Vero Cazot and Julie Rocheleau, translated by Edward Gauvin (Archaia/BOOM!)
* Brazen: Rebel Ladies Who Rocked the World, by Pénélope Bagieu, translated by Montana Kane (First Second)
* Herakles Book 1, by Edouard Cour, translated by Jeremy Melloul (Magnetic/Lion Forge)
* Niourk, by Stefan Wul and Olivier Vatine, translated by Brandon Kander and Diana Schutz (Dark Horse)
* A Sea of Love, by Wilfrid Lupano and Grégory Panaccione (Magnetic/Lion Forge)
I liked artist Julie Rocheleau's work on The Wrath Of Fantômas, and figured I'd take a look at another project by her. In this case, it's a largely word balloon-less OGN about a woman Betty in the wake of a mastectomy.
1. I'm intimately aware I'm a male writing about this one, a powerful work that's one part clear-eyed depiction of every woman's fear post-mastectomy, one part celebration of feminine solidarity through burlesque.
2. Which makes About Betty's Boob sound serious and uncomfortable. It's not. It's both fun and takes the stakes seriously. Will Betty feel comfortable in her own body ever again? Independent of her lover, can she love herself again? Can she overcome her fear to perform a burlesque routine? Can she adapt to the loss?
3. Rocheleau brings a joyful bawdiness to the burlesque pages that make the back half of the book a standout. The end result feels like a celebration of life.
4. Cazot wisely leaves out as much dialogue as possible. With an artist as strong as Rocheleau turning in panels like the ones below, words, in most cases, would get in the way.

I believe Cazot and Rocheleau deliver a fine romantic comedy here, at an especially high degree of difficulty given the subject matter and choice to de-emphasize word balloons. If the rest of the nominees in the Best U.S. Edition Of International Material category are this good, we're in for a treat this year.
Enjoyed this article? Share it!