Fourth Printing for Teen Titans: Raven by Kami Garcia and Gabriel Picolo
Bleeding Cool reported earlier in the year on how well DC Comics' young adult graphic novel Teen Titans: Raven by Kami Garcia and Gabriel Picolo had been selling, bursting onto the USA Today Bestseller list. Well, the proof of the pudding is in how many print runs it goes through.
After being published at the end of June, it is already going into its fourth printing… basically that's an average of going through a printing every five weeks or so.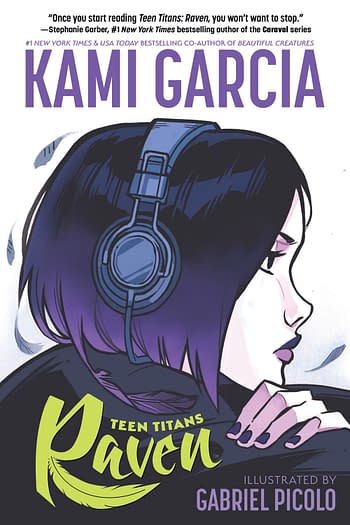 TEEN TITANS RAVEN TP DC INK
(W) Kami Garcia (A/CA) Gabriel Picolo
When a tragic accident takes the life of seventeen-year-old Raven Roth's foster mom-and Raven's memory-she moves to New Orleans to live with her foster mother's family and finish her senior year of high school.
Starting over isn't easy. Raven remembers how to solve math equations and make pasta, but she can't remember her favorite song or who she was before the accident. When strange things start happening-things most people would consider impossible-Raven starts to think it might be better not to know who she was in her previous life.
But as she grows closer to her foster sister, Max, her new friends, and Tommy Torres, a guy who accepts her for who she is now, Raven has to decide if she's ready to face what's buried in the past…and the darkness building inside her. From the #1 New York Times best-selling co-author of Beautiful Creatures Kami Garcia and artist Gabriel Picolo comes this first graphic novel in the Teen Titans series for DC Ink, Teen Titans: Raven. In Shops: Jun 26, 2019 SRP: $16.99
Here's a list of other titles getting similar re-runs from DC Comics.
ALL-STAR SUPERMAN TP 2nd printing
BOOKS OF MAGIC VOL. 1: MOVEABLE TYPE TP 2nd printing
CATWOMAN VOL. 1: COPYCATS TP 2nd printing
HOUSE OF WHISPERS VOL. 1: THE POWER DIVIDED TP 2nd printing
INJUSTICE: GODS AMONG US YEAR FOUR: THE COMPLETE COLLECTION TP 2nd printing
JUSTICE LEAGUE ODYSSEY VOL. 1: THE GHOST SECTOR TP 2nd printing
KINGDOM COME TP 2nd printing
LUCIFER VOL. 1: THE INFERNAL COMEDY TP 2nd printing
RED HOOD: OUTLAW VOL. 1: REQUIEM FOR AN ARCHER TP 2nd printing
THE SANDMAN VOL. 3: DREAM COUNTRY 30TH ANNIVERSARY EDITION TP 2nd printing
THE SANDMAN VOL. 4: SEASON OF MISTS 30TH ANNIVERSARY EDITION TP 2nd printing
THE SANDMAN VOL. 8: WORLDS' END 30TH ANNIVERSARY TP NEW EDITION 2nd printing
THE SANDMAN VOL. 9: THE KINDLY ONES 30TH ANNIVERSARY EDITION TP 2nd printing
THE SANDMAN VOL. 10: THE WAKE 30TH ANNIVERSARY TP 2nd printing
TRANSMETROPOLITAN BOOK ONE TP 3rd printing